This chart of basic recipes for simple syrup recipes contains how to make light simple syrup, regular simple syrup, and heavy simple syrup, which is also called rich simple syrup.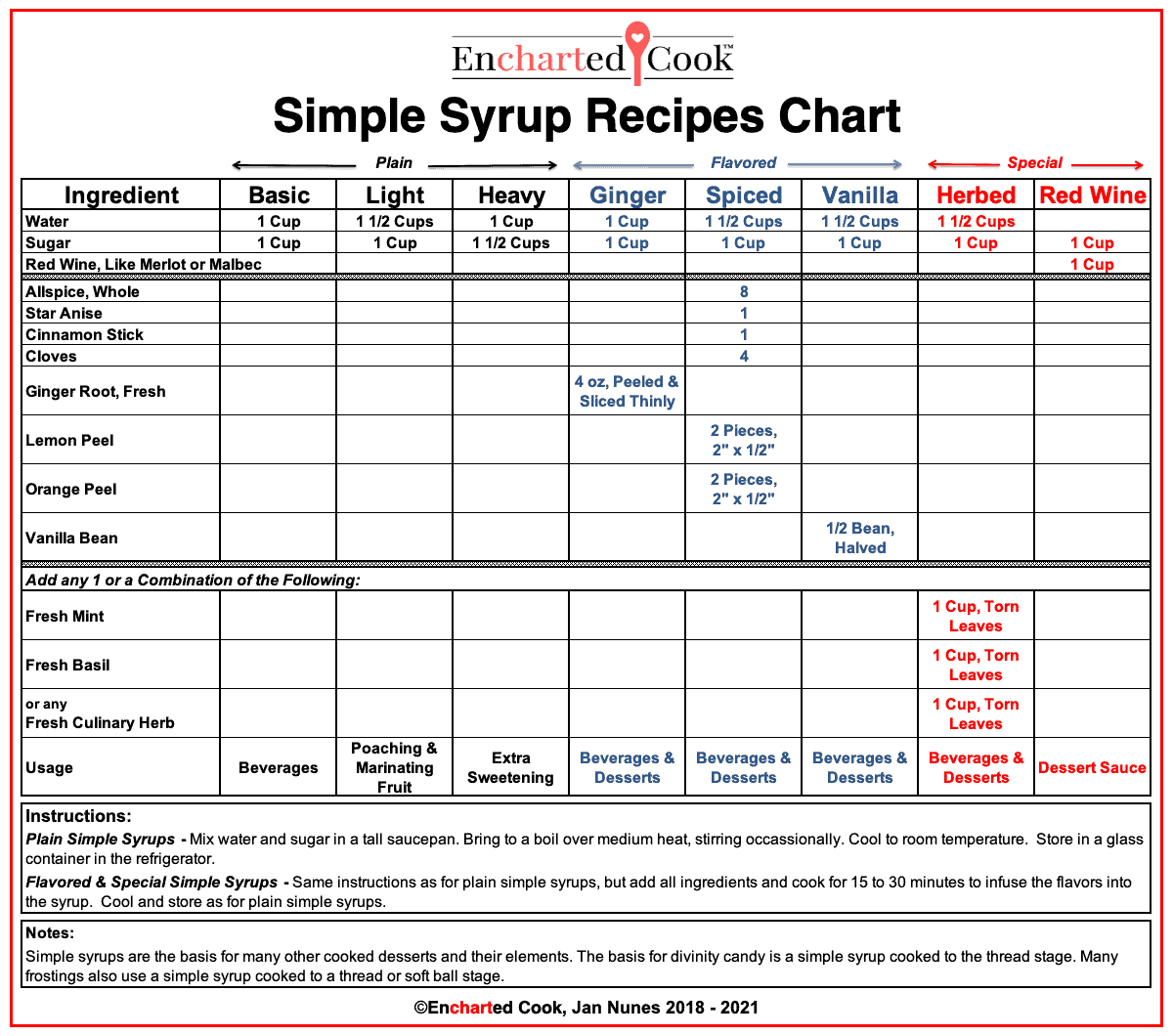 In addition to listing simple syrup recipes in varying weights, this chart also suggests to add flavor boosters such as sweet spices, citrus peels, and herbs. Easy directions indicate what to add, when to add it, and specific ingredients to make a delicious syrup.
Jump to:
But don't discount unflavored simple syrups as too ordinary for your time. Plain simple syrups are a must when making sweet tea and homemade lemonade. They evenly sweeten your favorite beverages and keep them from having a build up of plain gritty sugar at the bottom of the glass.
Boost Your Favorite Beverage with a Flavored Simple Syrup
Love an Irish Coffee, but want to boost the flavor? Try a brown sugar simple syrup in the coffee! How about a custom cocktail? Make your own special simple syrup flavored especially to your taste.
Other Uses for Simple Syrups
Did you know that simple syrups are not just for beverages! They are also the basis for cooked frostings, candies, and often are used in poached fruit desserts.
Even more uses for simple syrups of varying weights is to flavor whipped cream, use as a drizzle for trifles, cakes, and ice cream desserts, to top pancakes, and to can fruits.
You really can add just about anything to flavor a simple syrup, like vanilla beans, citrus peels, and peppers like the fruity habanero. Just use the basic recipes on this chart for inspiration and add your favorite aromatics, herbs, and spices for your own recipe creations.
Related Posts