Cherry Pineapple Fluff is loaded with cherries, pineapple, and mini marshmallows. This super easy fluff will wow you and your guests with its luscious flavors and pretty pink color.
You only need one bowl, 6 ingredients, and 10 minutes to make this sweet and creamy Cherry Pineapple Fluff. It's a delicious side dish or dessert salad and perfect for entertaining, potlucks, and holidays.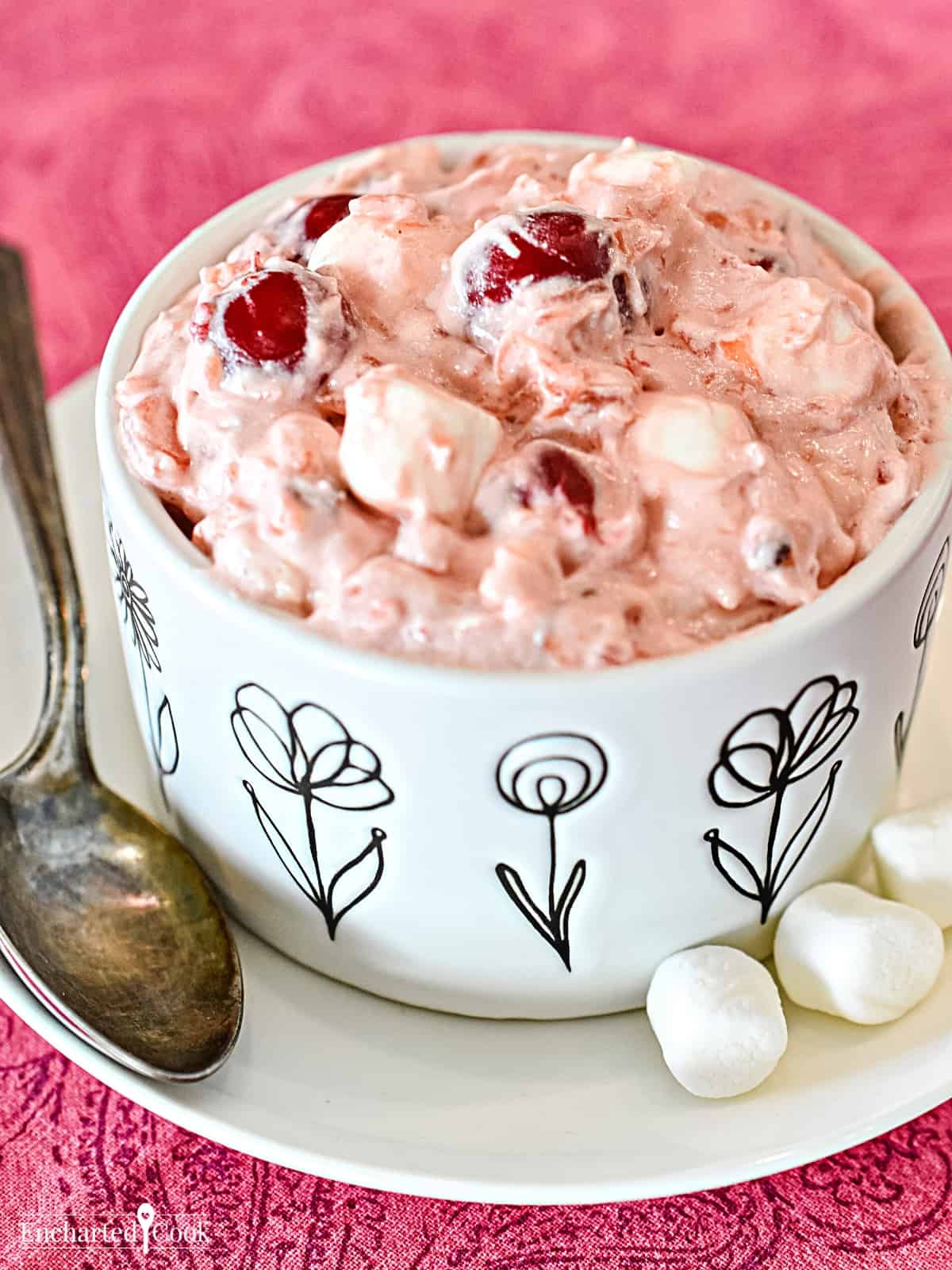 Years ago, in my hometown, there was a candy shop that sold a flavor of ice cream called "Heavenly Hash". It is the only place I've ever known to have an ice cream called "Heavenly Hash" that was fruit flavored and was not chocolate.
Jump to:
Both my grandmother and mom were wild for this flavor and a couple of times a month during warm weather we would visit the shop to get a single scoop on a sugar cone.
We had a regular routine of grandma driving us to the shop, we would go in and get our ice cream, and then mom would hold her cone and grandma's while grandma drove to a shady spot so we could enjoy our treat.
While eating our ice cream each of them would speculate what was in it. It obviously contained crushed pineapple, bits of maraschino cherries, shredded coconut, mini marshmallows, and chopped nuts like walnuts or pecans.
But the ice cream base was indescribable and was a debated topic for years.
Over the years I have been convinced that the recipe inspiration for that ice cream was southern ambrosia. I've used the flavor profile of that ice cream to make filling for cakes for years and it occurred to me that it would make amazing fluff.
Like Pistachio Fluff, this recipe starts with a base of crushed pineapple that is mixed with instant pudding. Then cherry pie filling, whipped topping, marshmallows, and chopped pecans are folded into the base.
Sometimes I add coconut and sometimes I don't. It is good either way.
Best of all it takes just minutes to make and you have an elegant dessert worthy of entertaining but still humble enough for simple suppers.
So, let's cook!
Ingredients
Here's what you need to make this Cherry Pineapple Fluff:
Crushed Pineapple - This is from a can. I prefer to use "canned in juice" and not syrup. Do not drain the pineapple!
Instant Vanilla Pudding - This thickens and gives a vanilla flavor to the base of the fluff. If you do not have vanilla-flavored instant pudding, you can use coconut cream, French vanilla, or cheesecake.
Frozen Whipped Topping - Oh... you know what this is! The famous Cool Whip brand is what I use. Did you know that the original Cool Whip was an immediate hit when it debuted in 1966? Stores couldn't keep up with the demand!
Cherry Pie Filling - Super easy canned pie filling is what you need. I use the one that has "more fruit".
Mini Marshmallows - Every fluff has mini marshmallows. If you don't have mini ones you can snip regular marshmallows into small bits.
Chopped Pecans - Pecans bring a little crunch to the fluff and I like the flavor of pecans with cherries.
Shredded Coconut - Optional - Some people love coconut and some don't. So shredded coconut is totally optional.
Please see the recipe card for the exact quantities.
Step-by-Step Instructions to Make Cherry Pineapple Fluff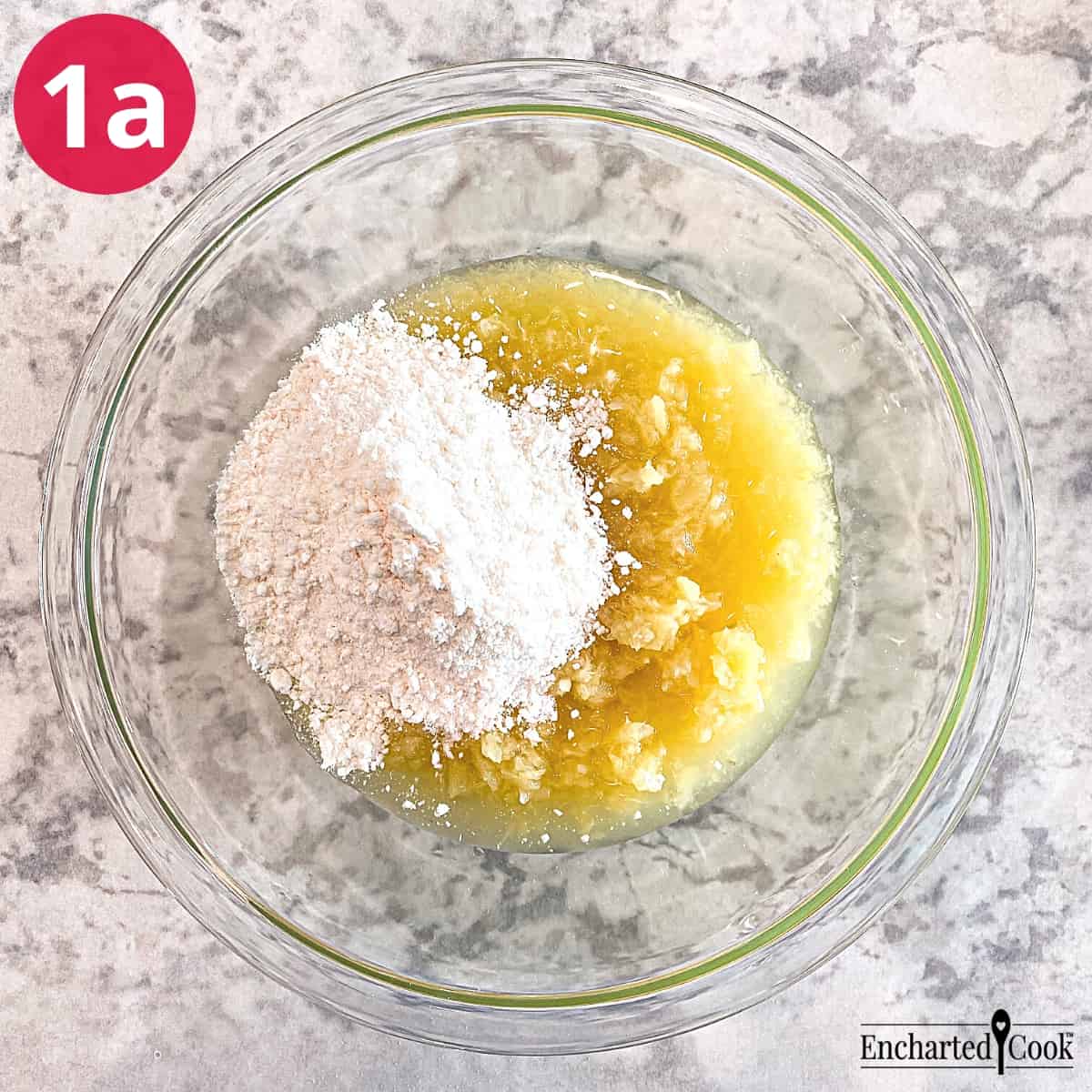 Stir together the crushed pineapple and the instant vanilla pudding in a large bowl until they are well combined.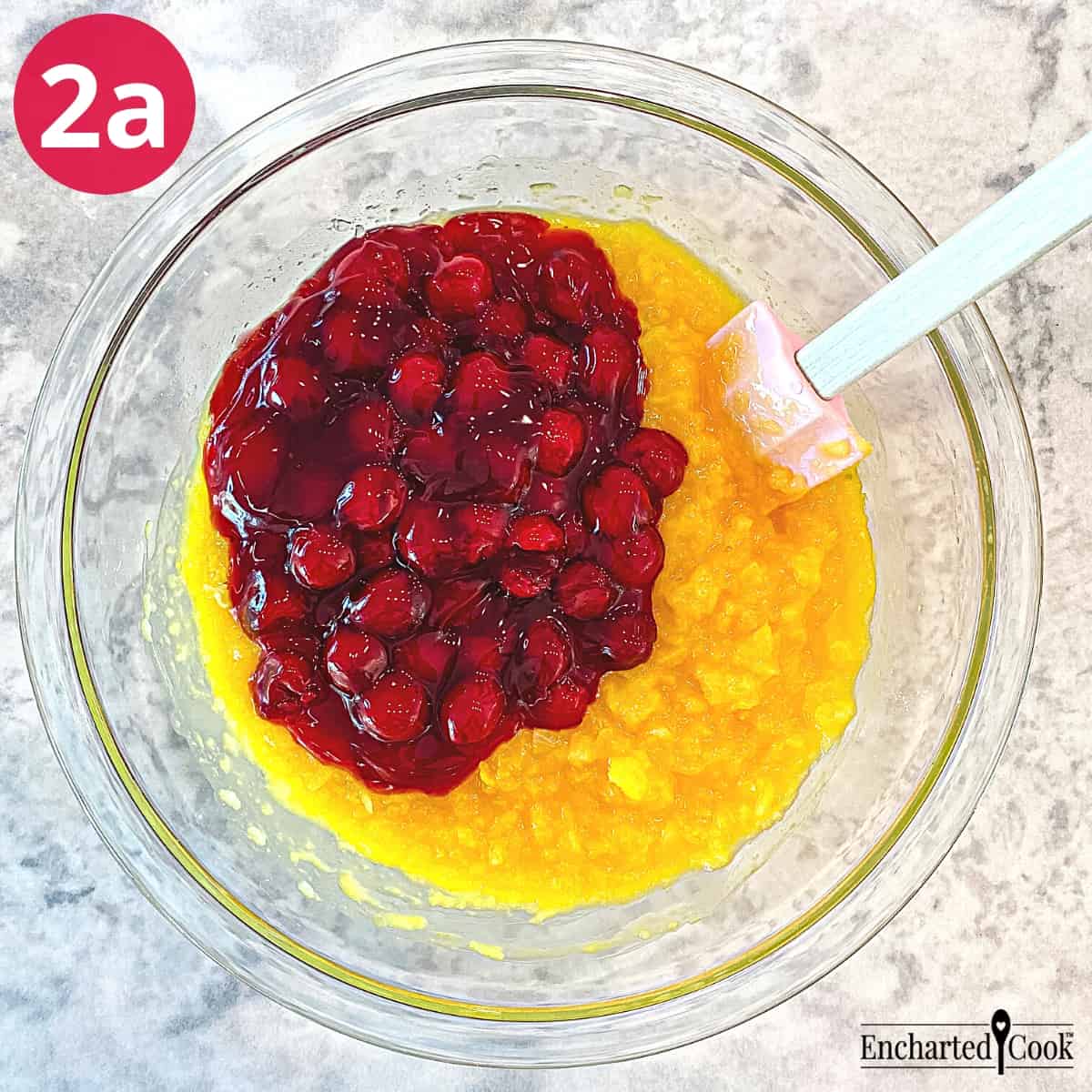 Stir in the cherry pie filling and mix well.
Fold in the whipped topping.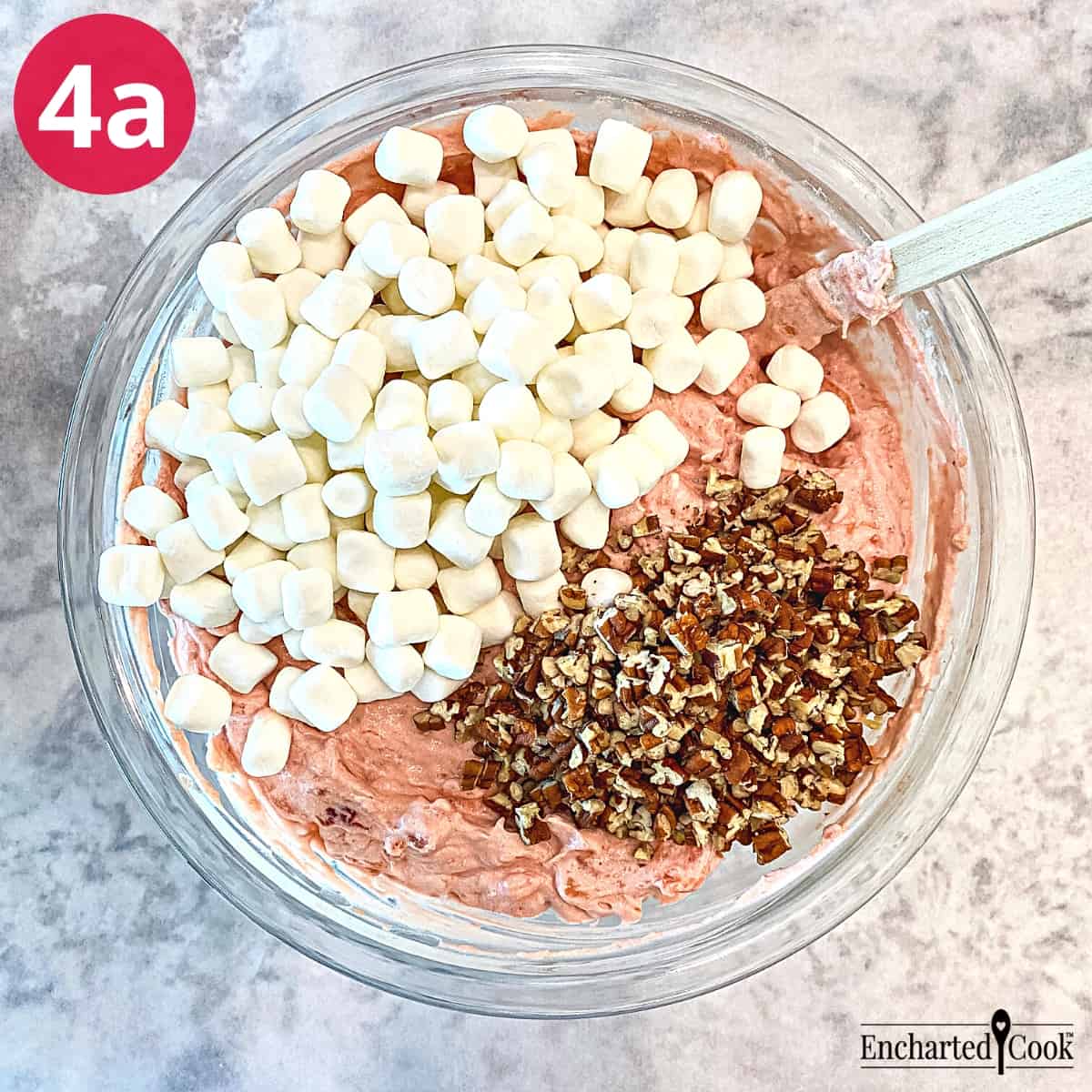 Add the mini marshmallows and chopped pecans and gently fold them in.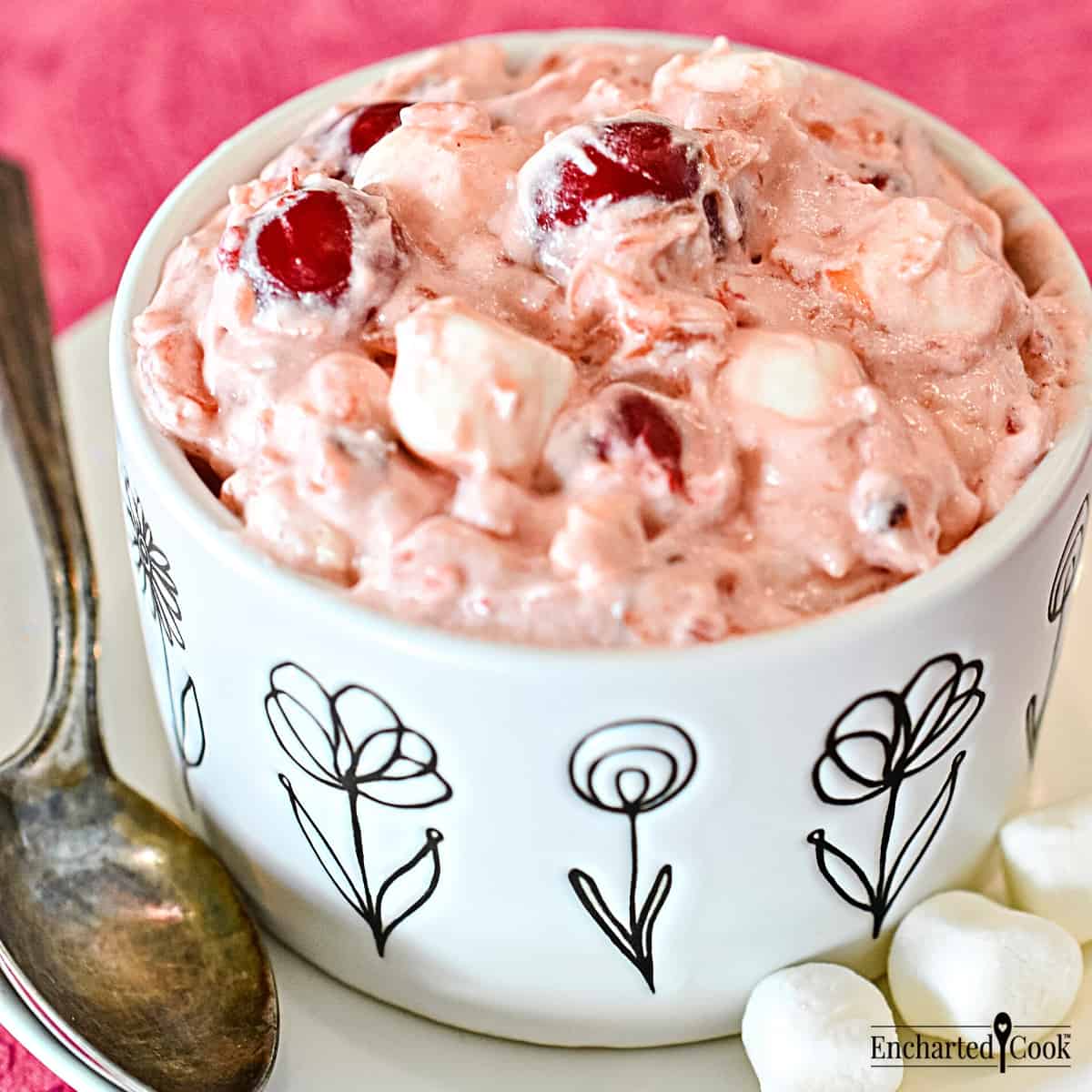 Cover and refrigerate for at least 2 hours until well chilled.
My Top Tips
♡ Do not drain the crushed pineapple! This recipe needs both the fruit and the juice.
♡ Keep the fluff from becoming deflated by folding in the whipped topping and not stirring it in.
Substitutions & Variations
Omit the Nuts. To save time or money you can omit the nuts and the fluff will still taste amazing.
Add Shredded Coconut. Some people love coconut. You can add up to ½ Cup of shredded coconut to the fluff with the mini marshmallows and chopped pecans. I would also use coconut cream instant pudding instead of vanilla or cheesecake.
Substitute Walnuts. Chopped walnuts are also a good choice instead of chopped pecans.
Substitute Stabilized Whipped Cream. If you are a fan of whipped cream and not Cool Whip you can substitute whipped cream for the frozen whipped topping.
Make-Ahead & Storage
You can make this Cherry Pineapple Fluff early in the day and keep it in the refrigerator until it is time to serve it.
If you want to make it the day before, make it up to the point of folding in the mini marshmallows and chopped pecans, cover, and refrigerate it. One hour before you wish to serve it fold in the marshmallows and pecans. This keeps the marshmallows from becoming soggy and makes the dessert look fresh.
Leftovers will keep in a covered container in the refrigerator for up to 3 days.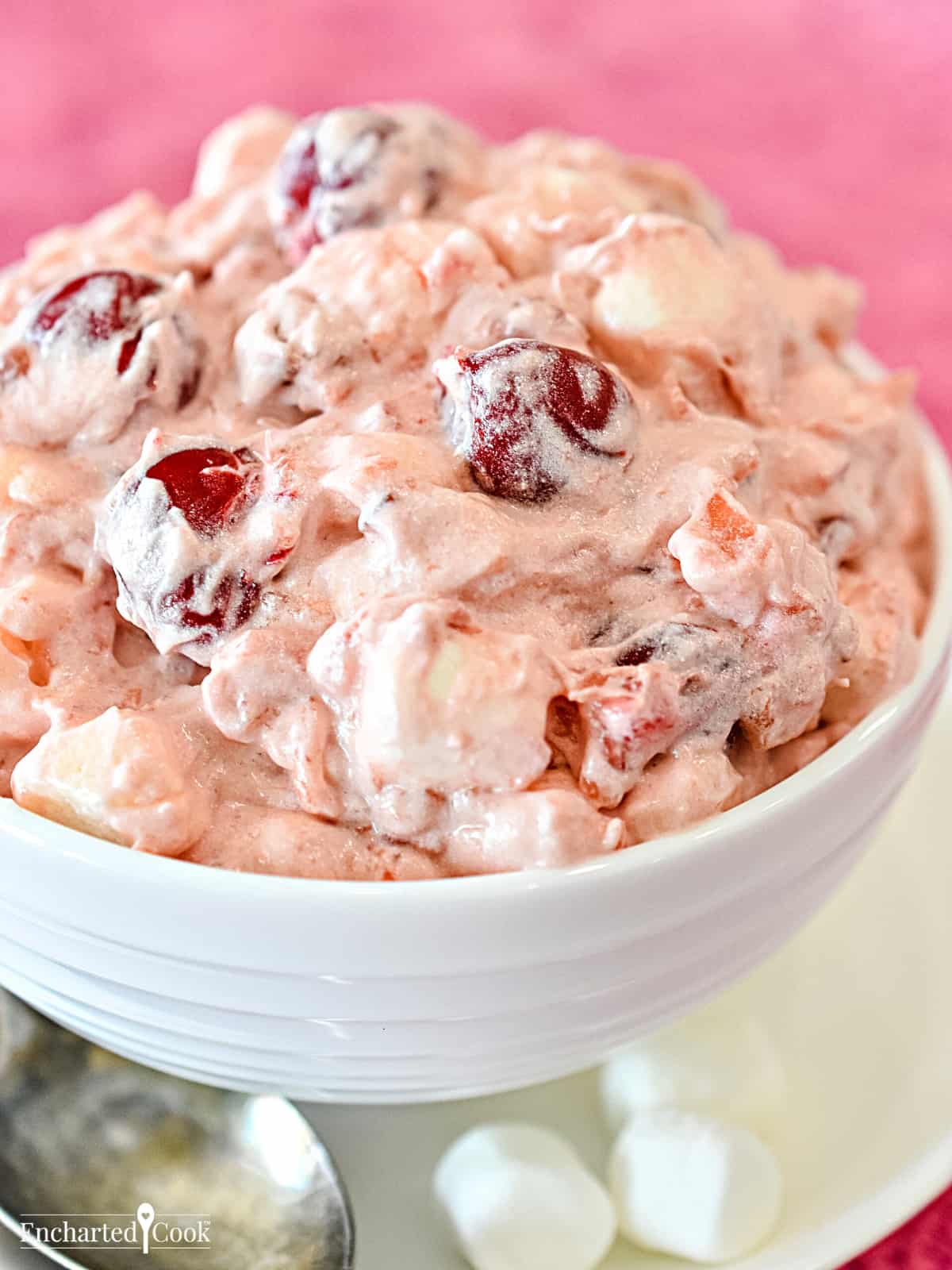 More Deliciously Easy Fruit Salads and Fluffs
📖 Recipe