Delicious and bursting with freshness, this Fresh Strawberry Pie is stunning and absolutely perfect for both family dinners and entertaining. It only takes 20 minutes of prep time and makes 6 generous servings.
Fresh Strawberry Pie has juicy, sweet strawberries tossed in a simple strawberry glaze and piled into a graham-cracker pie shell. Easy to make with a few simple ingredients this could become your favorite pie to capture the sweetness of summer.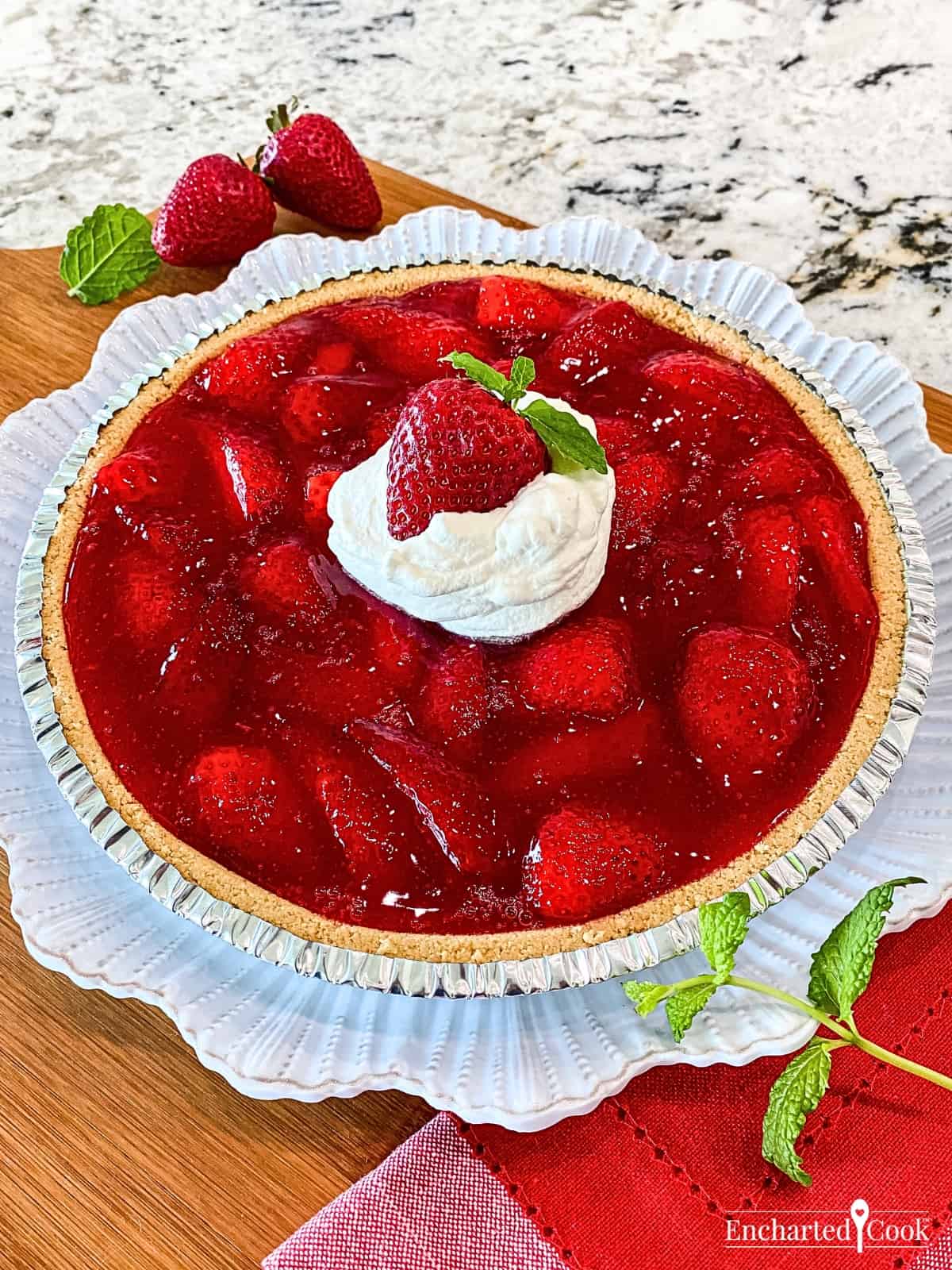 If you love strawberries this pie could become your favorite strawberry dessert!
Jump to:
Why This Recipe Works
If you are tired of store-bought glazes for a strawberry pie, then this is the recipe for you. This is a truly simple pie to make and all you need is a pie shell, strawberries, and a strawberry glaze you can make easily with just four ingredients.
The strawberries might be the star of this pie but the sweet glaze is nearly perfect. It is sticky enough to hold the berries together but not firm like eating fruited gelatin. Plus you can vary the sugar to make it less sweet or more sweet depending on the flavor of the berries.
Do you remember strawberry pie at Kentucky Fried Chicken?
I have to confess that this is not a pie that my mom would make. While we regularly made apricot or apple pies at home, Fresh Strawberry Pie was something we only had in restaurants or if we treated ourselves to Kentucky Fried Chicken... and you might be surprised to hear that KFC sold fresh strawberry pie in its early days.
My hometown got its KFC store in the mid-1960s and a whole fresh strawberry pie could be purchased at that store to "complete a whole chicken dinner". It was truly one-stop shopping for a takeout dinner in those days!
And just like that pie, this fresh strawberry pie is simply fresh strawberries in a sweet strawberry-favored glaze, piled into a pie crust shell.
Although the Colonel's pie had a pastry pie crust I like to use a graham cracker crust which you can purchase already made and doesn't get soggy. Other than that this recipe is pretty similar to that delicious vintage pie.
So, let's cook!
Ingredients
Here's what you need to make a Fresh Strawberry Pie:
Fresh Strawberries - This recipe needs fresh strawberries. Please do not try to substitute frozen, thawed strawberries.
White Granulated Sugar - White granulated sugar is used to make a sweet glaze for the strawberries.
Cornstarch - Cornstarch will both thicken and give a silky texture to the glaze.
Water - You will need water to make the glaze.
Strawberry Jell-O - Strawberry gelatin works great to flavor and color the glaze. For this pie, you don't need a whole box.
Graham Cracker Crust - A graham cracker crust shell is delicious for this pie.
Please see the recipe card for the exact quantities.
Step-by-Step Instructions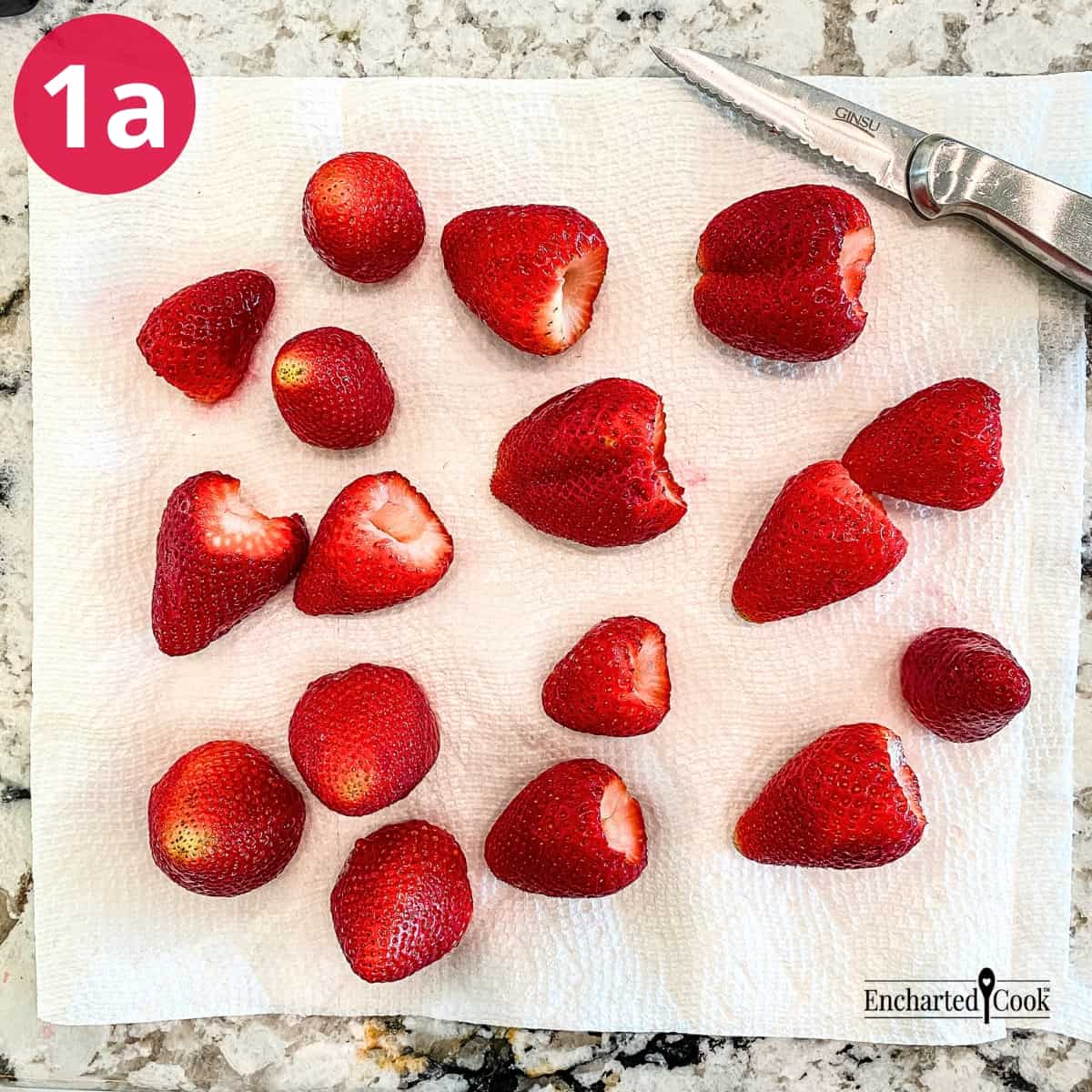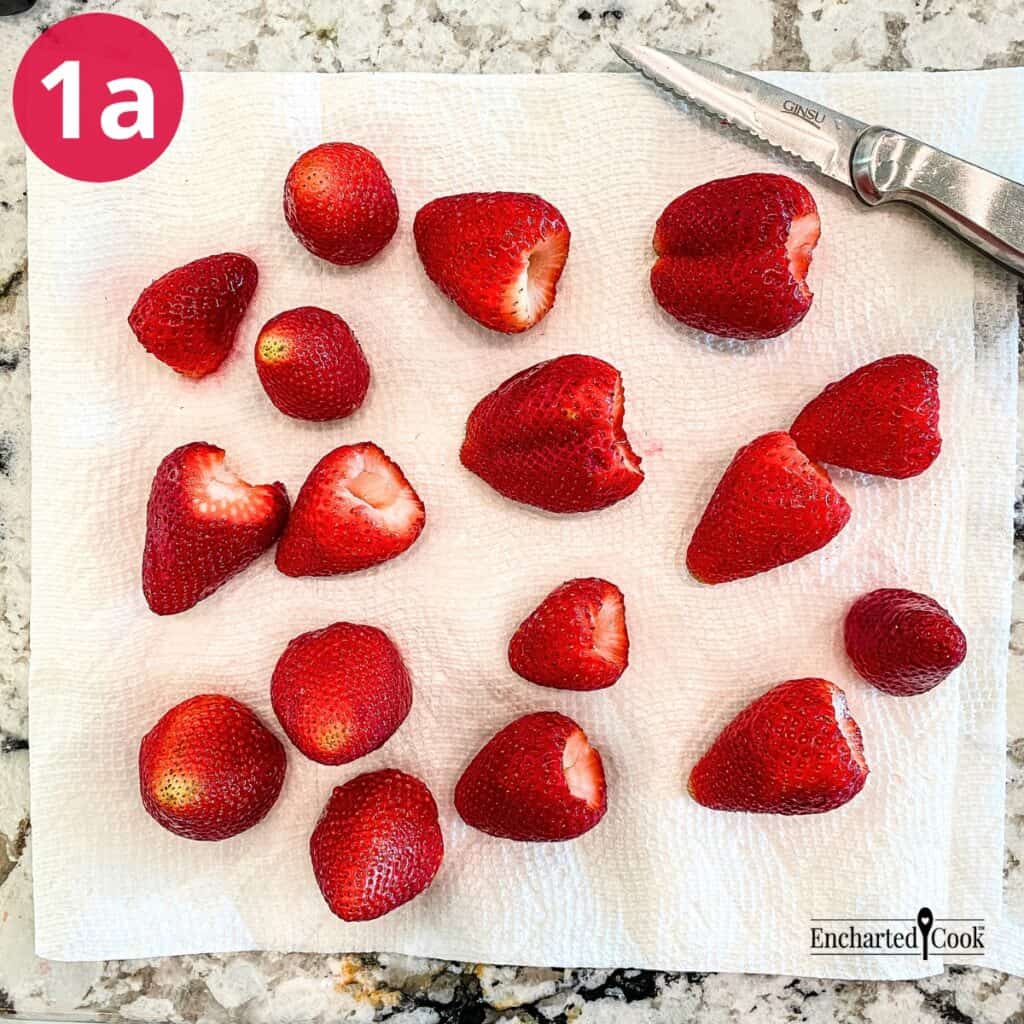 Prepare the Strawberries. Wash and hull the strawberries. Spread the berries on paper towels and pat them until dry.
Cut the large berries into quarters and halve the medium-sized berries. Any small berries can be left whole or simply slice all of the strawberries.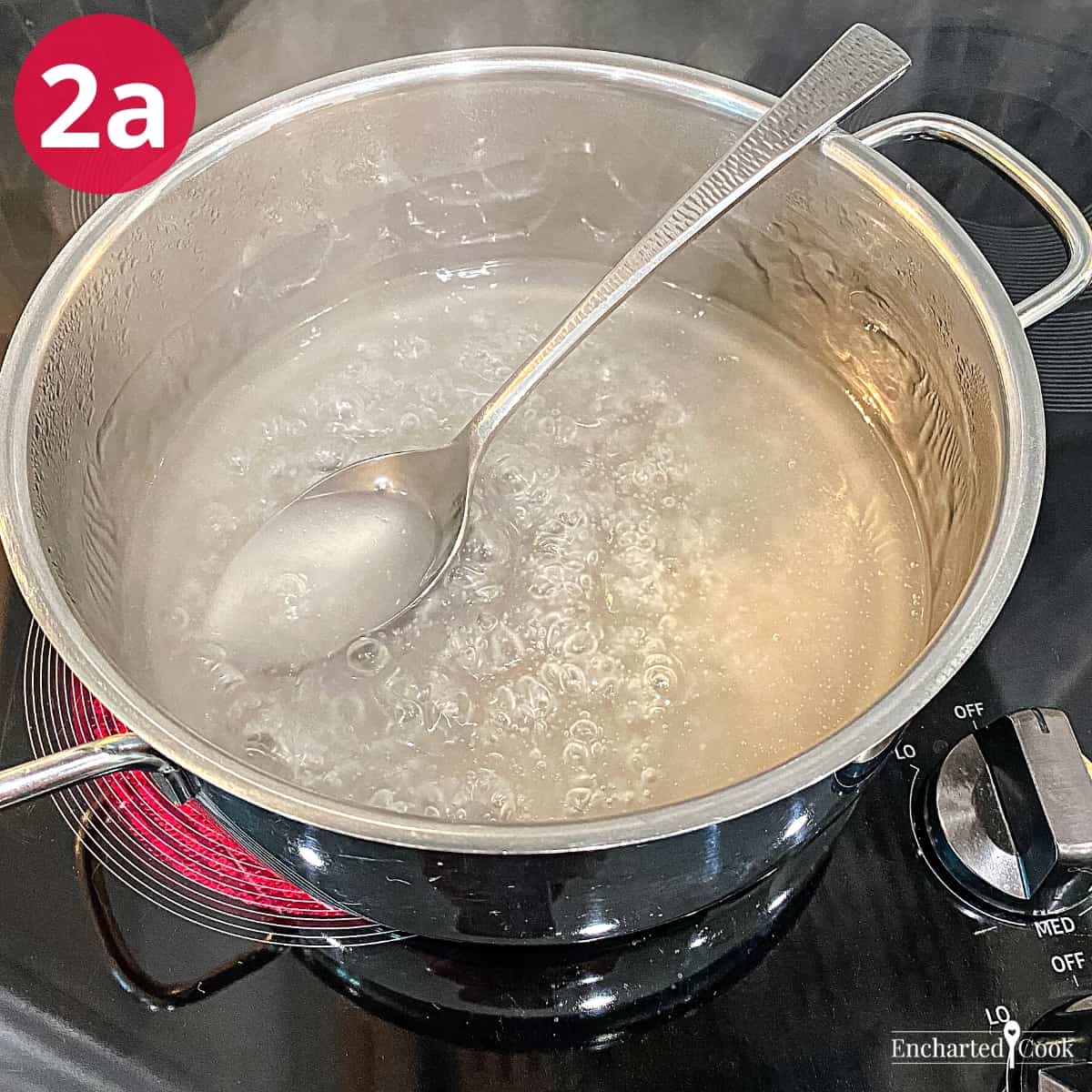 Make the Glaze. In a medium saucepan, combine the sugar and cornstarch. Stir in the water and bring it to a full boil and boil for two minutes. Add the strawberry Jell-O and stir well. Remove from heat and let the glaze cool for 10 minutes.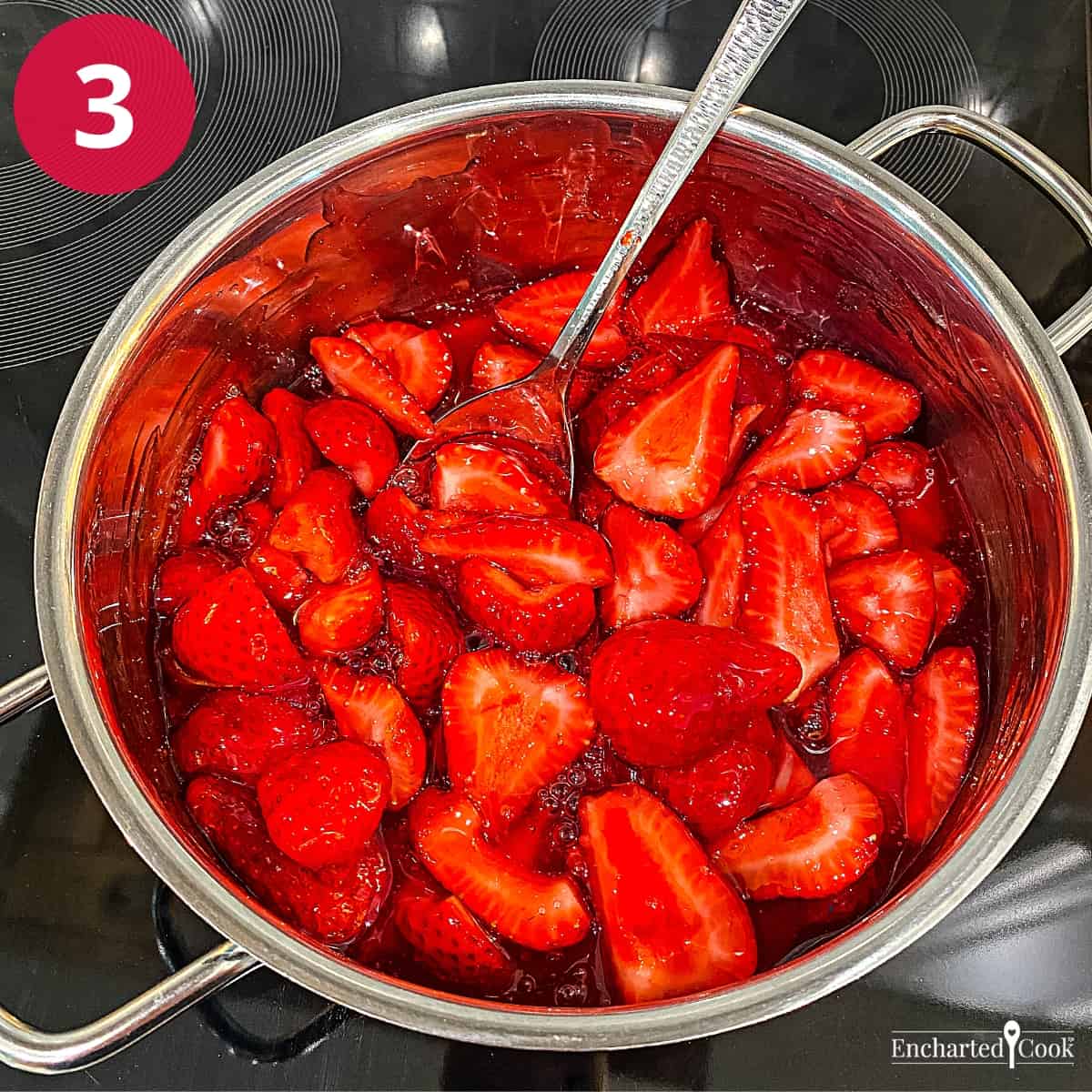 Make the Filling. Add the cut strawberries to the glaze and pour the berry filling into the pie crust. Refrigerate for three hours or until firm.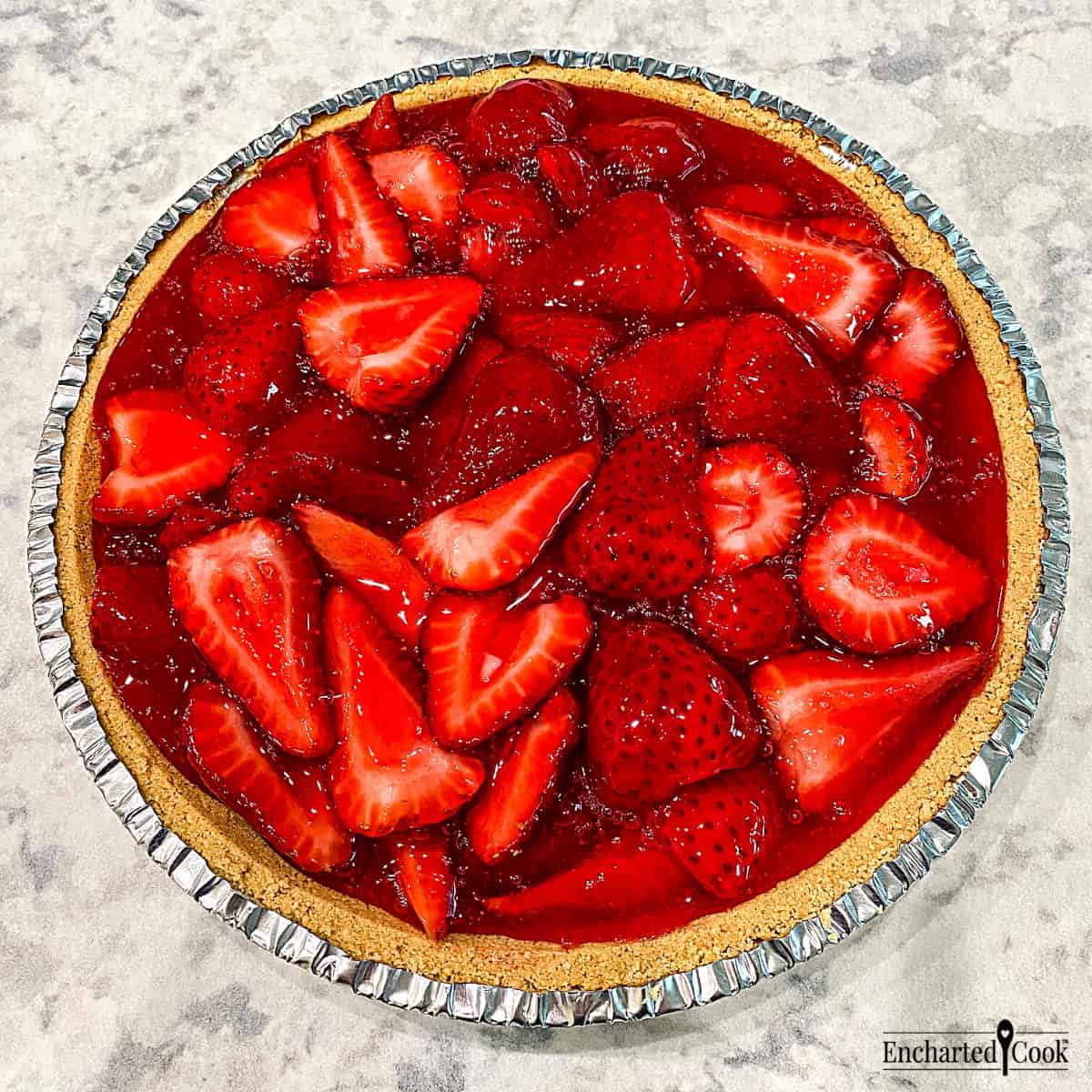 Serve. Serve slices of the pie with homemade whipped cream or your favorite whipped topping and, if desired, garnish with more berries and mint leaves.
My Top Tips
♡ Always wash the strawberries before hulling them to prevent dirt from getting inside the berry.
♡ Drying the strawberries after washing them keeps the pie from becoming soggy.
♡ A graham cracker or cookie crust is less likely to get soggy.
♡ Letting the glaze cool before adding the strawberries will give the freshest flavor. Ten minutes is the minimum time to have the glaze cool, but you can let it cool for up to 30 minutes before the glaze becomes too sticky.
♡ Every pie will come out a little bit different depending on how ripe and juicy the strawberries are.
Substitutions & Variations
Substitute a Baked Pie Crust Shell. Instead of using a graham cracker crust, you can use a home-baked pastry pie shell crust. Brush the inside of the pie crust with an egg-white glaze before baking it to prevent a soggy bottom. Let the crust cool completely before adding the filling.
Substitute a Chocolate Cookie Pie Shell. Just like chocolate-covered strawberries are delicious, so is a chocolate cookie pie shell for this pie.
Make it Less Sweet. You can reduce the sugar to ¾ cup for a less sweet pie.
Substitute Any Fruit. You can make a fruit pie by substituting any fruit and its matching gelatin flavor. Good choices are raspberry or peach. Or make a mixed berry pie using fresh seasonal berries like blackberries, raspberries, and blueberries. However, you cannot use fresh pineapple or kiwi fruit. These fruits have an enzyme that prevents the pie from setting. But, you can use canned pineapple.
Make-Ahead & Storage
Because this pie uses fresh berries, it should be made on the same day it is served.
The fresh berries will release their juices while the pie is stored which means leftover pie can be stored in the refrigerator for only up to one day and still be served as a slice.
After two days the pie might not look as pretty you can still serve it in bowls with whipped cream and it is still delicious.
This pie can not be frozen due to its fresh nature.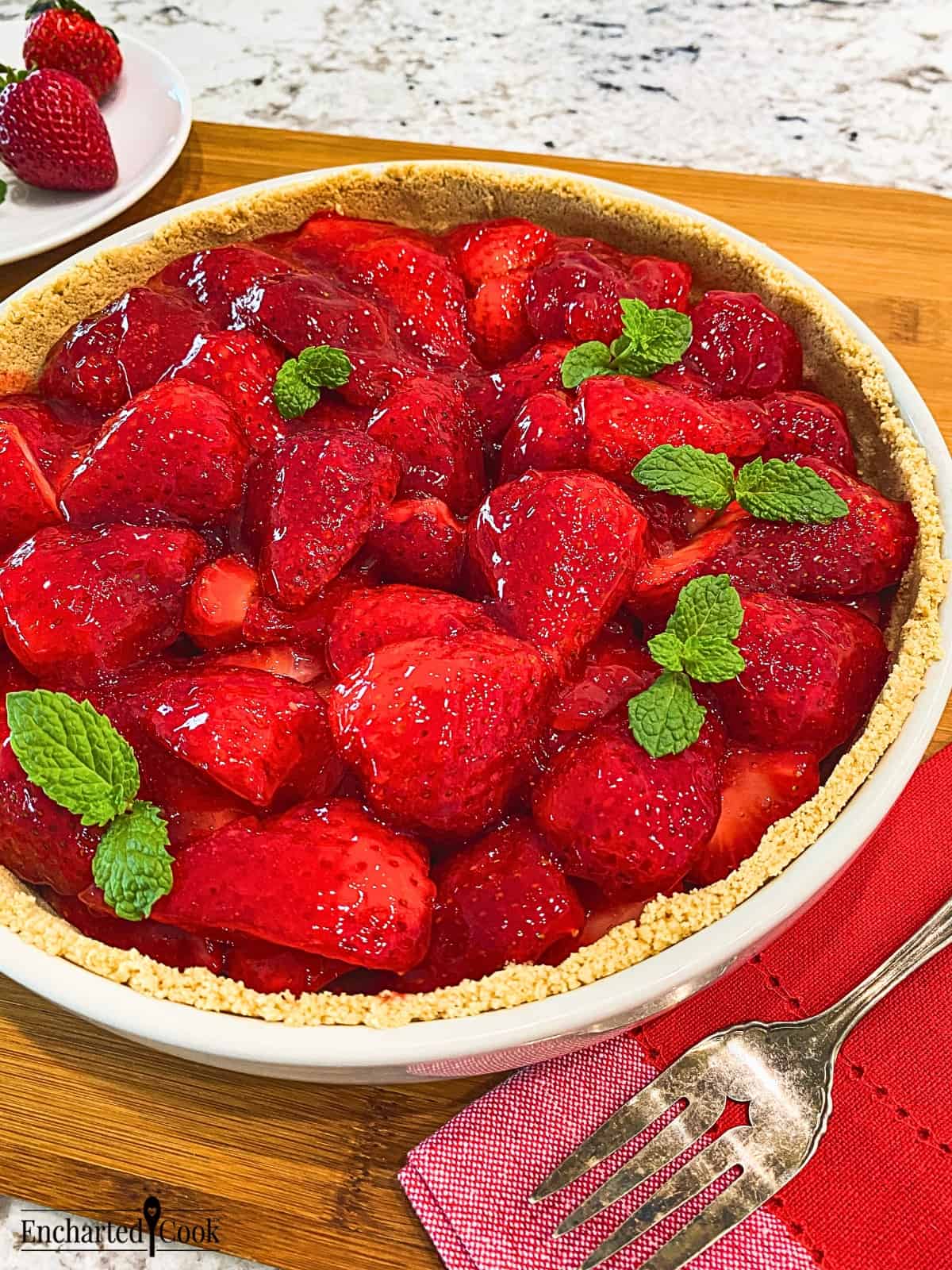 More Great Strawberry Treats
📖 Recipe