Baked Spaghetti is your favorite spaghetti made extra saucy and topped with gooey cheese for a super easy casserole to serve now or bake later.
You might be wondering why you should bother with baking sauced spaghetti that you can serve right away... and the answer is because it is so good!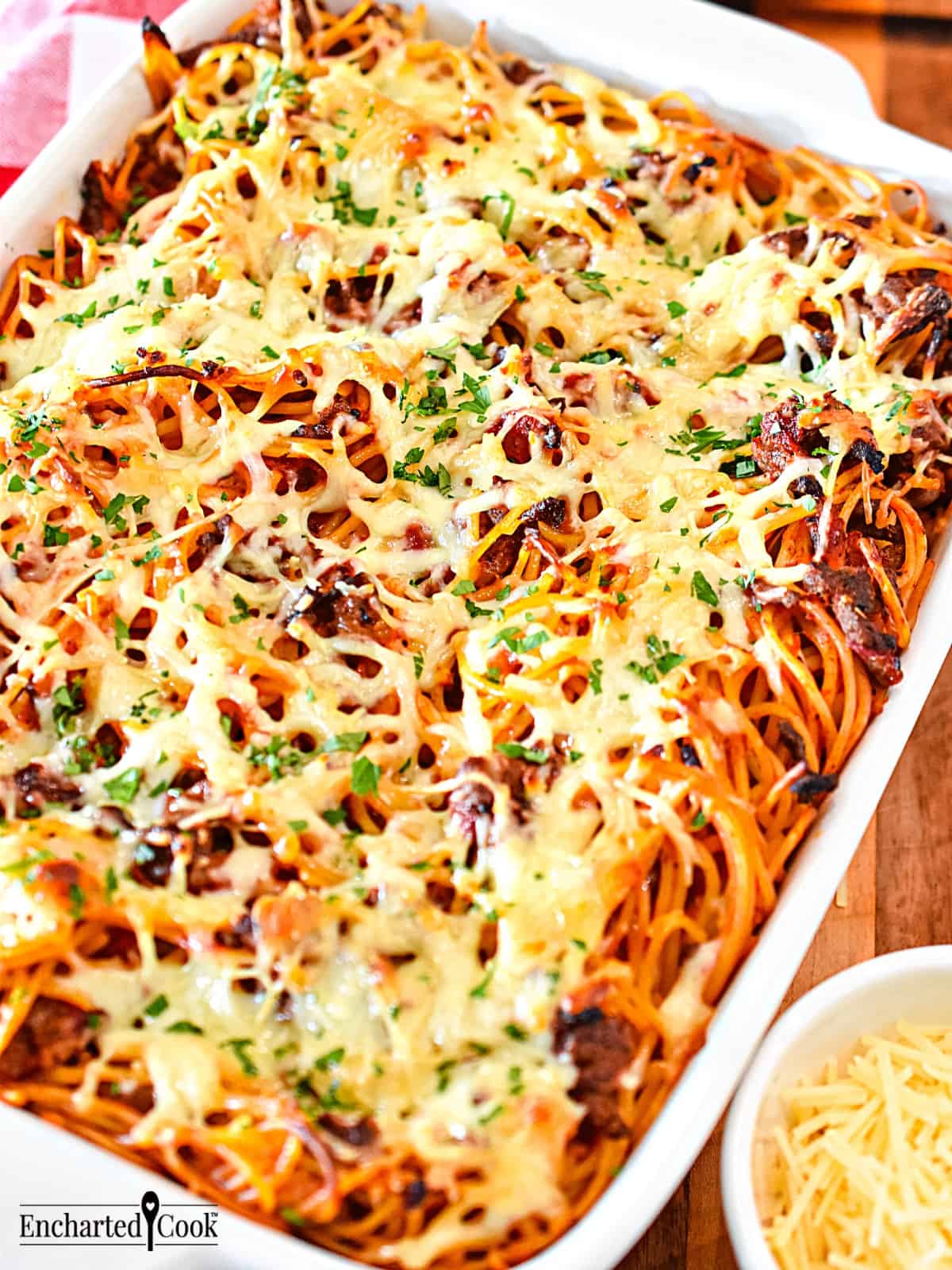 When you bake pasta it plumps a bit from the sauce and the edges become deliciously crispy. This is what cozy comfort food is all about!
Jump to:
Why This Recipe Works
My mom used to make this casserole often and actually, we never had spaghetti that wasn't baked. While everyone else in my neighborhood was having a bowl of pasta with sauce poured over the top, my mom was mixing pasta with her sauce and then baking it in a large round baking dish that was used for every casserole she ever made.
The inside of the casserole was hot, hearty, and every bit of the flavorful sauce was absorbed by the pasta. But it was the crispy edges that no one could resist and everyone got a serving that had some of that crispy deliciousness.
The beauty of this recipe is you can make it more than just one way. You can make it exactly as written, or you can add more or less cheese, add veggies, omit the butter, or switch out the ground beef.
You can also make it in advance, earlier on the day you want to serve it, or almost a week in advance.
But the best thing about Baked Spaghetti is this cozy casserole is fantastic to have after a tough day or a long week. It always feels like home cooking at its best.
So, let's cook!
Ingredients
Here's what you need to make Baked Spaghetti:
Spaghetti - You can use fresh or dried, whichever is your favorite. I like Barilla because it cooks easily and I've rarely overcooked it.
Ground Beef - I generally use 85% fat ground beef, which is more flavorful. If you choose to use 90% or less fat, you will need to use 2 tablespoons of olive oil when browning the meat to get a good sear and good browning adds lots of flavor.
Marinara Sauce - Use your favorite, I like to make my own, but any store-bought brand you love will also be delicious.
Butter - Adding a very small amount of butter to the pasta when you fold it into the sauce adds a smooth richness that makes this dish awesome.
Pasta Cooking Water - Pasta cooking water is the secret to getting the sauce to meld with the pasta. Just dip a measuring cup into the pasta and water and fish out a good cup before draining the cooked spaghetti.
Shredded Mozzarella Cheese - Mozzarella cheese is classic and will add melted cheesy goodness to this dish.
Parmesan Cheese, Grated or Shredded - Parmesan cheese can be grated or shredded and adds nutty and salty flavors. Inexpensive brands are fine for this casserole.
Chopped Fresh Parsley - Just a sprinkling of fresh green herbs makes this dish so pretty but this is totally optional.
Non-Stick Cooking Spray (Not Shown)- You will need to keep the casserole from sticking to the baking dish and a quick coating of non-stick cooking spray works like magic.
Please see the recipe card for the exact quantities.
Step-by-Step Instructions on How to Make Baked Spaghetti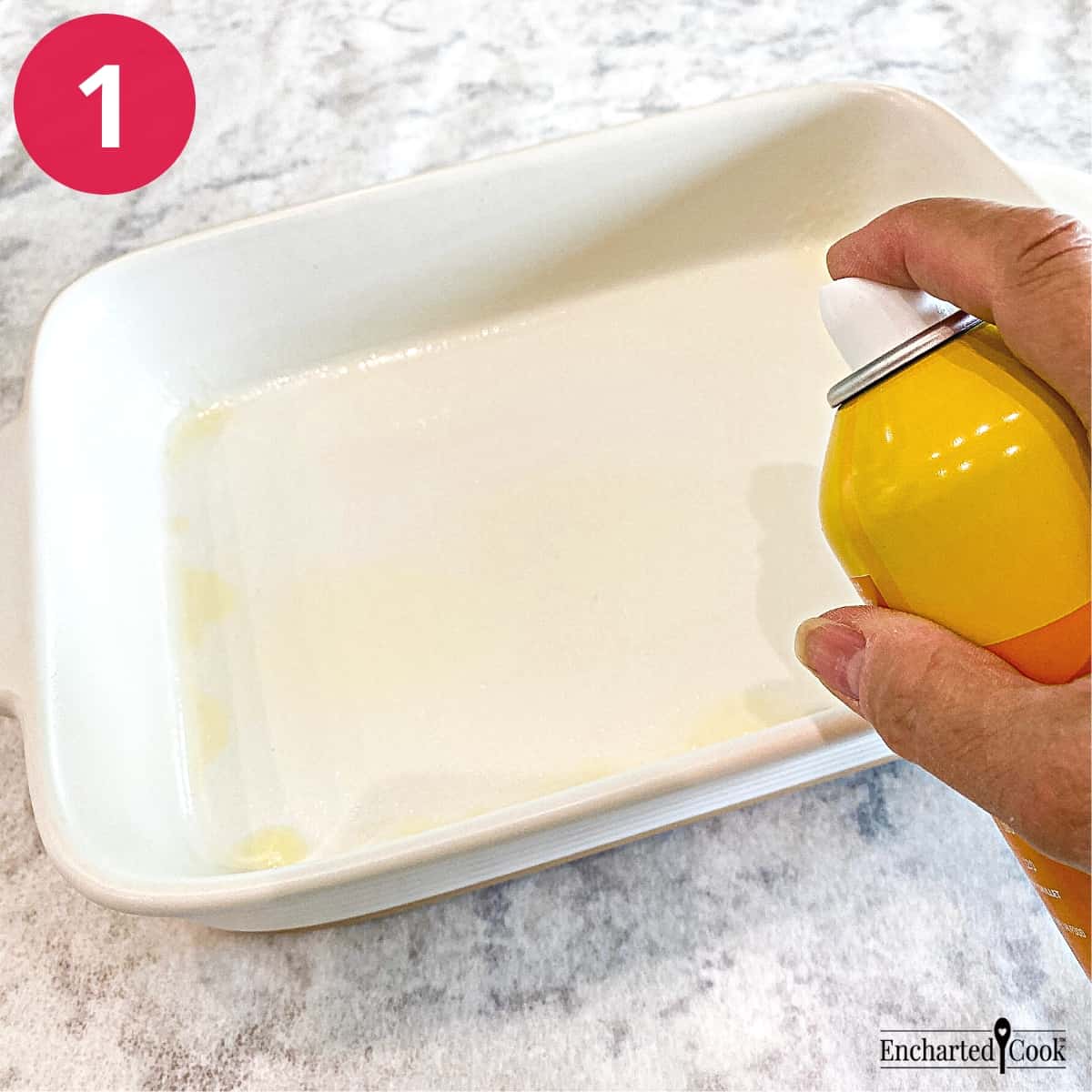 Prepare. Preheat the oven to 350°F/177°C and grease a 13"x 9"x 3" baking dish with cooking spray.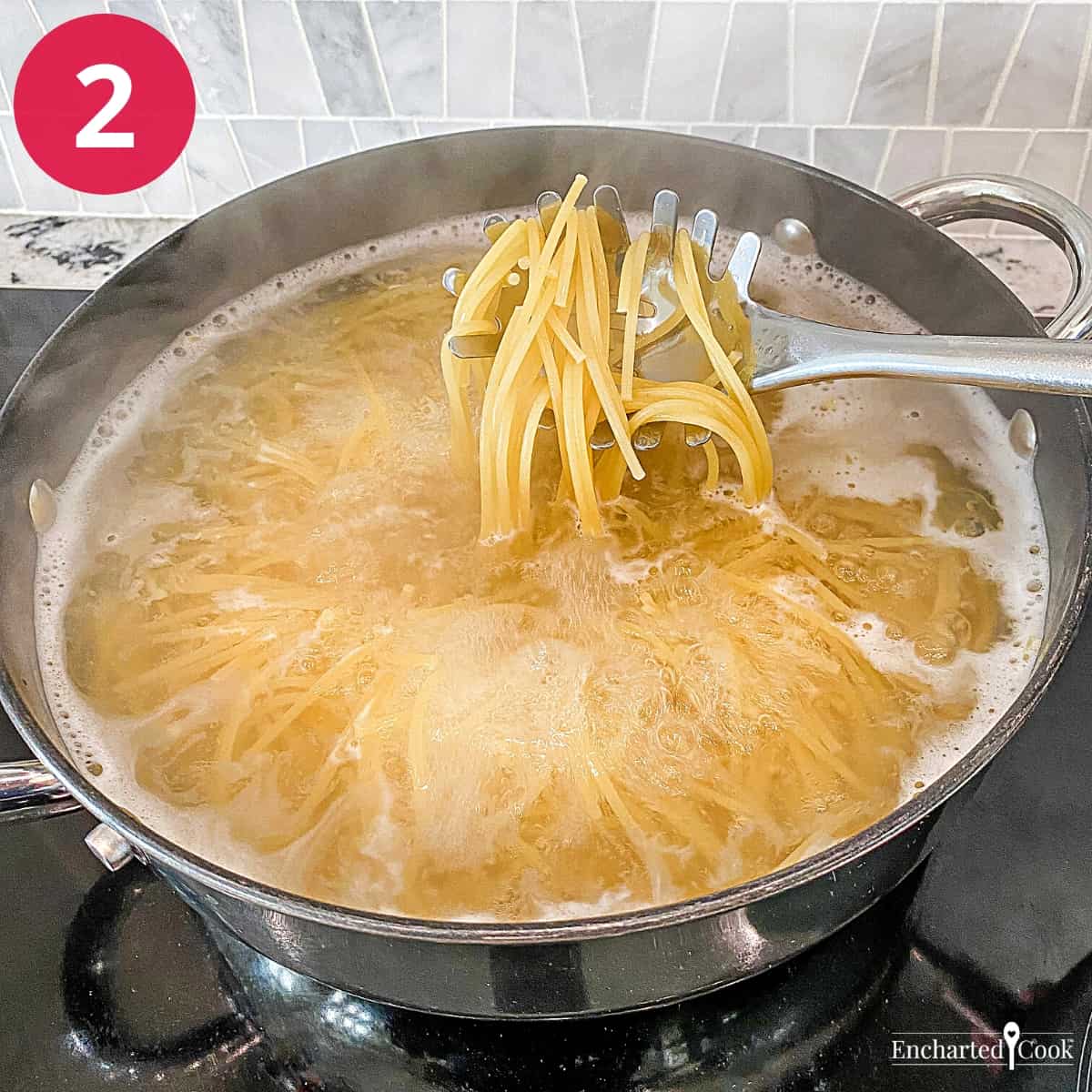 Cook the Spaghetti. Cook the spaghetti to al dente according to the package directions. Reserve ⅔ cup of the pasta cooking water, then drain the spaghetti and set it aside.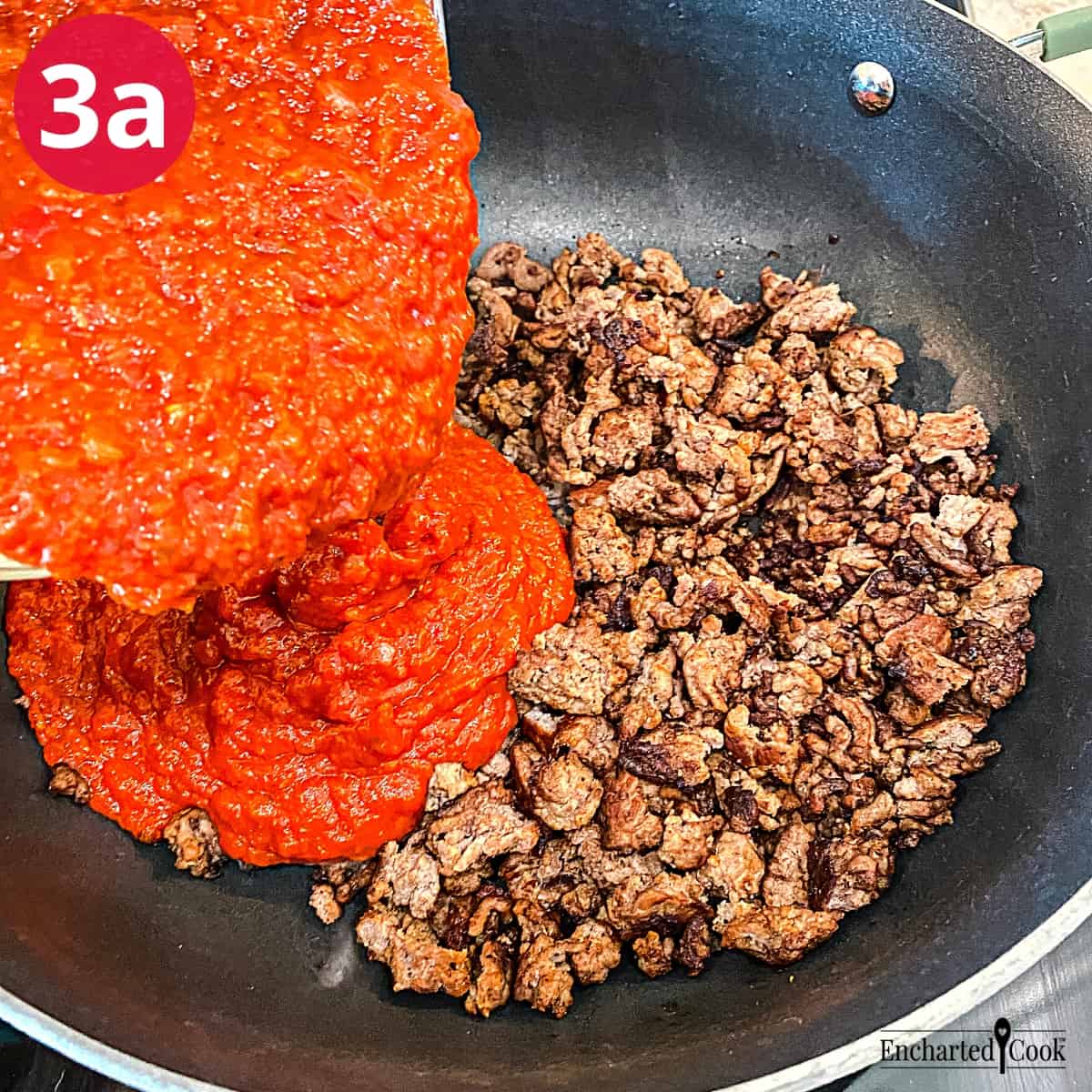 Make Meaty Marinara. In a large, deep skillet brown the ground beef. Pour off the excess fat and stir in the marinara sauce and pasta cooking water. Bring to a simmer and cook for 2 to 3 minutes.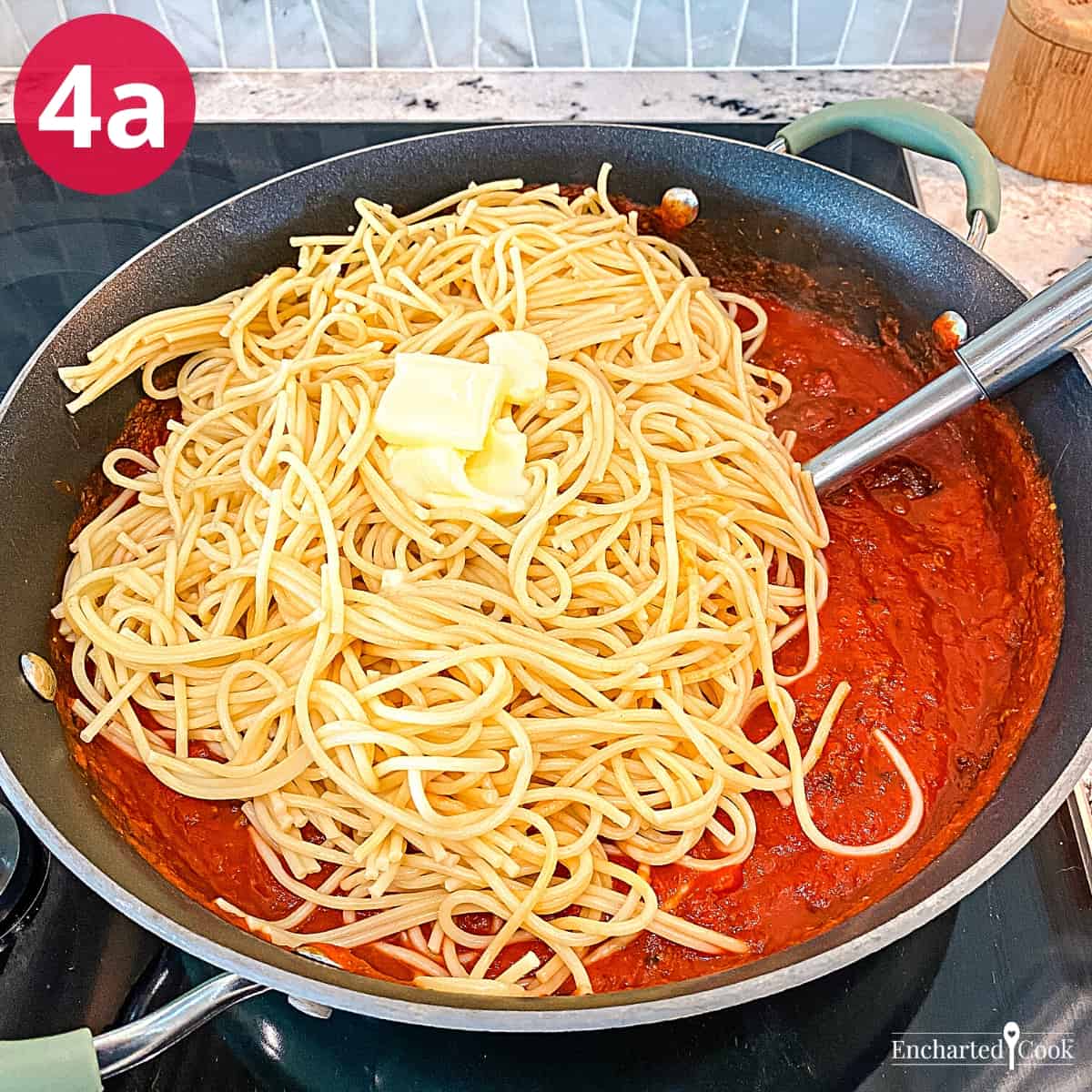 Combine. Add the cooked spaghetti and butter. Let the butter melt and then mix everything together and pour it into the prepared baking dish.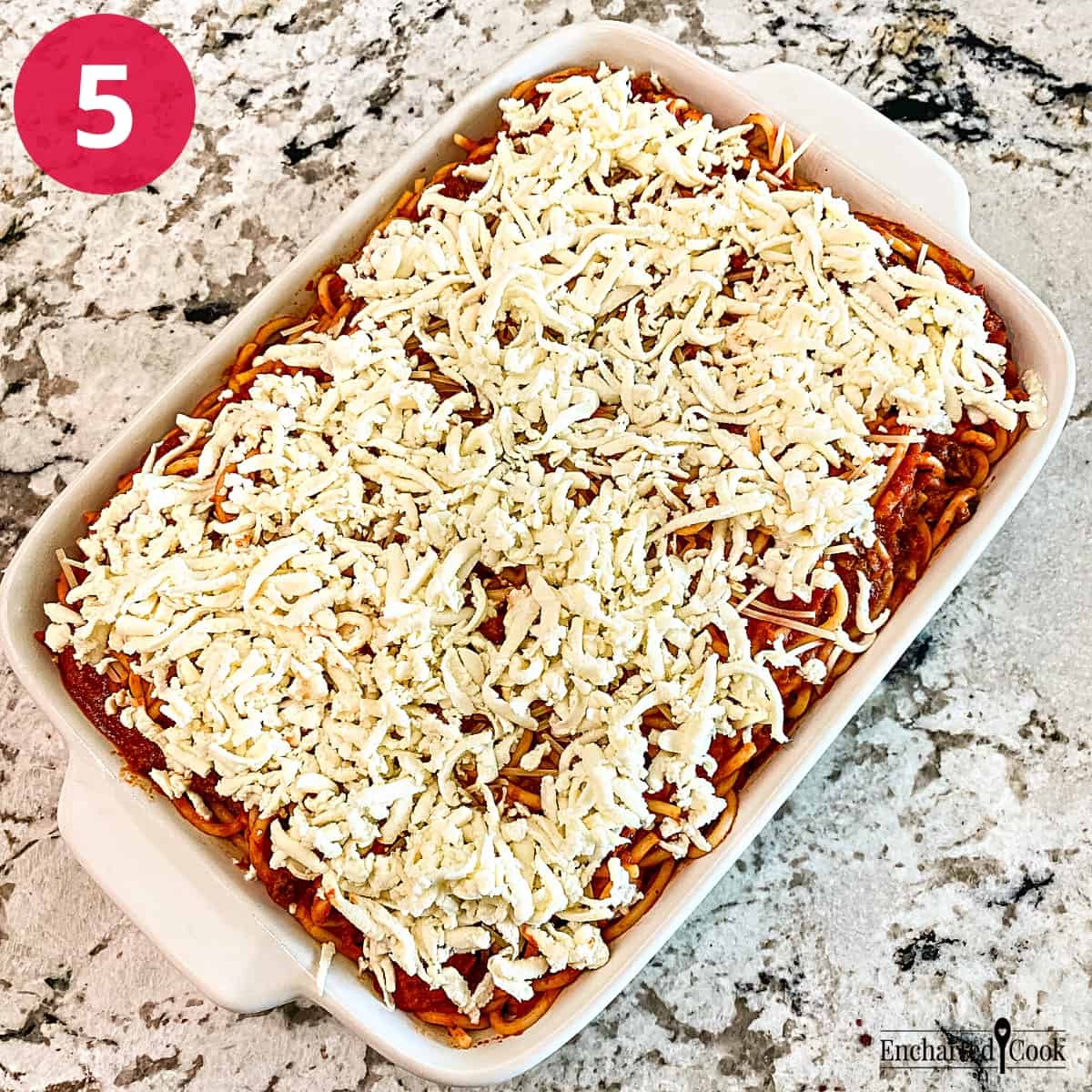 Bake. Sprinkle the top with both cheeses and bake uncovered for 25 to 30 minutes or until hot throughout and the cheese is melted. Garnish with fresh herbs and serve!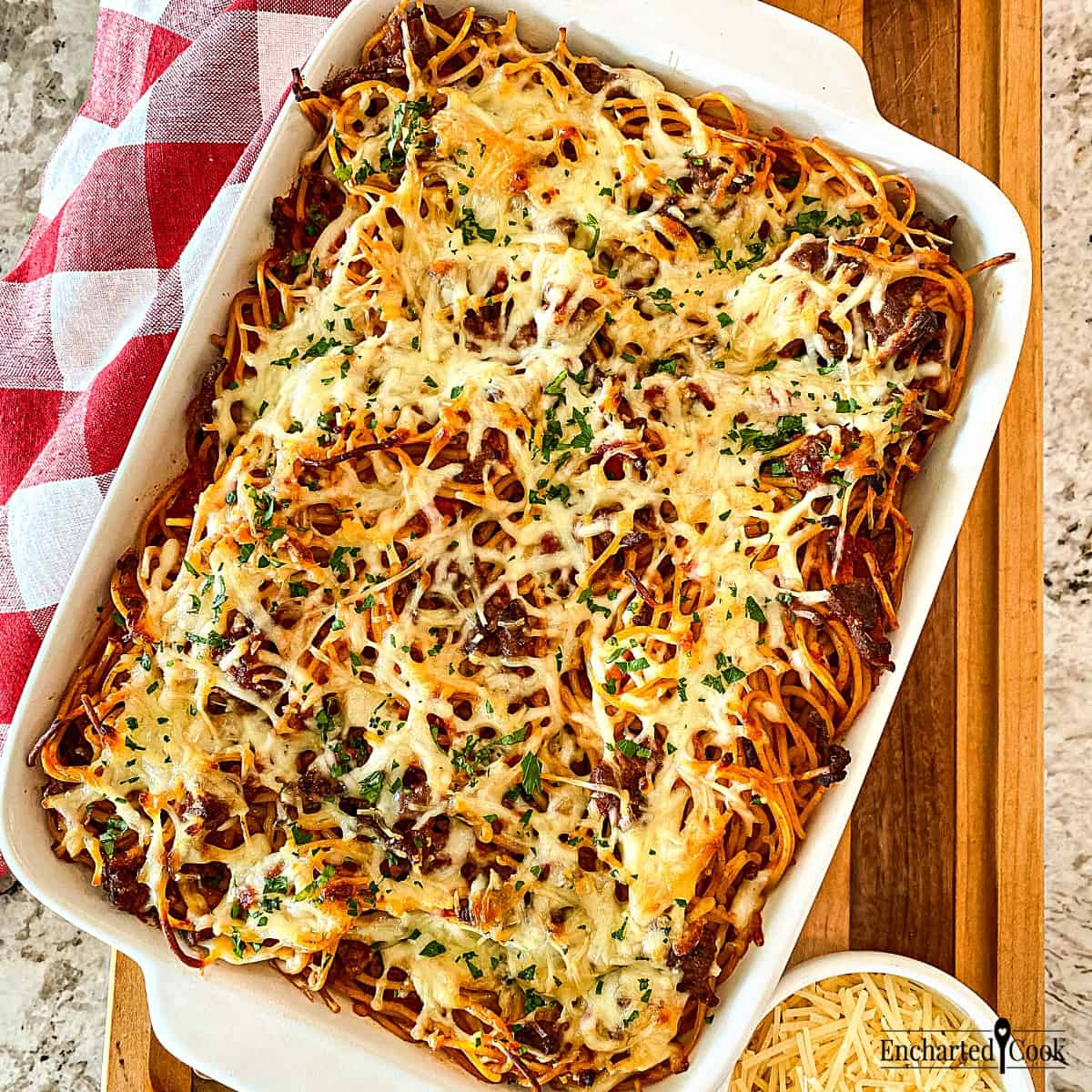 My Top Tips
♡ Getting a good sear and browning the meat will add tons of flavor.
♡ Cooked pasta water helps the pasta and sauce combine into a cohesive dish. If you use jarred sauce, swish some of the pasta water in the jar to get every bit of your delicious marinara sauce.
♡ Jars of pasta sauce are often sold by the weight of the contents of the jar and not the volume. This is why 48 ounces of weight equals approximately 4 ½ cups of sauce.
♡ You will need a deep 13"x 9" baking dish to hold all of the saucy pasta topped with cheese. Mine is exactly 3" deep and was perfect.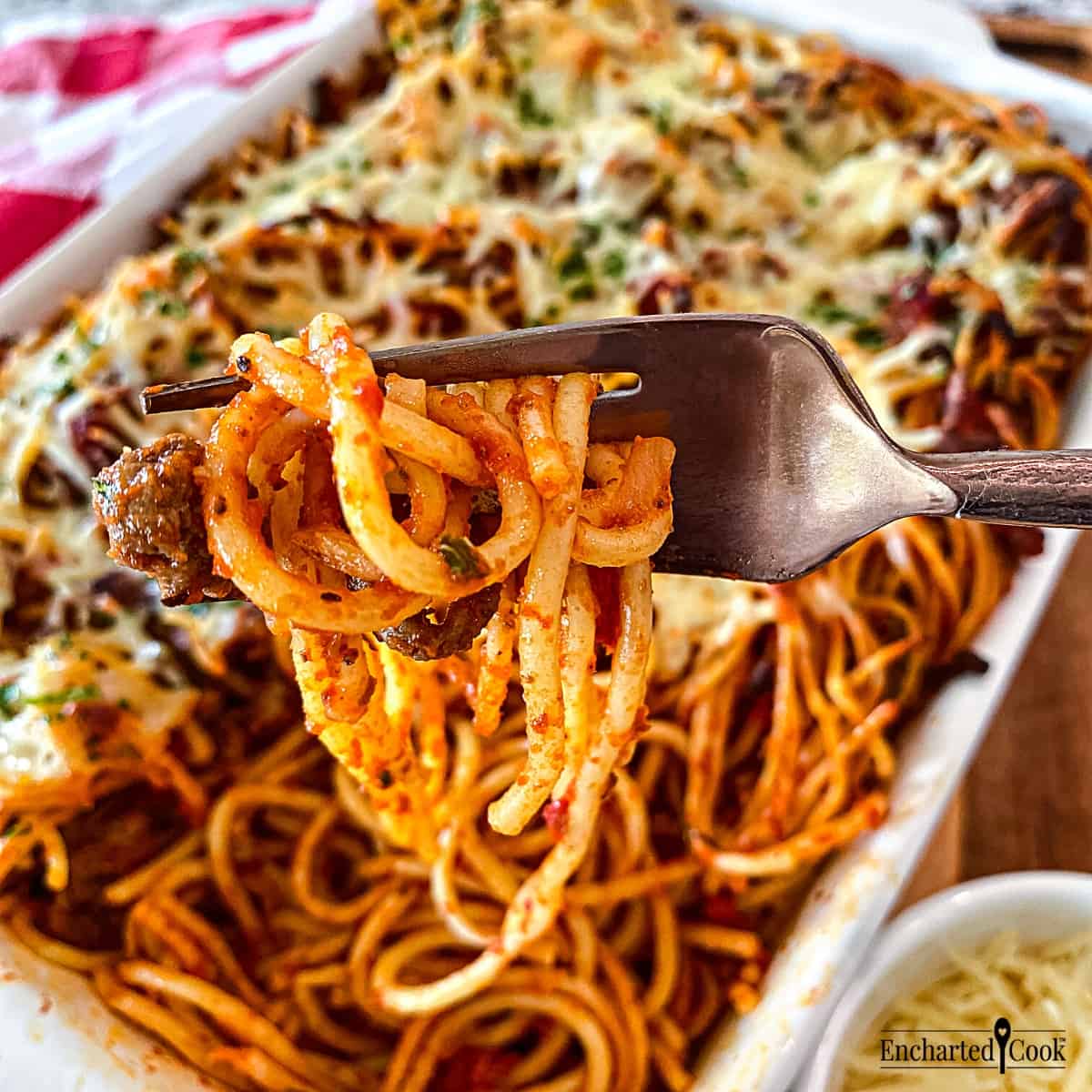 Substitutions & Variations
Use Your Favorite Cheese. You can substitute your favorite melting cheese for the mozzarella and the parmesan. Great choices are cheddar, cheddar jack, and Monterey jack.
Add Your Favorite Veggies. You can add your favorite veggies either layered in the casserole or added to the sauce. Great choices are zucchini, eggplant, and even cauliflower. Some veggies hold a lot of water and should be par-cooked before layering them in the casserole.
Substitute Ground Turkey or Italian Sausage. You can use your favorite ground meat or a blend of half Italian sausage and half ground beef.
Double the Cheese. Pour half of the spaghetti into the baking dish and add an additional layer of shredded cheese. Then add the rest of the spaghetti and finish with the topping of cheese.
Budget Version. For a thriftier version omit the butter and the parmesan cheese.
Make-Ahead & Storage
This is a perfect make-ahead casserole that you can make up to 5 days in advance. Simply cover the casserole with aluminum foil that has been greased with buttered or cooking spray and refrigerate. Let the casserole come to room temperature as the oven heats and cook it at 400°F for 60 to 75 minutes or until hot and bubbling.
Store leftover Baked Spaghetti in a covered container in the refrigerator for up to 5 days. Reheat gently in a skillet, in the oven, or in the microwave.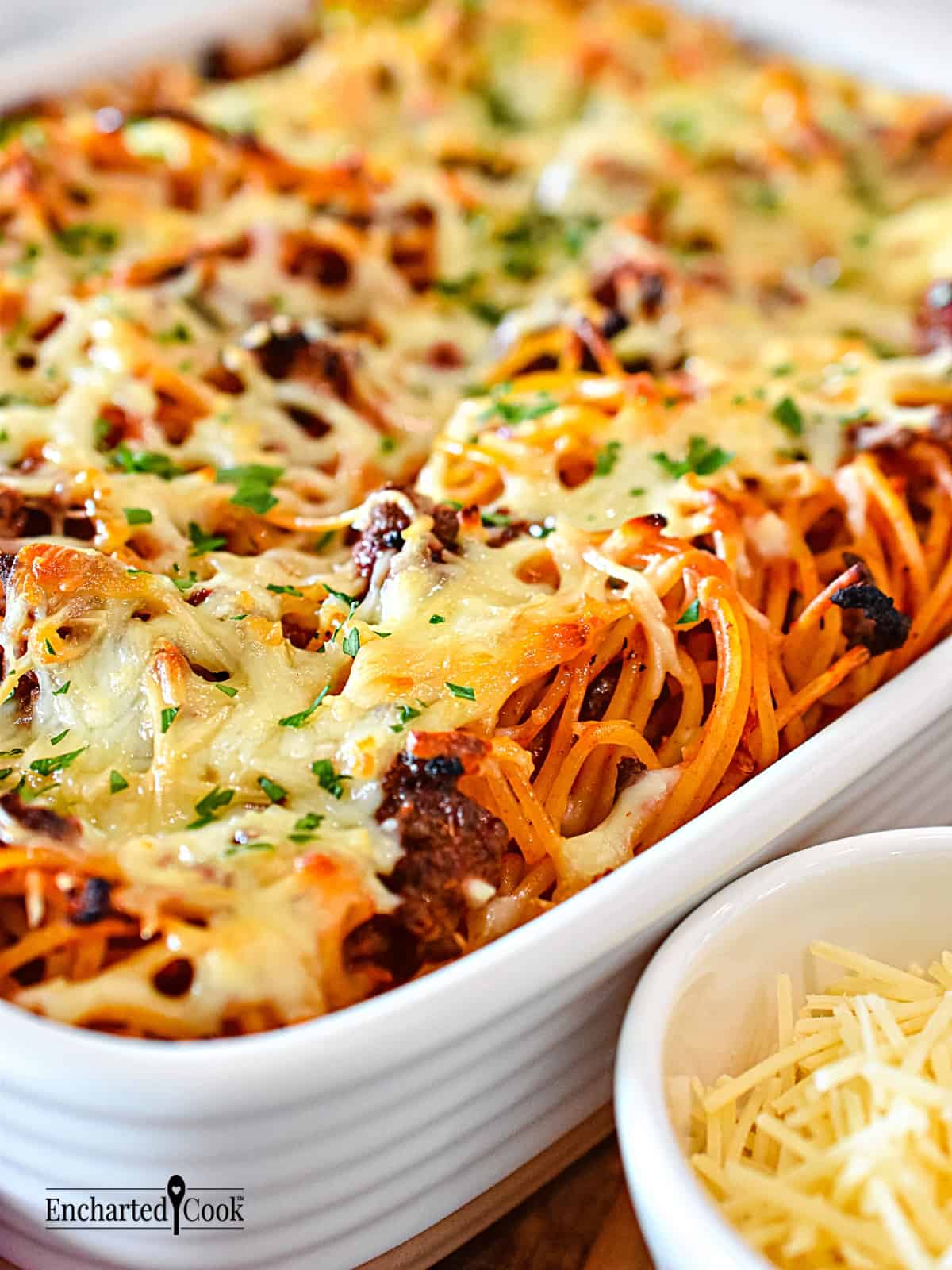 More Delicious Main Dishes
📖 Recipe