This is seriously the best homemade Italian Meat Sauce. Every time I make it, friends and family ask for the recipe. It is rich. It is savory. This is the sauce you dream of!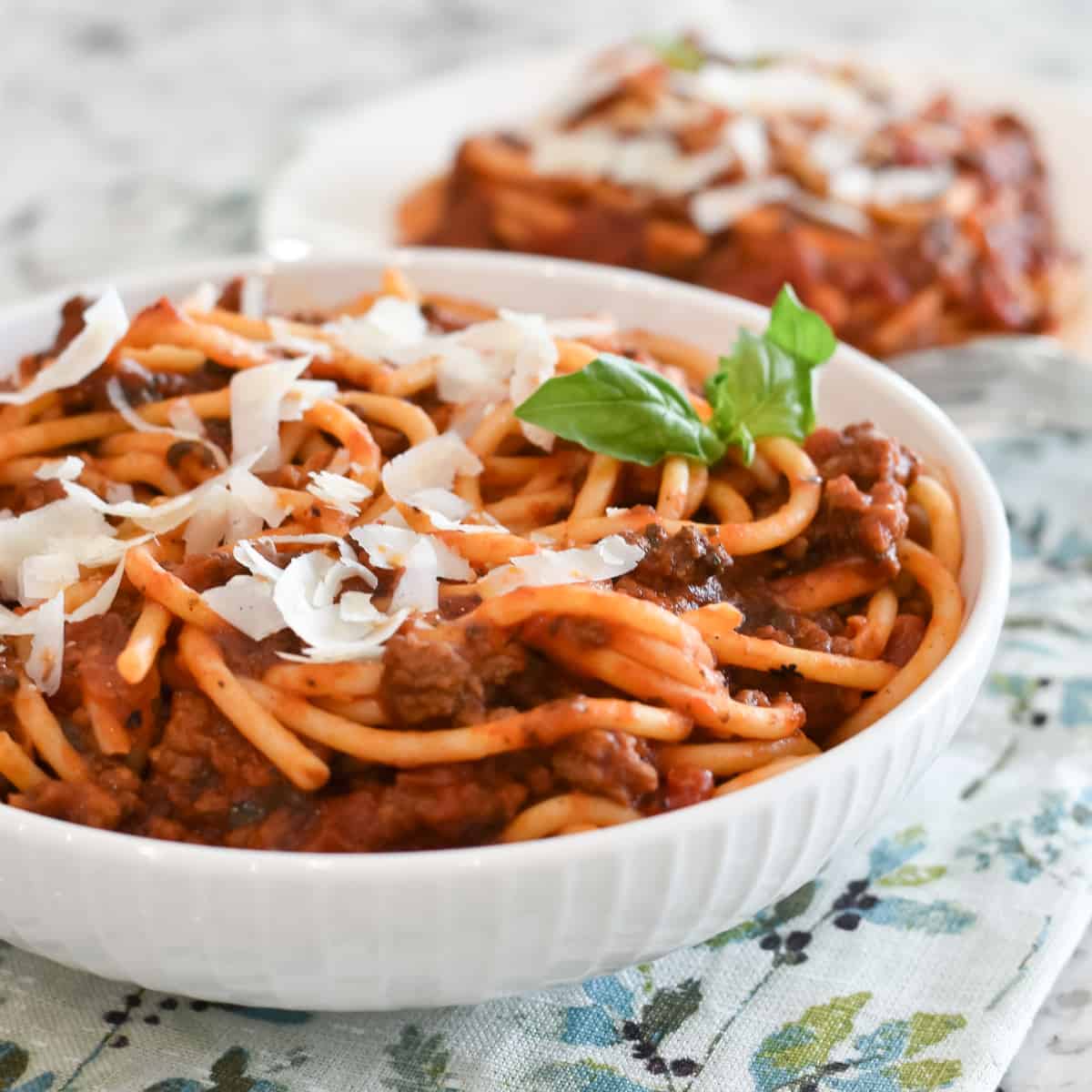 Jump to:
My recipe came from my Mom, who got the recipe decades ago from her Italian neighbors, Alex and Teresa, in San Francisco. The only changes I've made to the recipe is to not use ground veal (I never eat, buy, or use veal) or to include rosemary. I personally think rosemary overpowers the dish, but that is my preference. If you love rosemary by all means add a tablespoon of fresh, crushed leaves when you add the other herbs.
You can buy the ingredients for my Italian Meat Sauce at most grocery stores. There is nothing exotic and you might already have on hand most of the ingredients. Even San Marzano whole tomatoes are at my local Walmart and Trader Joe's. But if you cannot find this type of canned tomatoes, use your favorite brand. Because San Marzano tomatoes tend to be ever so slightly sweeter than regular tomatoes, add a scant teaspoon of white granulated sugar to the batch of sauce as it simmers.
Ingredients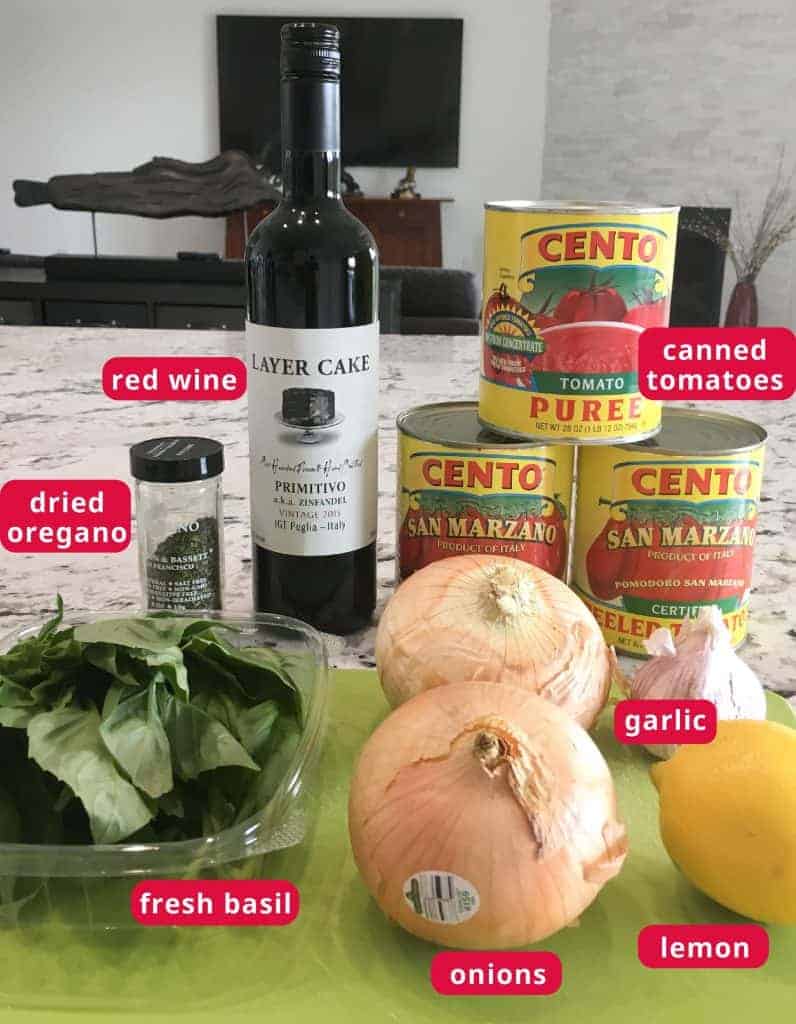 Getting More Flavor
One thing to know about any sauce or savory dish is that it is not just the quality of the ingredients that matter. It is also how you cook them. Which might make you wonder, "How can I get the most flavor from any recipe?"
I like to tease every little bit of flavor from a dish. So, I follow the rules of sear, sauté, and deglaze whenever I can!
Instructions
1. Sear the meat - get the pot very hot and make the meat toasty brown.
2. The Fond - browned meat bits and fat from browning the meat.
3. Sauté - all of the aromatics are sautéed in the fond. Stir and scrape the pan to release every bit of caramelized goodness!
4. Deglaze - Add the red wine to get every last bit of fond to release from the pan and into the sauce. Now is the time to add fresh herbs (basil chiffonade).
Yes, it is worth the wait!
Now the heart of the sauce is made and it is time to add the tomatoes, the tomato puree, and the browned ground beef and sweet Italian sausage. Bring the sauce to a boil, stir well, and then turn down the heat to a very low simmer. Cover the sauce with a lid and let it cook long and slow stirring occasionally.
After 2 hours the sauce looks like this... and is ready!
Now, you might be wondering why on earth you want to spend 2 plus hours making a homemade meat sauce. Because it is worth it! This recipe makes 12 cups of sauce, which for me means 4 dinners. I typically equally portion the sauce into containers to freeze. So, I make this beauty of a sauce one time and get 4 meals from it!
I generally use this sauce with a heartier pasta, like cut rigatoni, penne, bucatini, pappardelle, or fettuccine. Its rich thick texture is best with these types of pastas. But it is also fantastic in layered pasta dishes like lasagna. Be sure to withhold some of the pasta water in case you need to thin the sauce. Pasta water has some of the starch from cooking the pasta and when added in small quantities, helps to keep the body of the sauce from becoming too thin.
You can spoon this sauce over your pasta or drain the pasta and add it to the pot of sauce. Either way, it is delicious and gets even better with a grating of parmesan cheese and a few fresh leaves of basil.
Once you try this homemade meat sauce, you will realize it is worth the wait!
More Delicious Main Dish Recipes
📖 Recipe
Italian Meat Sauce
Made from scratch, Italian Meat Sauce is rich and savory from a long slow simmer. Every time I make it, friends and family ask for the recipe.
Ingredients
1

Pound

Ground Beef

1

Pound

Sweet Italian Sausage

2

Tablespoons

Olive Oil

,

(If Needed)

3

Cups

Onions

,

Diced Small and Thin

1

Head of Garlic

,

Cloves Peeled and Minced

½

Cup

Fresh Basil Leaves

,

Cut Chiffonade

3

Tablespoons

Dried Oregano

½

Teaspoon

Fine Sea Salt

½

Teaspoon

Fresh Ground Black Pepper

1

Cup

Red Wine

,

Malbec, Merlot, Zinfandel, Sangiovese, or Bordeaux

56

Ounces

Cento Brand San Marzano Canned Whole Tomatoes

,

2 Cans

28

Ounces

Cento Brand Tomato Sauce

,

1 Can

1

Lemon

,

juiced (If Needed)
Instructions
Using a cutting board and knife, chop onions into a small and thin dice. Mince garlic and cut basil using the chiffonade method of rolling several leaves together and then thinly slicing the basil. Rough chop the tomatoes and reserve the sauce. Set all aside.

Heat a large Dutch oven or stock pot over medium high heat. Add ground beef and brown well. Use a large slotted spoon to break up the meat as you turn and brown all sides. Remove ground meat to a medium sized bowl.

Add sweet Italian Sausage to the pot and cook until browned. Continue to use a large slotted spoon to break up the meat as you continue to turn and brown it on all sides. Remove the browned Italian sausage to the bowl containing the ground meat.

1 Pound Sweet Italian Sausage

Check the pot to see if there is enough oil from the meat to properly cook the aromatics. If there is very little or no fat, add two tablespoons of olive oil to the pot.

Reduce heat to medium low and add the diced onion. Cook onion until transparent and the fond from cooking the meat has partially released from the bottom of the pan.

Add the garlic, oregano, basil, salt, and pepper, and continue to cook and stir until garlic and herbs are fragrant. Push these aromatics to one side of the pot. Increase heat to medium and add red wine. Stir and scrape remaining fond from bottom of the pot and cook gently for 2 to 3 minutes until alcohol has burned off and mixture is slightly reduced.

1 Head of Garlic,

½ Cup Fresh Basil Leaves,

3 Tablespoons Dried Oregano,

½ Teaspoon Fine Sea Salt,

½ Teaspoon Fresh Ground Black Pepper,

1 Cup Red Wine

Add the chopped tomatoes, the sauce from the cans of the tomatoes, the can of tomato sauce, and the browned ground beef and Italian sausage. Stir well.

56 Ounces Cento Brand San Marzano Canned Whole Tomatoes,

28 Ounces Cento Brand Tomato Sauce

Bring the sauce to a boil over medium heat. Reduce heat to low and simmer for one hour, stirring occasionally. Skim foam, if necessary. After, simmering for an hour, taste sauce and add lemon juice and additional salt, if needed. Continue to simmer for 1 more hour.

Sauce is then ready to be served or stored. To store, cool to room temperature (about 1 hour and refrigerate promptly.
Notes
These are My Favorite Variations and Substitutions:
♥

Instead of Italian Sausage, Use Half Ground Beef and Half Ground Pork
♥

Thinly sliced fennel bulb can be added with the diced onions.
♥

Sliced baby portabella mushrooms can be added with the diced onions.
♥

Rosemary can be added with the rest of the seasonings. (My Mom's special touch)
♥

Sauce can also be made meatless. Add 3 tablespoons of butter at finish of sauce.
♥

A vegan variation can be made with mushrooms and no meat and no butter.
Nutrition Per Serving
Calories:
326
kcal
|
Carbohydrates:
15
g
|
Protein:
15
g
|
Fat:
22
g
|
Saturated Fat:
8
g
|
Cholesterol:
56
mg
|
Sodium:
937
mg
|
Potassium:
780
mg
|
Fiber:
4
g
|
Sugar:
8
g
|
Vitamin A:
515
IU
|
Vitamin C:
25.7
mg
|
Calcium:
98
mg
|
Iron:
3.9
mg
All nutritional information on this site is an estimate. Your results may vary.