Reuben Casserole tastes just like a sweet and salty Reuben sandwich and is a great way to use up leftover corned beef.
Hot buttered noodles are mixed with corned beef, tangy sauerkraut, and Swiss cheese and then topped with sliced tomatoes and a drizzle of thousand island dressing to make a hearty and delicious meal.
Caraway seeds are the secret ingredient that puts this Reuben casserole over the top and gives it that distinctively savory rye bread flavor.
If you are a fan of corned beef you probably have some leftover from a corned beef dinner. Rather than make sandwiches with the leftovers, why not make a casserole that can use up all the bits and pieces you have and not just the slices?
Jump to:
This recipe does exactly that and does it deliciously! If you love the flavors of a Reuben sandwich you will love this Reuben casserole.
Why This Recipe Works
To make an outstanding dish you need a balance of sweet, salty, sour, and bitter. This Reuben casserole does exactly that. It has salty and savory corned beef, sour and slightly bitter sauerkraut, and sweet and tangy thousand island dressing.
In short, all of the flavors of a Reuben sandwich are in one delicious casserole that is easy to make.
So, let's cook!
Ingredients
Here's what you need to make this Reuben casserole:
Wide Egg Noodles - Use your favorite brand and cook them according to the package directions. Be sure to salt the water to make the best-tasting cooked noodles.
Butter - You can use either salted or unsalted butter.
Sauerkraut - I use one standard can of sauerkraut that is between 14 and 15 ounces. I prefer Del Monte or Libby's but you can use your favorite brand.
Caraway Seed - Since there is no rye bread in this casserole, this is the secret to making the casserole taste like a Reuben sandwich. I use a full teaspoon of caraway seeds. But you can use a half teaspoon for a milder flavor.
Corned Beef - Leftover corned beef is perfect for this casserole. You can shred or chop the corned beef and use up all the small bits and pieces left over from a corned beef dinner.
Swiss Cheese - You can use either pre-shredded or shred the cheese yourself.
Fresh Tomatoes - I use medium-sized tomatoes which will cover the top of the casserole well.
Thousand Island Dressing - This is the crowning touch to the casserole and brings a slight sweetness to this dish.
Please see the recipe card for the exact quantities.
Step-by-Step Instructions to Make a Reuben Casserole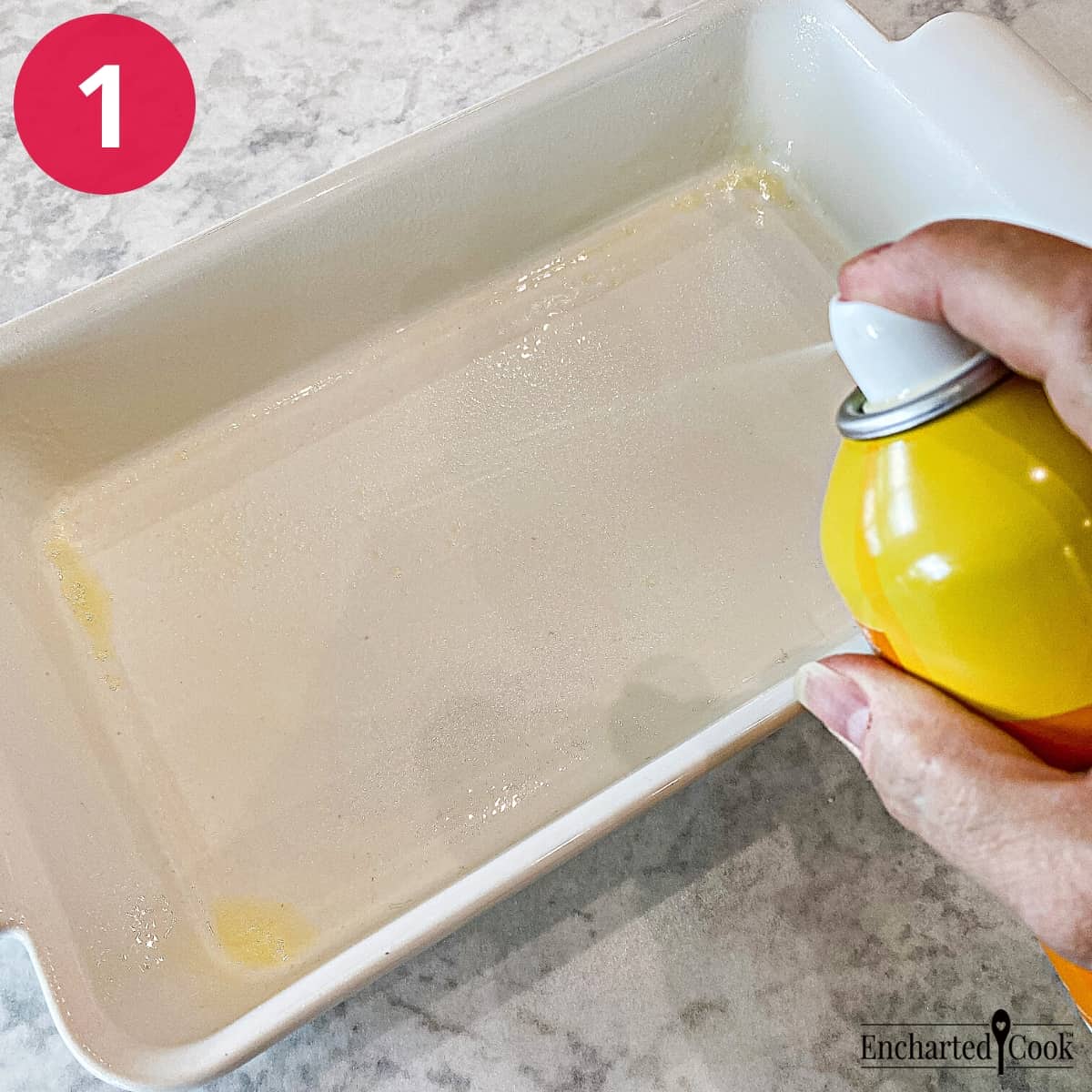 Preheat the oven to 350°F/177°C. Grease a 2-quart casserole and set it aside.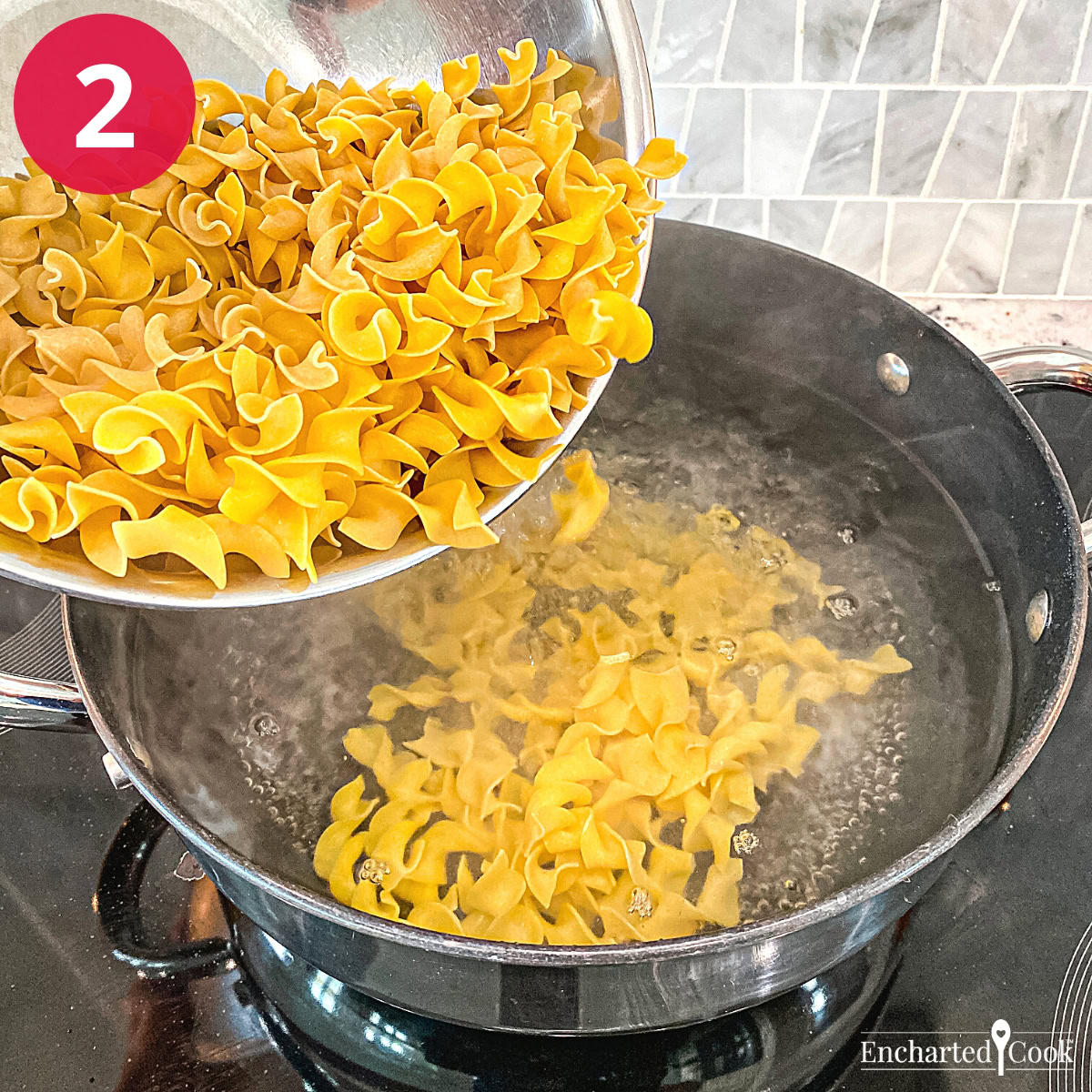 Cook the noodles according to package directions until barely tender. Drain well.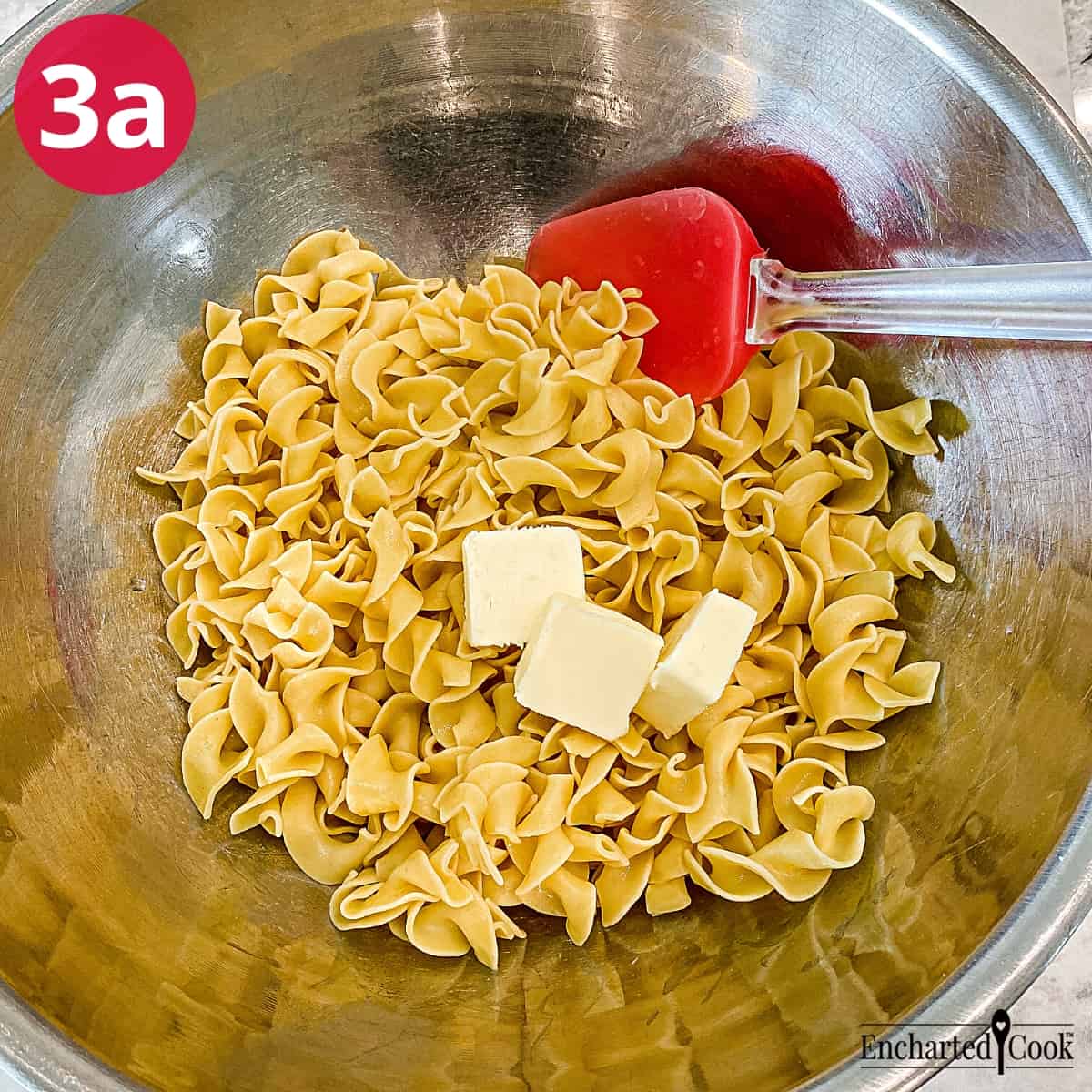 In a large mixing bowl combine the hot noodles with the butter until the noodles are well coated. Add the drained sauerkraut, caraway seed, corned beef, and ¾ of the Swiss cheese and stir to mix well.
Spoon the corned beef noodle mixture into the prepared baking dish. Top the casserole with the sliced tomatoes, drizzle with the thousand island dressing, and sprinkle with the remaining cheese.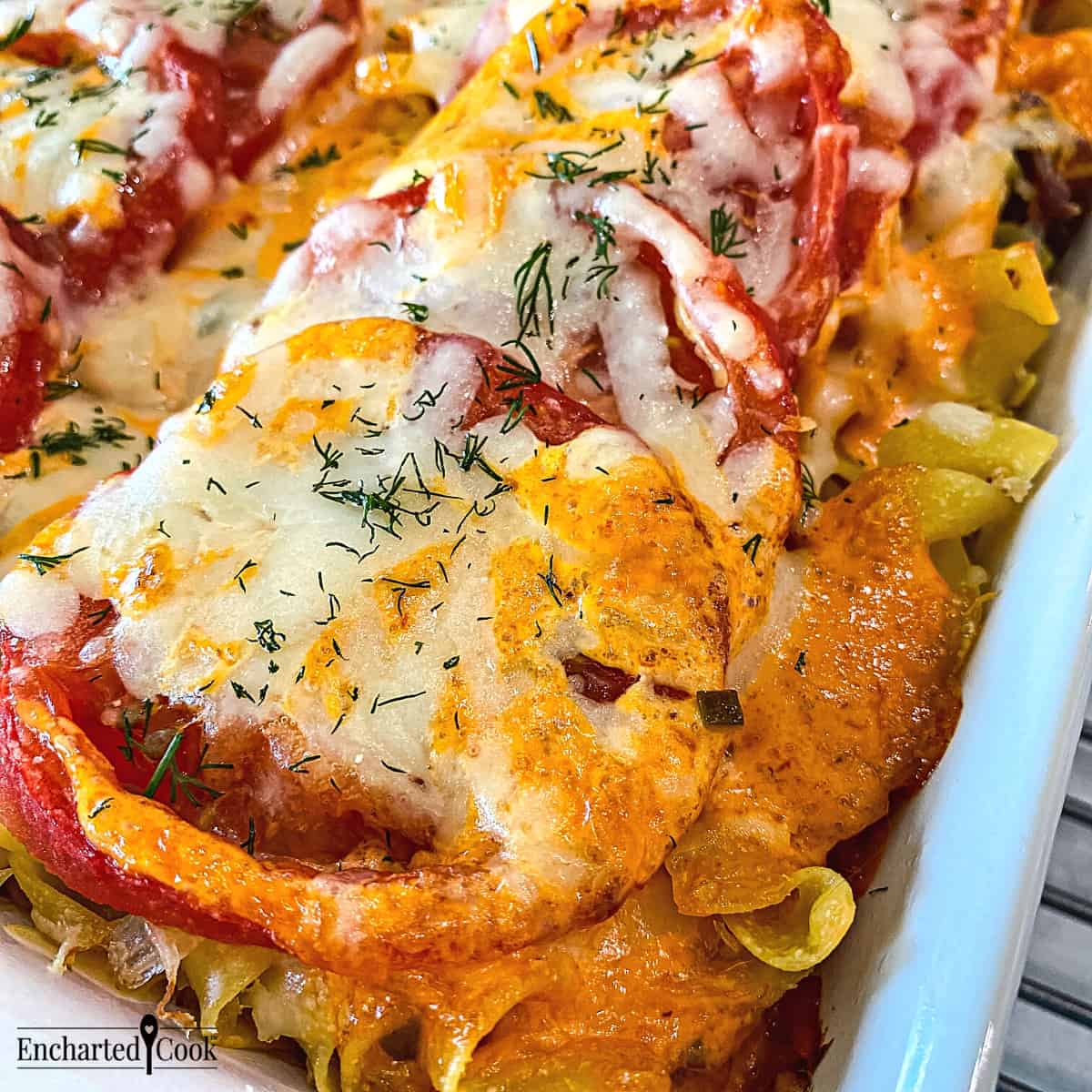 Cover with foil and bake for 45 minutes. Uncover and bake for an additional 15 minutes or until the casserole is thoroughly heated through. Serve and Enjoy!
My Top Tips
♡ Be sure to peel the tomatoes before slicing them. If you don't remove the peel it will separate from the tomato as the casserole bakes and can be bitter and tough to cut with a fork.
♡ Salt the water when cooking the egg noodles for the best taste.
Substitutions & Variations
Add Rye or Pumpernickel Croutons - for a nice crunch on top of the casserole crush rye or pumpernickel croutons and sprinkle them over the very top.
Substitute Russian Dressing - If you don't have thousand island dressing you can use Russian salad dressing.
Use Gruyère Cheese - Gruyère cheese melts wonderfully and can be substituted for Swiss cheese.
Make-Ahead & Storage
You can make this casserole up to the point of baking it and keep it in the refrigerator to bake later in the day.
Leftover Reuben casserole can be stored in a sealed container in the refrigerator for up to five days.
This casserole does not freeze well if made to completion. But you can make the casserole up to topping it with the tomatoes, dressing, and cheese and freeze it in a freezer-safe sealed container. Thaw it thoroughly and top it off when you are ready to bake.
More Great Casseroles
📖 Recipe