This Make a Casserole Chart helps you create a casserole using typical casserole ingredients. Simply choose an ingredient from each of the columns of ingredient types and combine them as directed in the instructions.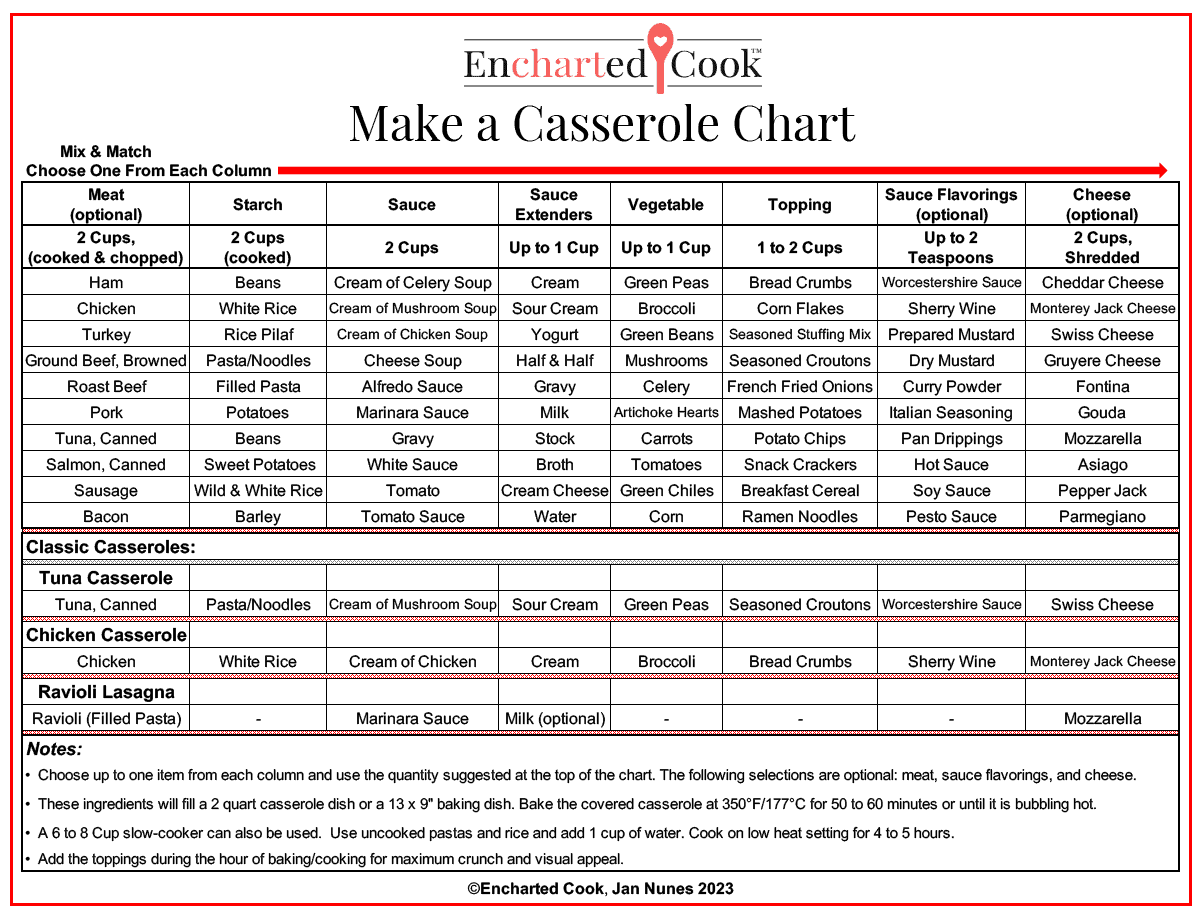 Examples of classic casseroles such as Tuna Casserole, Chicken Casserole, and Ravioli Lasagna Casserole are shown in the bottom portion of this chart.
Jump to:
How to Make a Great Casserole
Casseroles are a great way to make a one-dish meal and if you use leftovers to stretch your food budget they are also a great way to get two meals from a roast or a chicken.
Basic casseroles contain a starch like rice or noodles, a small amount of meat, perhaps some vegetables, and a sauce like condensed soup with milk, stock, or even water to hold it together.
The best casseroles go a bit further and add cheese, plus extra flavorings to the sauce, and a topping that is crunchy and full of flavor.
To make a great casserole choose classic combinations of starch and meat like chicken and rice, tuna and noodle, or pasta and cheese. Basically, any braised, roasted, or boiled meat that is typically served over noodles or rice will make a great casserole. And you can use up any leftover vegetables served with the original roast.
Then go a step further and make a flavorful sauce using a sauce, a complementary sauce extender, and a flavoring to kick your casserole up a notch (as Emeril Lagasse would say!).
Lastly, find the perfect crunch to top off your casserole creation. Good examples are the fried onions on top of a Classic Green Bean Casserole or potato chips on a Classic Tuna Casserole.
If a crunchy topping is not your thing, mashed potatoes can turn plain meat, gravy, and mixed vegetables into a Cottage Pie.
Instructions
This chart makes it easy to create your own casseroles. Here's how:
Choose an ingredient from each column: Meat, Starch, Sauce, Sauce Extenders, Vegetable, Topping, Sauce Flavorings (Optional), and Cheese (Optional).
In a large bowl mix your chosen Sauce, Sauce Extender, Sauce Flavoring, and Cheese.
Fold in your chosen Meat, Starch, and Cheese.
Pour the casserole mixture into a 13" x 9" baking dish and cover it with aluminum foil.
Bake the casserole at 350°F for 50 to 60 minutes or until heated through and bubbly. Add toppings (if desired) during the last 15 minutes of cooking.
Can I Use a Slow Cooker?
You can use a 2 quart (8 cups) slow cooker for these ingredients. When using a slow cooker use uncooked pasta and uncooked rice and add 1 cup of water. Cook on the low heat setting for 4 to 5 hours.
Can I Freeze a Casserole?
Casseroles freeze beautifully! Be sure to use a freezer-safe container and most casseroles can be frozen for up to 2 months. Be sure to thaw the casserole in the refrigerator before baking or allow extra baking time, so it will be hot and bubbly when you are ready to serve it.
More Great Recipe Charts