Some volume measurements in recipes can be a little tricky to calculate when you need to cut a recipe in half. Here is a handy graphic and a chart showing the ½ value of fractions of cups, tablespoons, and teaspoons.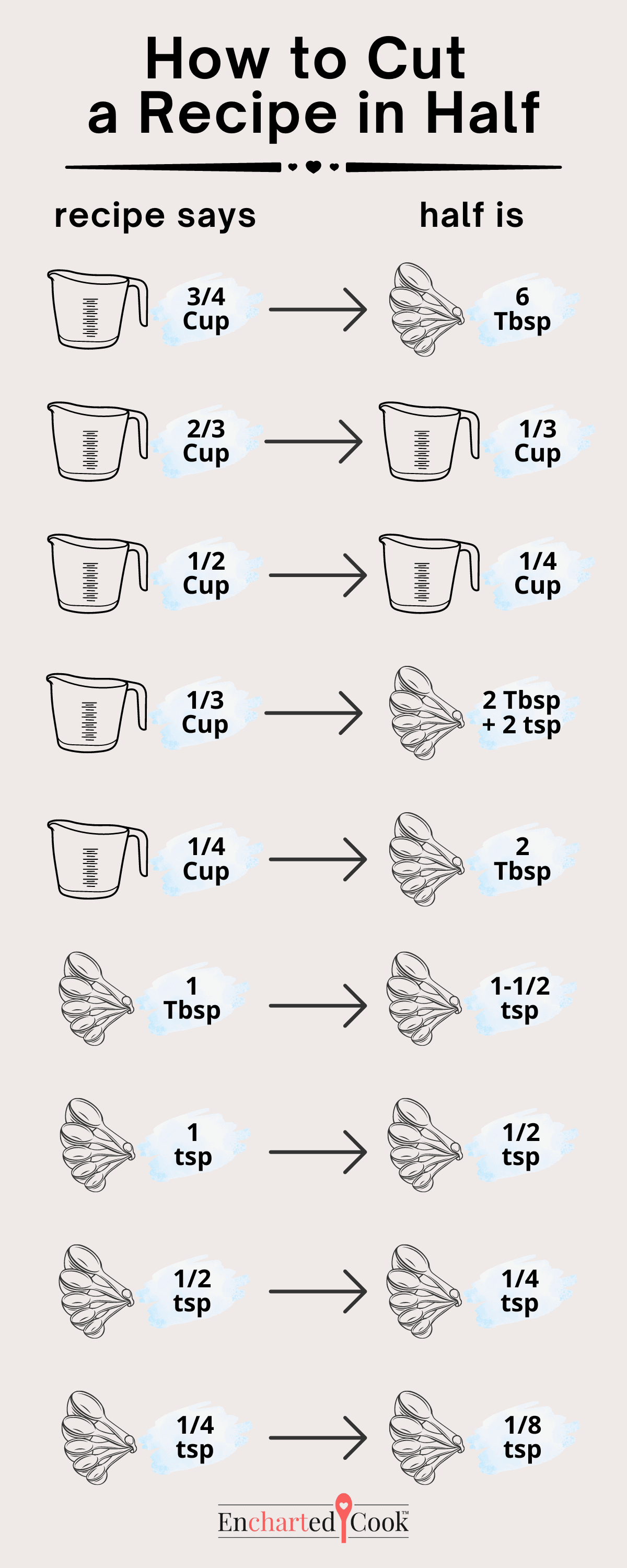 General Facts about Volume Measurements
In general, to recalculate the volumes of ingredients in a recipe you would multiply the volume by the amount of the change, whether it is an increase (doubling a recipe) or a decrease (cutting a recipe in half).
If you were to double a recipe you would multiply each ingredient quantity by 2. The same can be said for making only ½ of a recipe. You would multiply each ingredient's quantity by ½ which is the same as multiplying by 0.5. Because the fraction "½" evaluates to 1 divided by 2 = .5.
This means when you want to make just half of a recipe you can simply multiply each measurement by .5. But some volume measurements will evaluate to a fraction that needs to be converted to a smaller volume measurement like tablespoons or teaspoons.
Half of ⅔ cup easily equates to ⅓ cup. But ⅓ cup equates to a non-standard measurement of .1667 of a cup, which means that another calculation to tablespoons needs to happen. Yikes! Who wants to do that?
But I've got you covered. On this page, you will find the most common volume measurements and their ½ value. Simply look at the "recipe says" left column and the half value is in the right column.
A good thing to always keep in mind is that a fraction is part of a whole and ½ of anything is less than the original quantity.
A Table for Cutting a Recipe in Half
| recipe says | half is |
| --- | --- |
| ¾ Cup | 6 Tablespoons |
| ⅔ Cup | ⅓ Cup |
| ½ Cup | ¼ Cup |
| ⅓ Cup | 2 Tablespoons + 2 Teaspoons |
| ¼ Cup | 2 Tablespoons |
| 1 Tablespoon | 1-½ Teaspoon |
| 1 Teaspoon | ½ Teaspoon |
| ½ Teaspoon | ¼ Teaspoon |
| ¼ Teaspoon | ⅛ Teaspoon |
More Cooking and Baking Tips & Helps