These recipe abbreviations are the most common ones used in cooking and baking. From teaspoons to tablespoons, cups to quarts, and more!
There is nothing worse than ruining a dish by using too much or too little of an ingredient, which can happen when trying to read an abbreviation and mistaking tablespoon for teaspoon.
All of these recipe abbreviations begin with the first letter of the abbreviated term and are generally followed by letters that easily convey the term. The exception is the cup which is simply denoted by "C".
Many of these recipe abbreviations date back centuries and some even come from speed writing by home cooks sharing recipes.
Jump to:
Understanding a Recipe
All recipes are written to inform the reader of the proportions of ingredients in relation to each other.
Everyone had a cup, a teaspoon, and a tablespoon (a serving spoon) in their kitchen and over centuries, in American cooking, these proportions have become standardized in relation to a one-cup measurement. In modern recipes, there are 3 teaspoons in a tablespoon, four tablespoons in a ¼ cup, and so on.
In reading all recipes, it is often helpful to understand the intent of the ingredient in a recipe.
If it is a leavening agent, it most likely will follow a standard that is common in cooking like one teaspoon of baking powder for every cup of flour.
Flavorings will generally be more subtle in a recipe, so a reader can assume these will be fractional to other ingredients.
Table of Common Recipe Abbreviations
| Abbreviation | Meaning |
| --- | --- |
| t or tsp | Teaspoon |
| T or TB or Tbsp or tbl or tbs | Tablespoon |
| C | Cup |
| oz | Ounce |
| pt | Pint |
| qt | Quart |
| lb | Pound |
| sq | Square |
| min | Minute |
| hr | Hour |
| doz | dozen |
| sq | square |
| mod | moderate |
A text table showing common recipe abbreviations and their meaning.
Teaspoon Abbreviations
The abbreviations for teaspoon and tablespoon are often confusing. Essentially, a lowercase "t" and any abbreviation starting with a lowercase "t" mean teaspoon.
Tablespoon Abbreviations
There are numerous abbreviations for tablespoon. The most common is an uppercase T and the lowercase tbsp, with the "b" being the signal that the measurement is a tablespoon.
Cup Abbreviation
Cup is already very short however many recipes written in speed writing use a "c" to designate cup. The "c" can be uppercase or lowercase.
Ounce Abbreviation
oz - for weight
fl oz - for liquids (fluid)
The abbreviation "oz" for ounce dates back to the 1500s. It comes from the Italian word "onza", which translates to "ounce."
Ounce can mean both by weight or by volume and recipe writers that are meticulous will specify which is meant by denoting "fl oz" for liquids. Weights are always simply "oz".
Modern recipes, especially for cocktails and mixtures that include only liquids, often will not state "fl oz" as it is implied by the fact that everything in the recipe is a liquid.
Pint Abbreviation
Pint in recipes generally means liquid pint, except in canning where it could mean either a liquid or dry abbreviation. Understanding the intent of the recipe writer can help in determining which measure it is.
In the US, 2 cups equal a pint.
Quart Abbreviation
Quart is another term, like pint, that generally means a liquid quart. A quart contains 2 pints, which is 4 cups.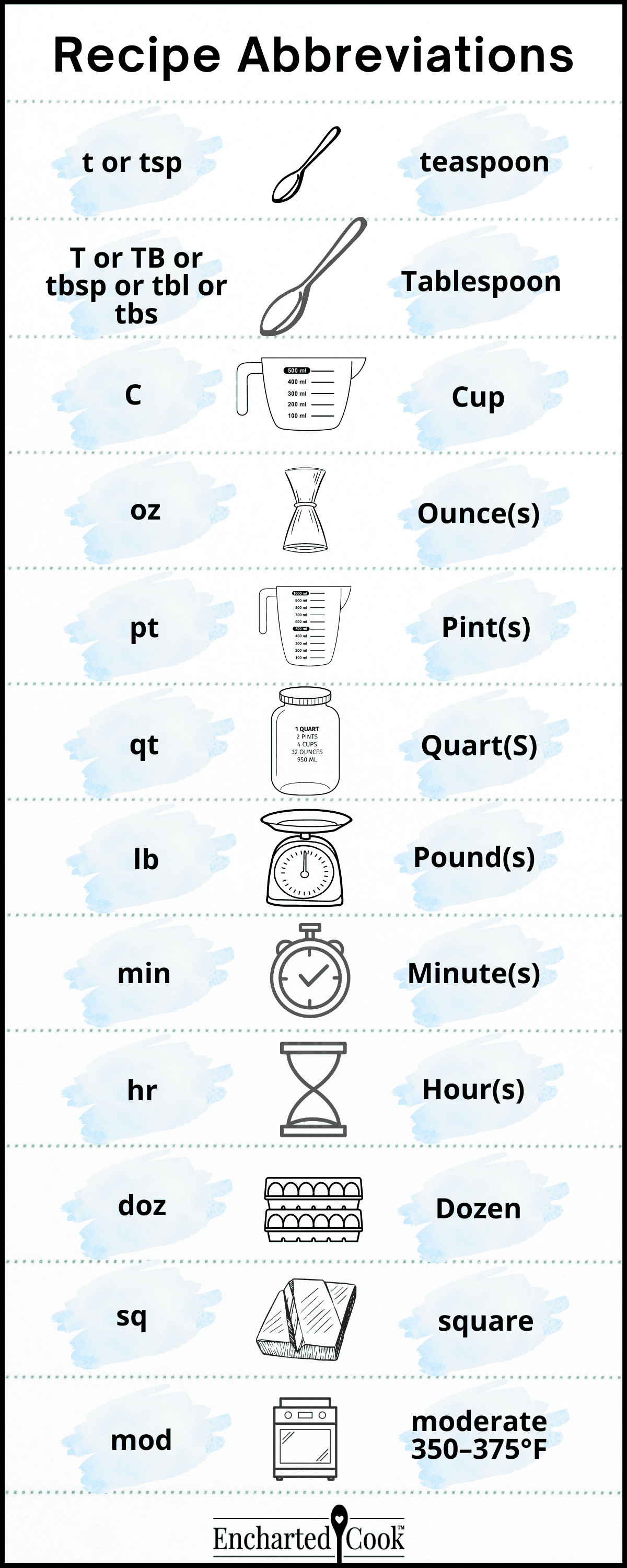 Pound Abbreviation
The pound is a measurement of weight. There are 16 ounces in a pound.
Minute(s) Abbreviation
Minute in recipes is a standard measurement of time.
Hour Abbreviation
Hour is also a measurement of time and there are 60 minutes in an hour.
Recipes written prior to the 20th century might state "quarter hour" (¼ hr) for 15 minutes, "half hour" (½ hr) for 30 minutes, and "three quarters hour" (¾ hr) for 45 minutes.
Dozen Abbreviation
Dozen can be 12 of anything, although it generally refers to eggs.
Square Abbreviation
Cooking and baking chocolate is frequently sold in bars that are divided into squares that are 1 ounce each (weight measurement).
Moderate Abbreviation
Moderate refers to the temperature of an oven and is generally between 350°F and 375°F.
Teaspoon to Tablespoon Conversions
| Teaspoons (tsp) | Tablespoons (Tbsp) | Cups | Fluid Ounces (OZ) |
| --- | --- | --- | --- |
| 3 tsp | 1 Tbsp | 1/16 C | ½ oz |
| 6 tsp | 2 Tbsp | ⅛ C | 1 oz |
| 8 tsp | 2 Tbsp + 2 tsp | ⅙ C | 1 ⅓ oz |
| 12 tsp | 4 Tbsp | ¼ C | 2 oz |
| 16 tsp | 5 Tbsp + 1 tsp | ⅓ C | 2 ⅔ oz |
| 24 tsp | 8 Tbsp | ½ C | 4 oz |
| 32 tsp | 10 Tbsp + 2 tsp | ⅔ C | 5 ⅓ oz |
| 36 tsp | 12 Tbsp | ¾ C | 6 oz |
| 48 tsp | 16 Tbsp | 1 C | 8 oz |
More Cooking and Baking Tips & Helps