This chart lists the optimum oven temperature for various types of meat like beef, pork, ham, lamb, and poultry. The left side of the chart lists the oven temperature and the right side of the chart lists the desired final internal temperature of each meat. The center of the chart lists the recommended range of time in minutes to roast each meat.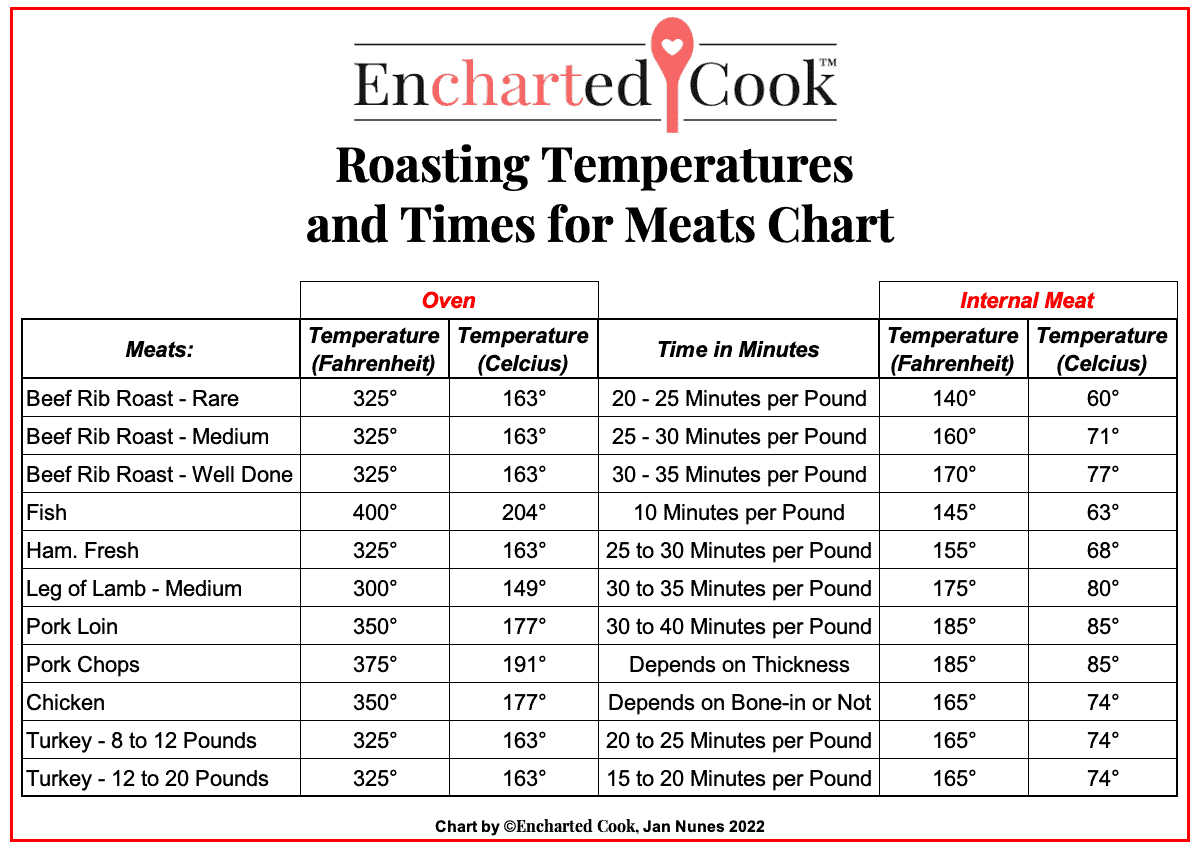 How to Prepare Meat for Roasting
Remove the meat from all of the packaging.
Dry the meat on all surfaces using paper towels or a clean kitchen towel. Drying the meat is the secret that allows the surface of the meat to brown and caramelize.
If desired season the meat. Most meats are delicious with just a combination of salt and pepper to season them.
Place the meat in a roasting pan, roasting sheet pan, or roasting rack in a roasting pan. Large cuts of meat like standing rib roasts, pork loans, and whole turkeys cook more evenly by being held above the pan on a roasting rack to allow hot air in the oven to circulate around all sides of the meat.
Let the meat come to room temperature before placing it in the oven.
Insert an oven meat thermometer into the meat before roasting. For large cuts place the thermometer in the center of the roast. For small cuts like cut-up chicken or pork chops, an instant-read thermometer can be used at the minimum cooking time to see the current temperature of the meat.
How to Roast Meat and Poultry
Beef, pork, ham, and poultry, should be roasted at the oven temperature listed in the above chart. Remove the meat when its temperature is 10 degrees less than the internal meat's final temperature. Let it rest at room temperature for at least 15 minutes and up to 30 minutes for very large roasts, 8 pounds or larger.
Tent or cover the meat for the resting period. During this resting period, the meat will continue to cook, which is called "carry-over cooking. The final temperature of the meat at the end of resting will be the recommended temperature for serving.
More Great Charts from Encharted Cook