Did you know that you can learn to make one basic bread dough and then make many different types of bread from it?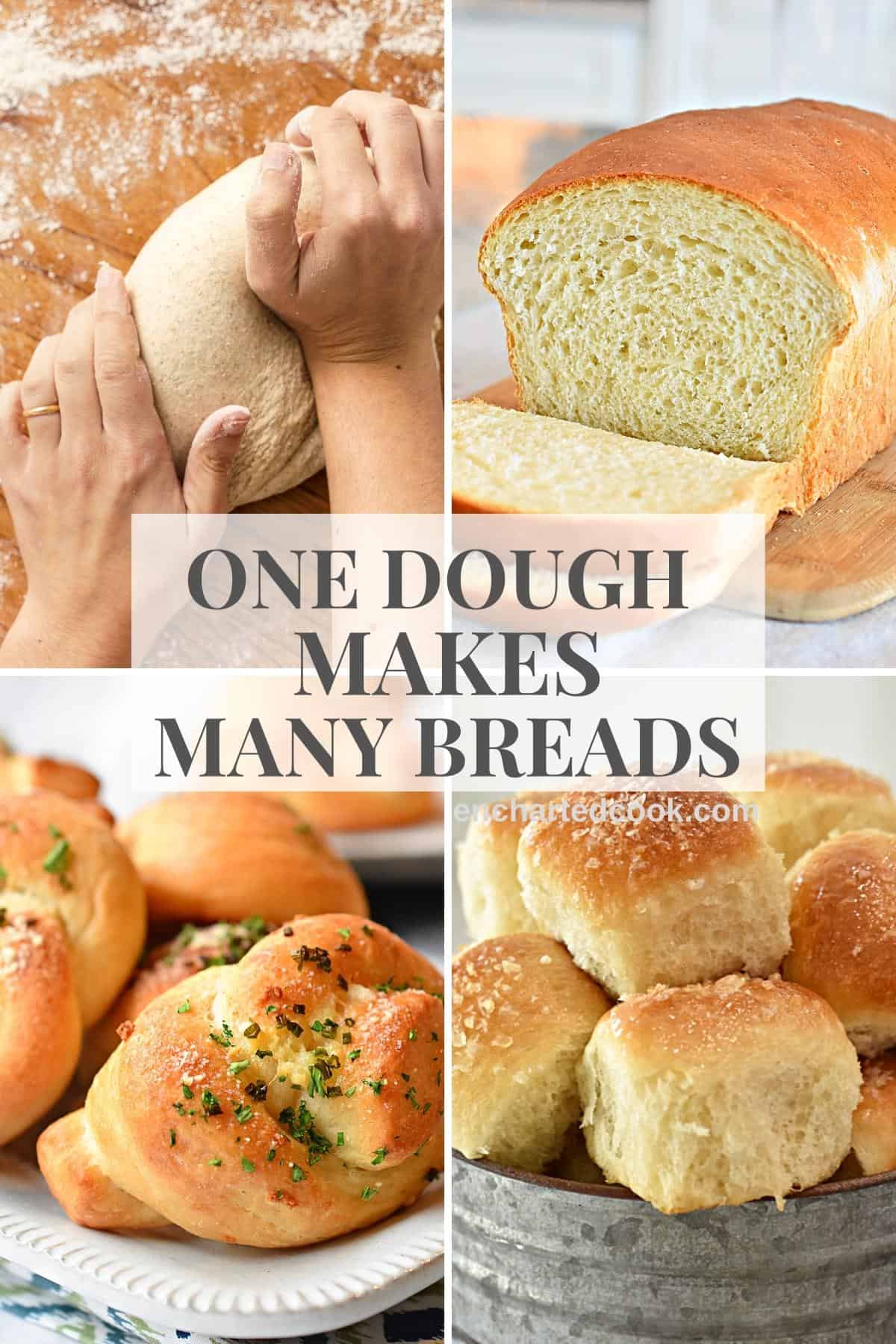 The following three types of bread use the exact same basic recipe with the same proportions of basic ingredients and the same mixing and rising method. It is how the basic dough is kneaded, flavored, and shaped that makes each bread unique and distinctive.
Each recipe contains the following basic ingredients:
Warm Water - Yeast needs a moist environment to grow and thrive and just plain warm water is all that is needed.
Active Dry Yeast - Any brand will work and it doesn't matter if it "Bread Machine" or "Active Dry". I prefer to purchase yeast in a jar as it is more economical than the packets.
White Granulated Sugar - White granulated sugar will give the yeast a nice meal to eat to get it growing quickly.
All-Purpose White Flour - All-purpose flour makes an excellent bread and is the flour that is most commonly on hand. For a basic bread dough recipe I don't recommend substituting bread flour.
Salt - Adding salt is all about adding and enhancing flavor. If you omit the salt, the bread will not have a good flavor.
Butter - Butter adds rich buttery flavor and makes the bread tender.
Egg - A whole beaten egg will add additional protein structure to the bread, which makes the bread chewy but not too heavy. Plus the natural fats in the yolk will also soften the texture of the bread.
You start by learning how to make basic bread dough for White Sandwich Bread, then make the exact same dough for Steakhouse Dinner Rolls. Lastly, Garlic Parmesan Bread Knots has, again, the same basic bread dough recipe, but has garlic flavorings added.
With this particular dough, the proofing, mixing, and initial raising are exactly the same for each of the three types of bread. Shaping the dough is the major variable that makes each of these types of bread so distinctive. But, luckily, none of these bread recipes have complicated shaping methods.
1) White Sandwich Bread
Homemade White Sandwich Bread
Homemade White Sandwich Bread has just 7 ingredients and is better than any store-bought bread. This is an easy step-by-step bread recipe.
get the recipe!
2) Steakhouse Dinner Rolls
Steakhouse Dinner Rolls
Homemade Steakhouse Dinner Rolls are better than the rolls at your favorite steakhouse. Sweet, salty, buttery, and so easy to make!
get the recipe!
3) Garlic Parmesan Bread Knots
Garlic Parmesan Bead Knots
Garlic Parmesan Bread Knots have a sumptuous and buttery garlic bread flavor. They are perfect for your next barbecue, Italian dinner, or as a simple snack.
get the recipe!
Just imagine all the different breads you could make with just this one basic recipe. You could make sweet rolls, fruited danish, savory cheese breads, and so much more!
More About Making Bread