The secret to a better burger is a better bun! Garlic Parmesan Hamburger Buns have a delicious buttery garlic bread flavor.
Have you ever wondered how to make a plain hamburger taste better?
Today it seems we are going overboard with toppings to make a better burger. But, what if it's not truffle cheese and sriracha bourbon laced sauces that we need to get more flavor from our burger? What if all we need is a better bun?
That was my thought process when my husband said he wanted burgers for dinner. I didn't want to spend a lot of money on elaborate toppings. I wanted to find one thing that would make a simple mayo, lettuce, tomato, and pickle topped burger taste superb.
And that's when I thought of it.
The Bun.
Really good buns at the grocery store can cost up to $5 for 8 buns… and if you get fancy individual buns from the bakery, they can easily be close to a dollar each. It has been a long time since I made bread at home. But I instantly knew that could be the key to making the best burger I have ever made at home… and to do so economically. Because making just plain simple buns at home drops the cost to about 12 cents a bun.
So, I needed to put my thinking cap on as to how to make a fantastic bun.
I love watching The Big Bang Theory. I really do. An early episode featured Sheldon comparing "The Big Boy Burger" to the Cheesecake Factory's "Barbeque Burger". His analysis was that the meat-to-bun-to-condiment ratio of the Barbeque Burger was more satisfying than the Big Boy Burger.
So that was my first thought. Don't make the buns too large.
Next was to determine what flavors would be the most enjoyable in/on the bun and my immediate thought was how much everyone loves garlic bread… and parmesan cheese. So… that's the type of bun I decided to create. It is soft, not too large, and topped with butter, garlic, and parmesan cheese.
I've been making these buns every week for several weeks and found my recipe will make 10 just-the-right-size buns for a ⅓-pound burger patty. Since it's just the two of us, 10 buns are way more than we need for a nice meal. So, I store the ones we don't eat in an airtight plastic bag. They will keep for 3 to 4 days at room temperature or you can freeze them. But sometimes I make 4 buns and shape the remaining dough into garlic knots. Oh yeah… this recipe also makes killer garlic knots.
I hope you enjoy!
Related Posts
📖 Recipe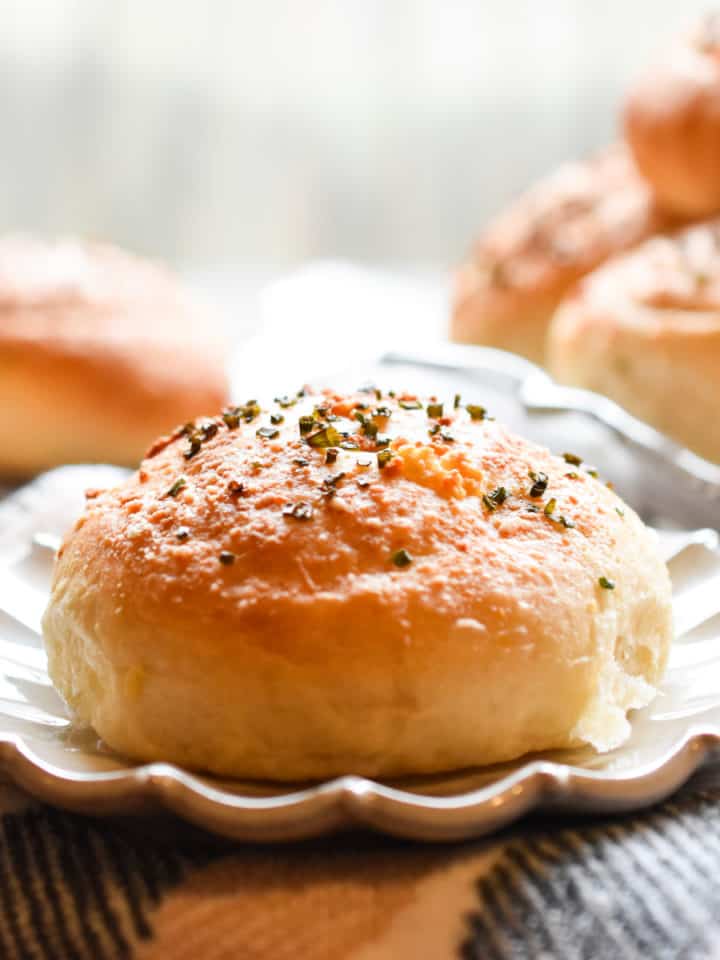 Garlic Parmesan Hamburger Buns
The secret to a better burger is a better bun! Garlic Parmesan Hamburger Buns have a delicious buttery garlic bread flavor.
Ingredients
Buns:
1

Cup

Lukewarm Water

1

Tablespoon

Yeast

¼

Cup

Granulated White Sugar

3

Cups

All-Purpose Flour

1 ½

Teaspoons

Salt

1

Large Egg

2

Tablespoons

Salted Butter,

Softened
Topping:
3

Tablespoons

Salted Butter

2

Tablespoons

Vegetable Oil

2

Cloves

Garlic

,

Pressed or Minced

2

Tablespoons

Grated Parmesan Cheese

2

Tablespoons

Finely Chopped Fresh Chives
Instructions
Add lukewarm water to a large mixing bowl. Add yeast and sugar and mix well. Allow to stand 10 minutes.

1 Cup Lukewarm Water,

1 Tablespoon Yeast,

¼ Cup Granulated White Sugar

Add flour, salt, softened butter, and egg and mix until all is combined and dough comes together.

3 Cups All-Purpose Flour,

1 ½ Teaspoons Salt,

1 Large Egg,

2 Tablespoons Salted Butter

Turn dough out onto a lightly floured surface and knead only until dough is smooth and elastic.

Gather dough into a ball and place dough into a large bowl. Cover with a clean damp towel and allow to rise until double, about 2 hours.

While dough is rising, melt butter in a very small sauce pan. Add vegetable oil and pressed garlic and cook over very low heat for 1 to 2 minutes until garlic is fragrant. Remove from heat and set aside.

3 Tablespoons Salted Butter,

2 Tablespoons Vegetable Oil,

2 Cloves Garlic

Preheat oven to 350°F.

Gently punch down the dough and divide it into 10 pieces. Shape each piece into a ball and flatten to about 3" across.

Place the buns on a parchment-lined baking sheet. If desired, use a sharp serrated knife and cut a cross in the top quarter of each bun. Brush buns from edges to center with half of the garlic oil. Let buns rise until doubled in size, about 1 hour.

Drizzle the buns with the remaining garlic oil and sprinkle them with the parmesan cheese and the chives.

2 Tablespoons Grated Parmesan Cheese,

2 Tablespoons Finely Chopped Fresh Chives

Bake the buns for 15 to 18 minutes, until lightly golden brown.

Remove the buns from the oven and cool on a wire rack.
Encharted Cook Notes
Recipe Notes & Tips
♥  This recipe can be made by hand or with a kitchen mixer. If using a kitchen mixer, use a dough hook or paddle attachment. A dough hook is the best choice for mixing this bread dough.
♥  A kitchen scale is a great tool to help portion the dough out evenly.
♥  Cutting a cross in the top quarter of each bun will allow for more nooks and crannies for the garlic oil. Be careful not to cut too deep.
Substitutions
♥  Parsley can be substituted for the chives. I prefer to stay within the same flavor profile of garlic, so I use chives. You can also omit the chives entirely.
♥  If you do not have grated parmesan cheese, a light sprinkling of fine sea salt is a great and, also, economical substitute to get a kick of saltiness on the top of the buns.
Garlic Knots
•  This recipe can also be used to make garlic knots. Divide the dough evenly into 20 pieces and shape each piece into a rope and then a knot. Place the garlic oil into a small bowl and dip each knot into the garlic oil to cover completely. Place each knot on a parchment covered baking sheet and finish the same as the instructions for the buns. If any garlic oil remains after the second application, you can drizzle it over the baked knots for extra flavor.
Nutrition Per Serving
Calories:
243
kcal
|
Carbohydrates:
34
g
|
Protein:
5
g
|
Fat:
9
g
|
Saturated Fat:
6
g
|
Cholesterol:
32
mg
|
Sodium:
422
mg
|
Potassium:
50
mg
|
Fiber:
1
g
|
Sugar:
5
g
|
Vitamin A:
235
IU
|
Vitamin C:
0.6
mg
|
Calcium:
21
mg
|
Iron:
1.8
mg
All nutritional information on this site is an estimate. Your results may vary.