Garlic Parmesan Hamburger Buns
This post may contain affiliate links. Please see my
Affiliates Disclosure
.
The secret to a better burger is a better bun! Garlic Parmesan Hamburger Buns have a delicious buttery garlic bread flavor.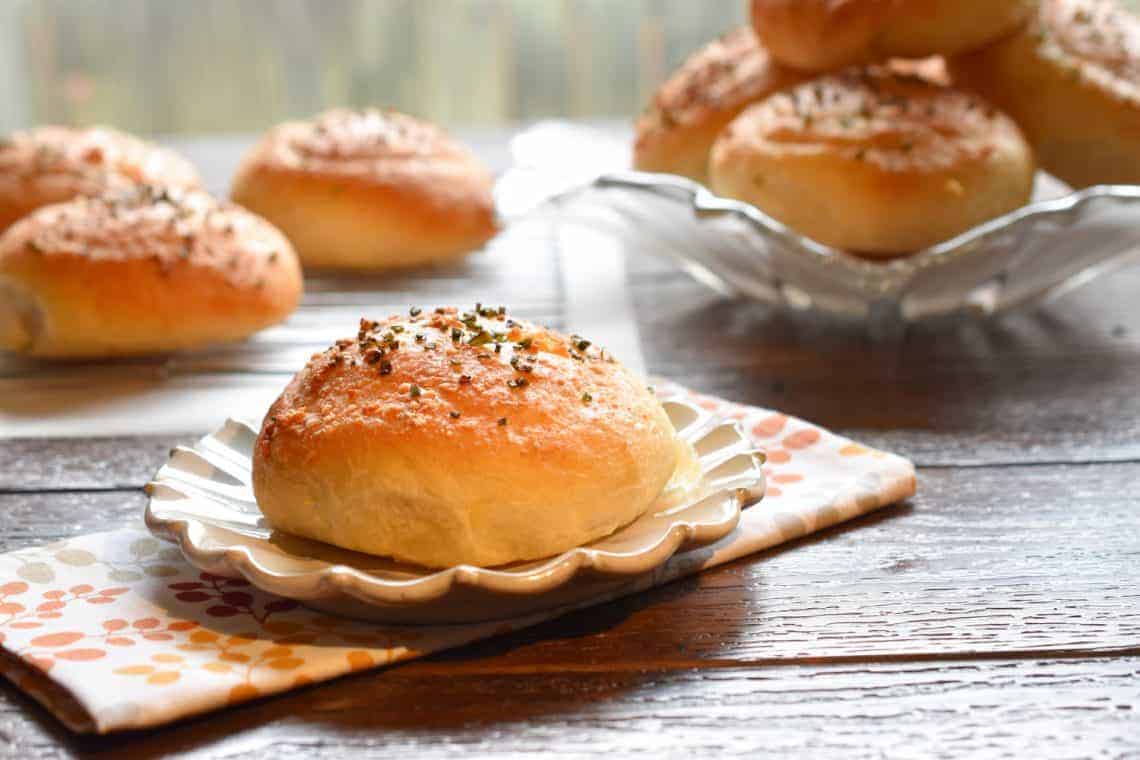 Garlic Parmesan Hamburger Buns
The secret to a better burger is a better bun! Garlic Parmesan Hamburger Buns have a delicious buttery garlic bread flavor.
Prep Time30 mins
Cook Time18 mins
Raising Time3 hrs
Total Time48 mins
Course: Bread
Servings: 10
(Tap or Hover to Scale Servings)
Ingredients
Buns:
1 Cup Lukewarm Water
1 Tablespoon Yeast
1/4 Cup Granulated White Sugar
3 Cups All-Purpose Flour
1 1/2 Teaspoons Salt
2 Tablespoons Salted Butter, Softened
1 Large Egg
Topping:
3 Tablespoons Salted Butter
2 Tablespoons Vegetable Oil
2 Cloves Garlic, Pressed or Minced
2 Tablespoons Grated Parmesan Cheese
2 Tablespoons Finely Chopped Fresh Chives
Instructions
Add lukewarm water to a large mixing bowl. Add yeast and sugar and mix well. Allow to stand 10 minutes.

Add flour, salt, softened butter, and egg and mix until all is combined and dough comes together.

Turn dough out onto a lightly floured surface and knead only until dough is smooth and elastic.

Gather dough into a ball and place dough into a large bowl. Cover with a clean damp towel and allow to rise until double, about 2 hours.

While dough is rising, melt butter in a very small sauce pan. Add vegetable oil and pressed garlic and cook over very low heat for 1 to 2 minutes until garlic is fragrant. Remove from heat and set aside.

Preheat oven to 350°F.

Gently punch down the dough and divide it into 10 pieces. Shape each piece into a ball and flatten to about 3″ across.

Place the buns on a parchment-lined baking sheet. If desired, use a sharp serrated knife and cut a cross in the top quarter of each bun. Brush buns from edges to center with half of the garlic oil. Let buns rise until doubled in size, about 1 hour.

Drizzle the buns with the remaining garlic oil and sprinkle them with the parmesan cheese and the chives.

Bake the buns for 15 to 18 minutes, until lightly golden brown.

Remove the buns from the oven and cool on a wire rack.
Recipe Notes
Recipe Notes & Tips • This recipe can be made by hand or with a kitchen mixer. If using a kitchen mixer, use a dough hook or paddle attachment. A dough hook is the best choice for mixing this bread dough. • A kitchen scale is a great tool to help portion the dough out evenly. • Cutting a cross in the top quarter of each bun will allow for more nooks and crannies for the garlic oil. Be careful not to cut too deep. Substitutions • Parsley can be substituted for the chives. I prefer to stay within the same flavor profile of garlic, so I use chives. You can also omit the chives entirely. • If you do not have grated parmesan cheese, a light sprinkling of fine sea salt is a great and, also, economical substitute to get a kick of saltiness on the top of the buns. Garlic Knots • This recipe can also be used to make garlic knots. Divide the dough evenly into 20 pieces and shape each piece into a rope and then a knot. Place the garlic oil into a small bowl and dip each knot into the garlic oil to cover completely. Place each knot on a parchment covered baking sheet and finish the same as the instructions for the buns. If any garlic oil remains after the second application, you can drizzle it over the baked knots for extra flavor.
Nutrition
Calories: 243kcal | Carbohydrates: 34g | Protein: 5g | Fat: 9g | Saturated Fat: 6g | Cholesterol: 32mg | Sodium: 422mg | Potassium: 50mg | Fiber: 1g | Sugar: 5g | Vitamin A: 235IU | Vitamin C: 0.6mg | Calcium: 21mg | Iron: 1.8mg
All nutritional information on this site is an estimate. Your results may vary.