Are you wondering what kind and how much turkey you should buy? This Turkey Buying and Roasting Guide will tell you what types of turkeys are available, how much turkey to buy, and how long it will take to roast it.
The most iconic American dish just has to be a roast turkey. Although it is debatable whether turkey was served at the first American Thanksgiving in 1621, a roast turkey has been the highlight of American Thanksgiving menus for more than 150 years, when President Lincoln declared the official Thanksgiving holiday.
But, today, turkey is eaten throughout the year and not just on Thanksgiving. Because turkey is low in fat, it has become a popular alternative to other meat choices. The National Turkey Federation states that the consumption of turkey has doubled since 1970. So, it seems the phrase, "Turkey! It's not just for Thanksgiving!" is true. So... let's talk turkey!
Jump to:
Turkey Buying Guide
Here we are going to talk about the basics of buying a turkey. You need to consider how many people you will be serving turkey plus whether they like white meat and/or dark meat. Also, we are covering fresh versus frozen turkey, defrosting the turkey, and even the roasting pan you will need. Here we go...
Types of Turkeys
Basically, there are two types of turkeys, male and female and there is no difference in taste, tenderness, or moistness between them. Female turkeys are hens and range in size from 8 pounds to 16 pounds. Male turkeys are toms and are much heavier, generally ranging in size from 14 pounds to 26 pounds.
Individual turkey legs, thighs, wings, and breasts are also available for purchase. If a whole turkey is too much for your gathering, consider asking your butcher to cut a whole turkey in half. You could cook one-half now and freeze the other half to cook at a later date.
There is always the debate over white meat versus dark meat. White meat, which is light in color and has a delicate flavor, is only found in the turkey breast. The rest of the bird, legs, thighs, and wings, are dark meat, which is dark in color and has a richer more pronounced flavor.
If your guests primarily prefer white meat and your gathering is small, a whole turkey breast might be your best choice. Alternatively, if your guests prefer dark meat, you can't go wrong with a whole turkey leg for each guest. They cook faster than a whole breast or bird and are perfectly suited to convenient sheet pan cooking.
How much turkey do I need?
The general rule is you will need 1 ¼ pounds of uncooked turkey per person. Round up to the nearest whole pound for any fraction of a pound. So, if you are serving 6 people, the calculation would look like this:
6 x 1.25 = 7.5 Rounding Up to Nearest Whole Pound = 8 Pounds
Smaller gatherings can be generously served with a whole turkey breast or an assortment of legs and thighs. Whole turkey legs are an excellent option and you should calculate no less than one leg per person.
Here is a table to demonstrate how much turkey to buy and some options as to which turkey product, whole hen, whole tom, whole breast, or an assortment of legs and thighs.
| Number of People | Total Pounds Needed | Type of Turkey |
| --- | --- | --- |
| 2 People | 3 Pounds | Whole Breast OR Selection of Legs & Thighs |
| 3 People | 4 Pounds | Whole Breast OR Selection of Legs & Thighs |
| 4 People | 5 Pounds | Whole Breast |
| 5 People | 6 Pounds | Whole Breast |
| 6 People | 8 Pounds | Whole Breast OR Whole Hen |
| 7 People | 9 Pounds | Whole Hen |
| 8 People | 10 Pounds | Whole Hen |
| 9 People | 12 Pounds | Whole Hen |
| 10 People | 13 Pounds | Whole Hen |
| 11 People | 14 Pounds | Tom Turkey |
| 12 People | 15 Pounds | Tom Turkey |
Oven Size and Roasting Pans
In addition to how much turkey you need to buy, you must also consider the selection of a roasting pan and the size of your oven.
Roasting Pan - You will need a roasting pan for your turkey, which may influence which turkey product you will select. Roasting pans for whole turkeys need a rack to elevate the bird so that hot air can circulate around the sides of the bird.
Sheet pans are a good alternative if you are roasting whole legs, thighs, or wings.
Oven Size - Not all ovens are full-sized. So, make sure that the turkey product you are selecting plus the roasting pan will fit into your oven.
Purchasing a Whole Turkey
Frozen Whole Turkey - Purchase your frozen whole turkey at least 5 days before roasting it. Keep the turkey in the freezer and defrost it in the refrigerator.
Fresh Whole Turkey - Select your fresh whole turkey no more than 5 days before a major holiday. Selecting your turkey early will help you have the best choice of bird. Store it in the coldest part of your refrigerator. Let it come to room temperature before roasting it.
Whichever turkey product you choose, always check the "Sell By" date on the packaging.
Preparing the Turkey for Roasting
Defrosting a Turkey
A frozen turkey must be thawed in the refrigerator. Leave the turkey in its original wrapping and place it in a leakproof pan or tray in the refrigerator.
Allow a minimum of 1 day of thawing per 4 pounds of weight. This means a 16-pound turkey will need 4 days to thaw and a 24-pound turkey will need at least 6 days to thaw.
| Turkey Size | Days to Defrost |
| --- | --- |
| 8 Pounds or Less | 2 Days |
| 12 Pounds | 3 Days |
| 16 Pounds | 4 Days |
| 20 Pounds | 5 Days |
| 24 Pounds | 6 Days |
Check the bird daily. If the bird is fully defrosted sooner than expected, move the turkey to the coldest part of the refrigerator. If the turkey is not fully defrosted the day before roasting, open the packaging and remove the neck and giblets package from the body cavity. This will help the bird to defrost.
Rinse the turkey in cool water, inside and out. Dry the turkey, wrap it in cling wrap, and return it to the refrigerator to continue to thaw. If you plan to use the neck and giblets to make gravy, put them in a sealed container and refrigerate them until needed.
To Brine or Not to Brine?
Fresh turkeys generally are not brined and frozen turkeys are frequently brined or injected with a brining solution. Always check the label of any fresh or frozen turkey for information on whether it already has been brined.
The reason why turkeys are brined by a producer is not just about flavor. Salt and sugar brining will add flavor, but it is also insurance to keep the breast meat tender and moist.
If you purchase a turkey and intend to brine it yourself, it will take an additional 24 hours to brine the turkey. So, be sure to add an extra 24 hours to your timeline of when you want your turkey ready for the oven.
Here is a timeline example for purchasing, thawing, brining, and roasting a frozen 14-pound turkey:
Roasting a Turkey
Preparing to Roast - Allow the refrigerated bird to come to room temperature before roasting. This generally takes about 2 hours depending on the size of the turkey. Rinse the turkey in cool water, dry it well, and place it on a roasting rack in a baking/roasting pan. Tent the turkey with aluminum foil.
Why do I need to tent the turkey?
Tenting the turkey is an essential step for achieving moist and tender breast meat. Tenting shields the turkey breast from cooking too quickly and drying out, while waiting for the dark meat to cook thoroughly.
To properly tent a turkey with aluminum foil, use enough foil to go over the bird without touching it. Crimp the foil to the longer sides of the roasting pan to hold it in place. The idea is to protect the breast meat from too much direct heat but to allow air circulation around the bird to help it cook as evenly as possible.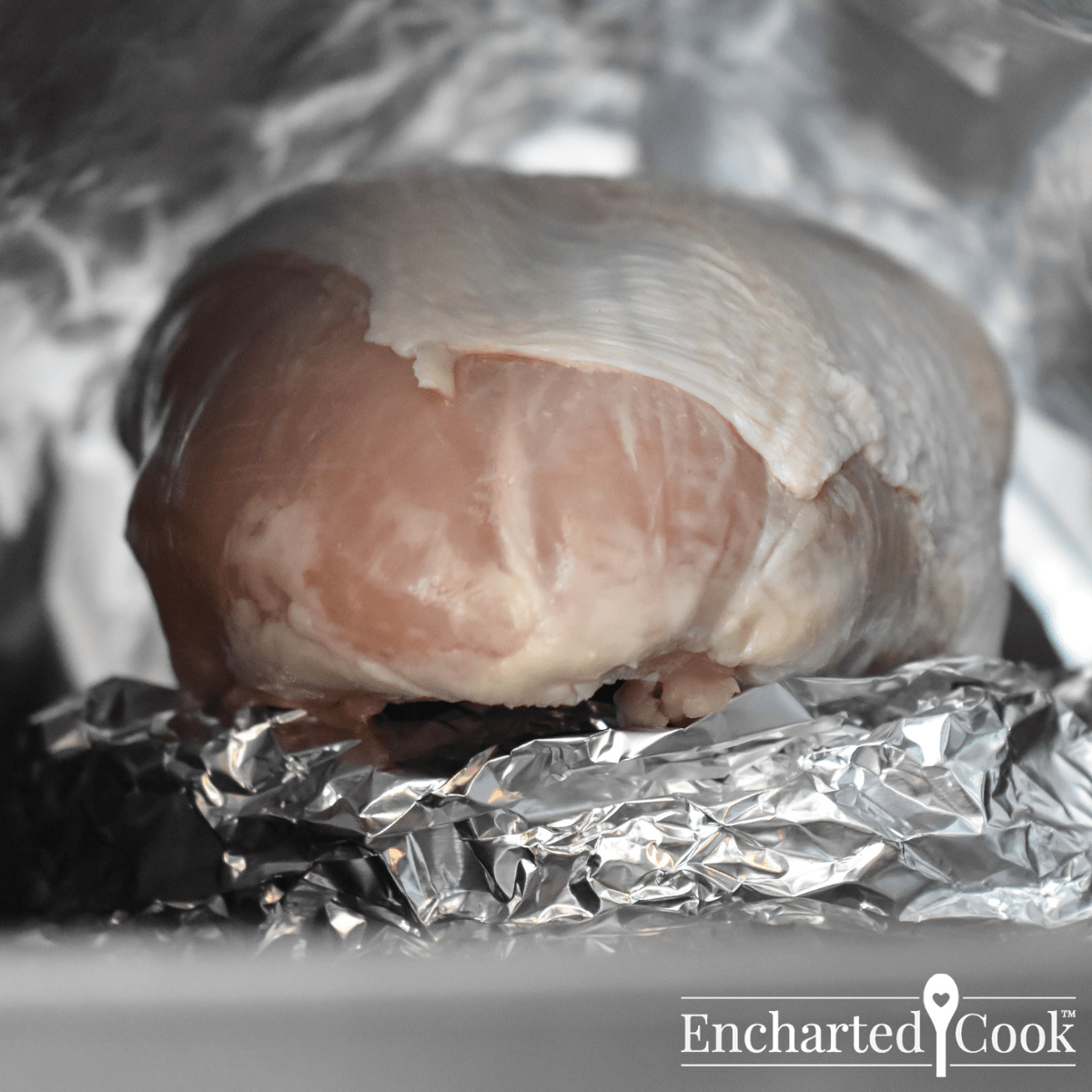 If you cover the bird with aluminum foil and completely seal the foil around all sides of the roasting pan, the turkey will steam in the oven instead of roast. You will not get as rich a flavor and the skin will not brown to a lovely caramel color.
Using a Meat Thermometer
Frequently whole turkeys and turkey breasts are sold with a pop-up thermometer. This thermometer is only accurate for the white meat, where it has been inserted. For a turkey breast, this thermometer is adequate. But for a whole turkey, you will want to use an additional thermometer to accurately judge the doneness of the dark meat. Below is a listing of where to insert a meat thermometer for your turkey:
Whole Turkey - Insert a meat thermometer into the thickest part of a thigh without touching any bone.
Boneless Turkey Breast - Insert a meat thermometer into the thickest part of the turkey breast (generally the center).
Bone-In Whole Turkey Breast - Insert a meat thermometer into the thickest part of the turkey breast without touching any bone.
Turkey Legs, Thighs, and Wings - Because these cuts of turkey are smaller, a traditional meat thermometer will be too large. An instant-read thermometer is best for these smaller pieces.
Turkey Roasting Guide
The Turkey Roasting Guide found below has information on how long to roast a whole turkey, boneless turkey breasts, and bone-in whole turkey breast. The weights of these turkey products are listed in the column "Ready to Cook Weight". Use the corresponding "Minutes per Pound" to calculate how long to roast a turkey. Use the lowest minutes per pound for the lower ready-to-cook weight and use the higher minutes per pound for the higher weight range.
At what temperature do I roast my turkey?
With the exception of a boneless turkey breast, the best temperature to roast turkey at is 325 degrees Fahrenheit/163 degrees Celsius. At 325 degrees a turkey roasts slow and steady, preserving moistness and enriching flavor.
You should always roast a turkey at a safe temperature to prevent spoilage and bacterial growth. Any temperature below 325 degrees is unsafe. For more information on the safe handling and roasting of turkey please see the Center for Disease Control guidelines, "Food Safety Tips for your Holiday Turkey".
When is my turkey done?
The most reliable way to know that turkey is cooked to the correct temperature is to use a thermometer. The white meat, the breast, needs to cook to between 165 degrees and 170 degrees Fahrenheit. On the other hand, dark meat, the legs, thighs, and wings need to cook to 180 degrees Fahrenheit.
If you do not have a meat thermometer, pierce the thigh meat with a large fork and check that the juices that run out are clear.
Another sign that a whole turkey is correctly cooked is to check the bottom of the roasting pan for an abundance of juices. A large release of juices in the bottom of the pan indicates that the bird is done.
Carving a Turkey
The very best tool to use to carve a whole turkey or a turkey breast is an electric knife. Yes, that old throw-back kitchen tool of the '60s and '70s turns out to be the best at carving a turkey. There is absolutely no better tool for slicing clean beautiful slices of white meat.
If you do not have an electric knife, then a long, serrated knife and a small, sharp, chef's knife will work best at breaking down a whole turkey and creating smooth easy slices of white meat.
---
As you can see buying and roasting a turkey, doesn't have to be hard. Let me know if you have any questions in the comment section. I will be glad to answer them!
---
The Perfect Turkey Dinner
Everyone has their own idea of what makes the most perfect turkey dinner and often it is the dinner that Mom or Grandma made. Most Americans will celebrate Thanksgiving with a roasted whole turkey, turkey gravy, cranberry sauce, their own favorite side dishes, and a pumpkin pie for dessert. If you are looking to simplify the number of pans in the oven check out my One Pan Turkey Dinner and if you have any leftovers my Tuscan Turkey Divan is easy and delicious!