My One Pan Turkey Dinner serves 6 and includes a roast turkey breast, dressing, green beans with cranberries, and baked fruit all in one pan.
Impress your guests and have an easy clean-up! If you are short on serving dishes, this dinner is so beautiful, you can leave the side dishes in the roasting pan and serve this dinner buffet style. This is a perfect solution to being able to roast a turkey and all of the thanksgiving dinner sides at the same time.
Jump to:
Are you having a small gathering? Maybe you are a small family or are single and can't go home for Thanksgiving… or you are having just a few close friends to your home for Friendsgiving. This recipe for a roast turkey dinner gives you all the sides and trimmings in just one pan.
This turkey dinner is absolutely easy to make! It looks gorgeous when moved to serving dishes, but it also looks gorgeous in the pan! So, it really is an elegant solution to avoid using multiple pans and casseroles to create a festive dinner for just a few people.
So, are you ready for the easiest roast turkey dinner ever? Let's cook!
Shopping List
Here is a shopping list to make it easy for you to shop for the ingredients for this roast turkey breast dinner!
---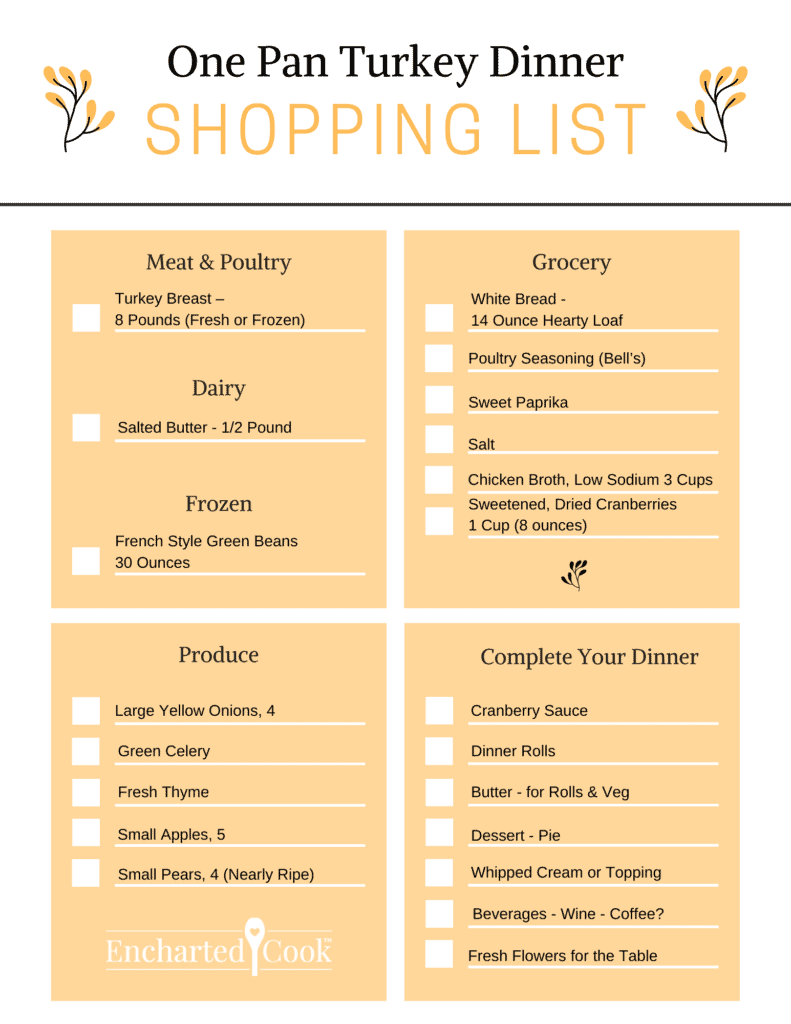 ---
Equipment
For this dinner you will need one large baking/roasting pan, one extra large mixing bowl, one large mixing bowl, one small sauce pan, and one 10" skillet. Your clean up will be easy, because everything but the roasting pan can be washed and put away while the dinner roasts.
The key to being able to roast everything in one pan is a roasting rack you make out of aluminum foil. A roasting rack keeps the turkey breast up out of the pan, so that it browns nicely on its sides.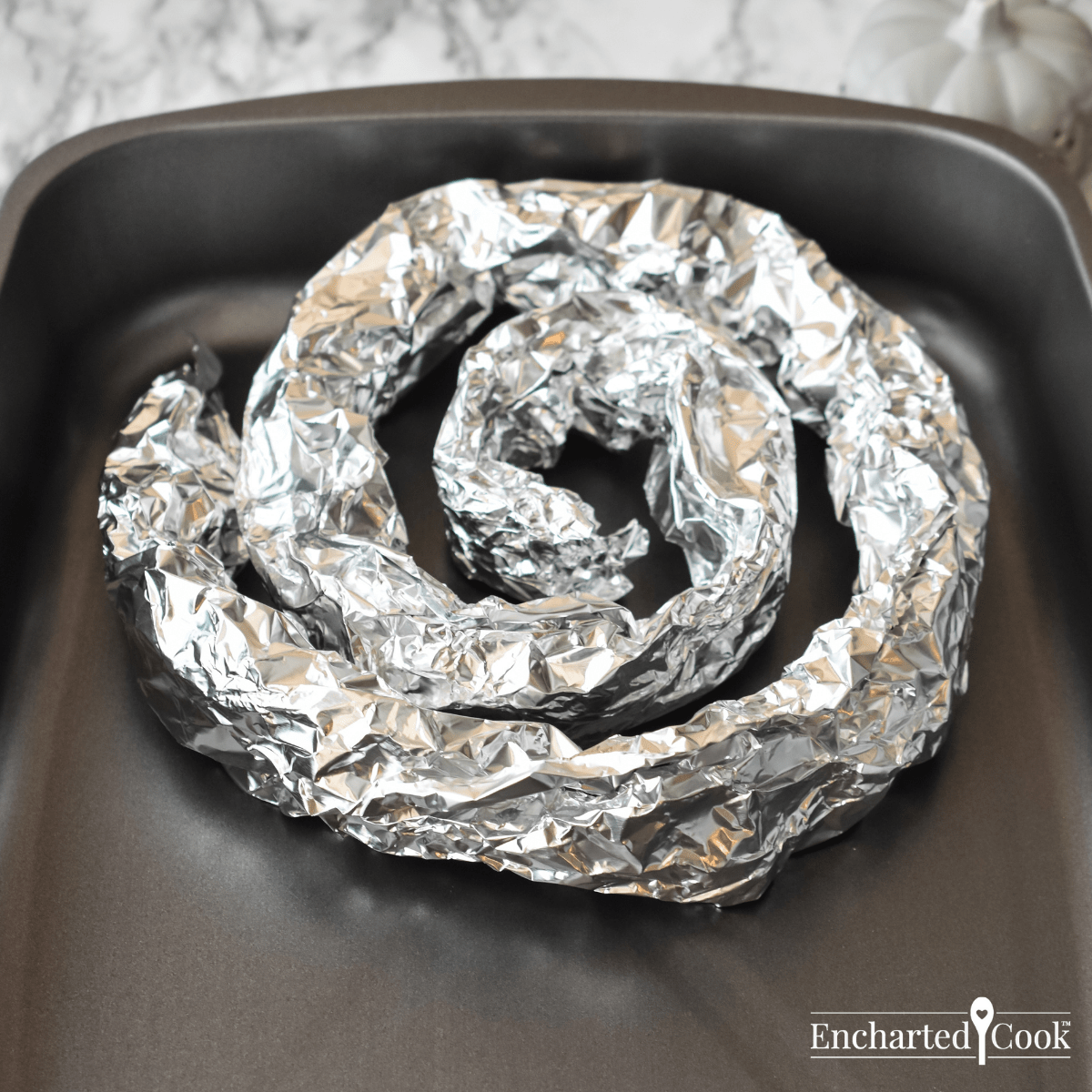 I've been making these disposable racks for years. The serpentine shape is exceptional for smaller cuts of meat, especially a whole turkey breast.
All you need is about 4 feet of heavy duty aluminum foil to make this inexpensive and disposable rack. Just shape and roll the foil into a long 2" thick rope and coil it.
Food & Wine, my favorite source for great food ideas, has an excellent tutorial on how to make this aluminum foil rack.
Instructions
Part 1
Make the Dressing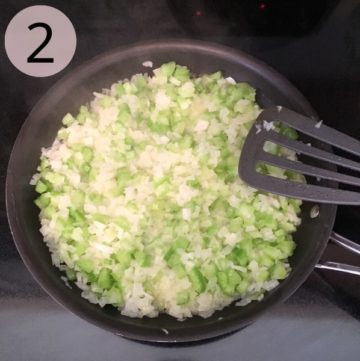 Step 1 - Preheat the oven to 325°. Then, dry out and lightly toast the cubed bread. (Please note this step can be done up to 5 days ahead of the day you serve your turkey dinner.)
Step 2 - Cook the aromatics. Sauté the chopped yellow onion and celery in butter until the onion is transparent.
Step 3 - Add poultry seasoning, salt, and pepper to the aromatics and continue to cook 1 to 2 minutes to blume the herbs.
Step 4 - In a large bowl mix together the toasted bread cubes and the seasoned aromatics. Add broth to moisten the dressing. Set the dressing aside for later.
Roasting the Turkey
Step 5 - Make a roasting rack from heavy duty aluminum foil and coil it into one end of your roasting pan.
Step 6 - Place the prepared turkey breast on the coiled roasting rack.
Step 7 - Tent the turkey breast with heavy duty aluminum foil. Do not let foil touch the turkey breast. Place the tented turkey breast into the 325°F/163°C preheated oven. Be sure to roast at 325°, as this is how to safely cook a turkey.
Step 8 - Make the basting sauce from butter, paprika, and fresh thyme leaves. If you have trouble seasoning a turkey, give this basting sauce a try. This basting sauce will not only season the turkey, but it will give the skin a beautiful, caramel brown color.
As the turkey breast roasts, prepare the green beans by defrosting them. In a large bowl mix together the thawed and drained green beans with the dried cranberries.
Part 2
Adding the Side Dishes to the Pan
After the turkey has roasted for about two hours you will remove the turkey breast from the oven and add the side dishes to the pan.
First you add the dressing, placing it closest to the turkey breast and mounding it up slightly to create a dam for the green beans. Next, add the green beans with cranberries in the remaining space next to the dressing and fill the space to the edge of the roasting pan. Lastly, place the apples and pears around and near the turkey breast.
Re-tent the pan with the aluminum foil and bake until the turkey breast is 165° F, which will be about 1 hour or 1 hour and 15 minutes.
Everything is hot at the same time!
Years ago I was visiting a friend and he spontaneously said he would make dinner and invited me to stay. I asked if he would like some help and he replied that he knew how to make everything but "always had trouble getting everything hot at once". I had been cooking for at least 10 years at the time and had never thought of that as being an issue. Over the years I have learned that time management in the kitchen is one of the most challenging things in being a successful host.
In this recipe, time management is a breeze. The directions are divided into two parts. Part 1 is preparing the dressing and the turkey breast and putting the turkey to roast for about two-third's of the total roasting time. Part 2 is when you add all of the side dishes and baste the turkey before returning the pan to the oven for the final hour or so.
Organization Saves You Time
A timeline really helps me feel in control and stress free when I entertain. So, I thought you might find it helpful to follow a basic timeline I created for my dinner which I will be serving at 2:30 PM.
If you are planning to watch football on Thanksgiving, my detailed timeline will have you sitting and enjoying dinner at 12:30 PM.
To make the big day go easier, I like to do what I can in the days prior or the evening before the big day. For this dinner you can dry out the bread cubes for the dressing the night before and just leave them in the turned off oven overnight. I also like to set the formal table on the previous night.
So, for anyone who would like to have a little help with the timing of this dinner here is my basic timeline. The actual prep time is only 1 hour and 15 minutes. The rest of the time is spent waiting for the dinner to cook.
A Basic Timeline for This Dinner
Night Before
Set the formal dining table. Dry out and toast the bread cubes.
9:30 AM – Begin Part 1 of Recipe
Remove the turkey breast from the refrigerator to allow it to come to room temperature before roasting it. Take the French style green beans from the freezer to thaw. Chop the celery and the onion. Remove leaves of fresh thyme from the stems. Preheat the oven. Make the dressing. Prepare the pan and prep the turkey breast.
10:45 AM – Put the Turkey Breast in the Oven.
Roast for 2 Hours.
10:45 AM to 12:45 PM – Two Hours of Free Time
Time for a break to do what you want! Also, this is a great time to do a clean-up of the kitchen to make it an easier clean up later.
12:45 PM – Begin Part 2 of Recipe
Take the turkey breast out of oven. Remove the aluminum tent and add the dressing, green beans with dried cranberries, and apples and pears to pan. Fold the tent foil in half and use it to cover only the dressing and green beans. Baste the turkey breast and return the dinner to the oven.
1:10 PM – 1 Hour of Free Time
Have a nice glass of wine or cup of good cheer!
2:10 PM – Take the Turkey Dinner out of the Oven
Allow the turkey to rest for 15 minutes before carving it for maximum juiciness. Transfer the side dishes to decorative bowls and platters. This dinner is so beautiful you also can leave the side dishes in the roasting pan and serve the dinner buffet style. Carve the turkey and plate it. If you are serving buffet style, the plated turkey can be placed on top of the coiled aluminum roasting rack.
2:30 PM – Dinner is Served!
Relax, celebrate, and enjoy your time with your guests!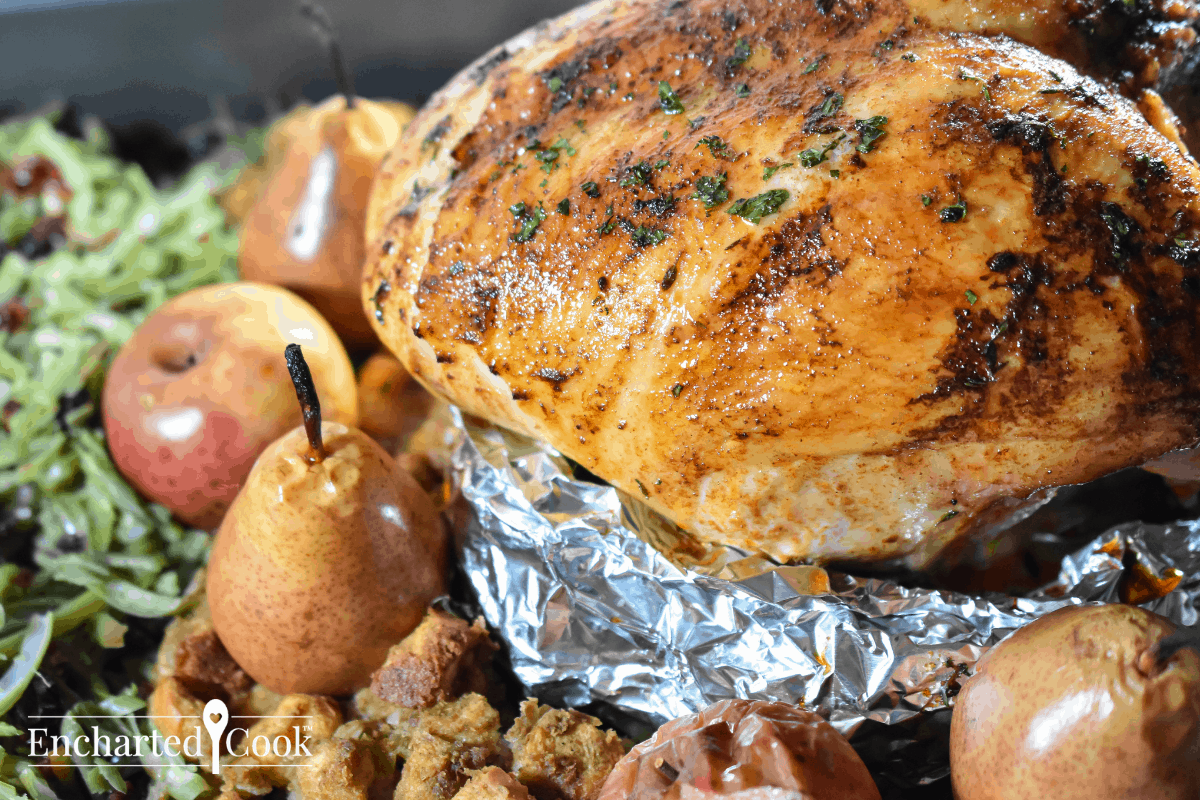 With this beautiful dinner, all you really need to complete the menu are dinner rolls, coffee, and dessert!
PIN THIS FOR LATER!
Want to save this One Pan Turkey Dinner recipe for later? Save it to your Pinterest board!
Related Posts
📖 Recipe
One Pan Turkey Dinner
One Pan Turkey Dinner includes a roasted breast of turkey, classic dressing, green beans with cranberries, and baked fruit, all in one pan.
Equipment
Large Roasting Pan

Heavy-Duty Aluminum Foil

Extra-Large Mixing Bowl

Large Mixing Bowl

Small Sauce Pan

10" Skillet

Cutting Board

Large Knife

Large Spoon

Dry Measuring Cups

Liquid Measuring Cup

Measuring Spoons
Ingredients
8

Pound

Whole Turkey Breast
Classic Dressing:
14

Ounce

Loaf of White Bread

,

Cut into ½" Cubes.

¼

Cup

Salted Butter

2

Cups

Finely Chopped Yellow Onion

2

Cups

Finely Chopped Green Celery

2

Tablespoons

Poultry Seasoning

,

Recommended Brand is Bell's Seasoning

3

Cups

Low Sodium Chicken Broth

,

Divided

¾

Teaspoon

Salt
Basting Sauce for Turkey:
¼

Cup

Unsalted Butter

2

Tablespoons

Fresh Thyme Leaves

½

Teaspoon

Sweet Paprika
Vegetable Side:
30

Ounces

French Style Green Beans

,

Frozen

1

Cup

Dried and Sweetened Cranberries
Fruit Side:
5

Small Apples

4

Small Pears

,

Nearly Ripe
Instructions
Part 1
Begin 5 hours before desired serving time.

Remove turkey breast from the refrigerator and allow it to come to room temperature. While turkey is coming to temperature, make the dressing and prepare the roasting pan.
Classic Dressing:
Preheat oven to 300°F/150°C. Place bread cubes in large roasting pan. Bake for 45 minutes, stirring every 15 minutes. Bread cubes should be dried out and very slightly toasted. This step can be made up to 5 days ahead and the bread cubes stored in an airtight container until ready to use.

Put dried and toasted bread cubes in a very large mixing bowl.

As bread cubes were drying out, finely chop the onion and celery. In a 10" skillet melt ¼ cup of salted butter over medium low heat. Add finely chopped onion and celery and sauté until onion is transparent. Add poultry seasoning and cook 1 to 2 minutes more to bloom the seasoning.

Pour cooked and seasoned onion and celery over the dried bread cubes. Mix well with a large spoon.

Pour 2 ½ cups chicken broth over bread cube mixture, ½ cup at a time. Stir and toss cubes to moisten them between broth additions. You will have ½ cup of chicken broth that should be reserved, if needed later.

Add salt ¼ teaspoon at a time to dressing, gently tossing dressing mix after each addition. Maximum salt listed is ¾ teaspoon, but taste and adjust as needed.
Turkey Breast:
Preheat oven to 325°F/163°C.

Roll and shape a 4-foot long piece of heavy-duty aluminum foil into a thick rope and coil it to create a rack for the turkey breast. Place coiled rack at one end of a large 15" x 13" roasting pan.

Remove turkey breast from packaging. Rinse turkey with cold water inside and out and pat dry with paper towels. Center turkey on the coiled foil rack and insert a meat thermometer into the thickest part of the breast without touching a bone. Tent roasting pan with aluminum foil and roast turkey for 2 Hours. As turkey breast roasts, prepare the basting sauce and vegetables. This is also a good time to set the table, if you have not already done so.
Basting Sauce:
In a small saucepan melt ¼ cup unsalted butter over low heat. Add fresh thyme leaves and paprika. Stir well and cook 1 minute. Remove from heat and set aside.
Vegetable:
Place thawed French style green beans in a large bowl. Add dried cranberries and mix well.
Part 2:
Remove turkey breast from oven. Carefully remove the foil tent and set aside. Using a pastry brush, baste the turkey breast with the butter sauce.

Spoon dressing around and in front of turkey breast. Mound dressing slightly in front of the turkey breast to create a division for the vegetable. Spoon green beans with cranberries in remaining portion of the pan. Place apples and pears around the turkey on top of the dressing.

Fold the foil tent and use it to cover the vegetables and dressing.

Return roasting pan to the oven and bake until the turkey breast registers 165°F/74°C, about 60 to 75 minutes. Have a nice glass of wine or a cup of good cheer, while you wait for the dinner to finish cooking.

Remove dinner from oven. To keep maximum juices in the turkey breast, allow it to rest 15 minutes before carving.

Serve in the pan buffet syle or transfer to pretty serving dishes.
Video
Nutrition Per Serving
Calories:
1226
kcal
|
Carbohydrates:
106
g
|
Protein:
143
g
|
Fat:
29
g
|
Saturated Fat:
12
g
|
Cholesterol:
367
mg
|
Sodium:
2006
mg
|
Potassium:
2436
mg
|
Fiber:
16
g
|
Sugar:
51
g
|
Vitamin A:
2060
IU
|
Vitamin C:
38.3
mg
|
Calcium:
389
mg
|
Iron:
8.9
mg
All nutritional information on this site is an estimate. Your results may vary.