Are you curious as to why a cook chooses one cooking oil over another? It may seem like a Grant's Tomb question, but there are good reasons to choose the right cooking oil for the dish based on the purpose it serves.
Recently, I had the question "could another oil be substituted for safflower oil in a recipe". The answer is almost always yes, you can. But it depends on what you are making and what oil you want to use as the substitute. So, here are some things to consider when choosing a cooking oil.
There are 4 characteristics to consider in choosing a cooking oil:
♥ Heat Resistance or Smoking Point – At what temperature will the oil break down and smoke? This is especially important to consider if you are frying.
♥ Taste – Does this oil have a flavor? Or is it tasteless and neutral in flavor? If it is not neutral, does the flavor compliment the dish?
♥ Viscosity – How thick is the oil? Does the weight of the cooking oil match how it is being used?
♥ Nutrition – Does this oil contain large amounts of saturated or trans-fats?
Lets look at the first two items from this list, Heat Resistance and Taste
The last thing you ever want to have is a fire in the kitchen, which is why understanding the smoking points of oils is important. All cooking oils will break down, if you heat them beyond their smoking point. As the oil breaks down, evidenced by smoking, your food may gain an "off" taste after being fried… and very importantly, the oil could catch fire while being overheated. Yikes!
So, for pan frying and deep frying you want to choose a cooking oil with a smoking point at 25 degrees higher than the temperature you will be heating the oil to.
Another thing to consider when choosing an oil is taste. Most of the time, choosing a neutral flavored oil is the best choice. When frying, you might have a seasoned batter or crumb that you want to stay true to its flavors. In baking you might be using flavors that are delicate and not want them to compete with the oil.
But there are times when the oil, if flavored, can give a boost to the other flavors in your dish, like a drop or two of sesame oil in your stir fry, or hazelnut oil in your vinaigrette. Last week I shared my recipe for Coconut Crumb Banana Muffins and I used coconut oil. It was a good choice for this recipe as it gave a flavor boost to the Coconut Crumb Topping and also to the muffin.
So, this week I am sharing a great chart comparing the first 2 of the 4 characteristics of cooking oils.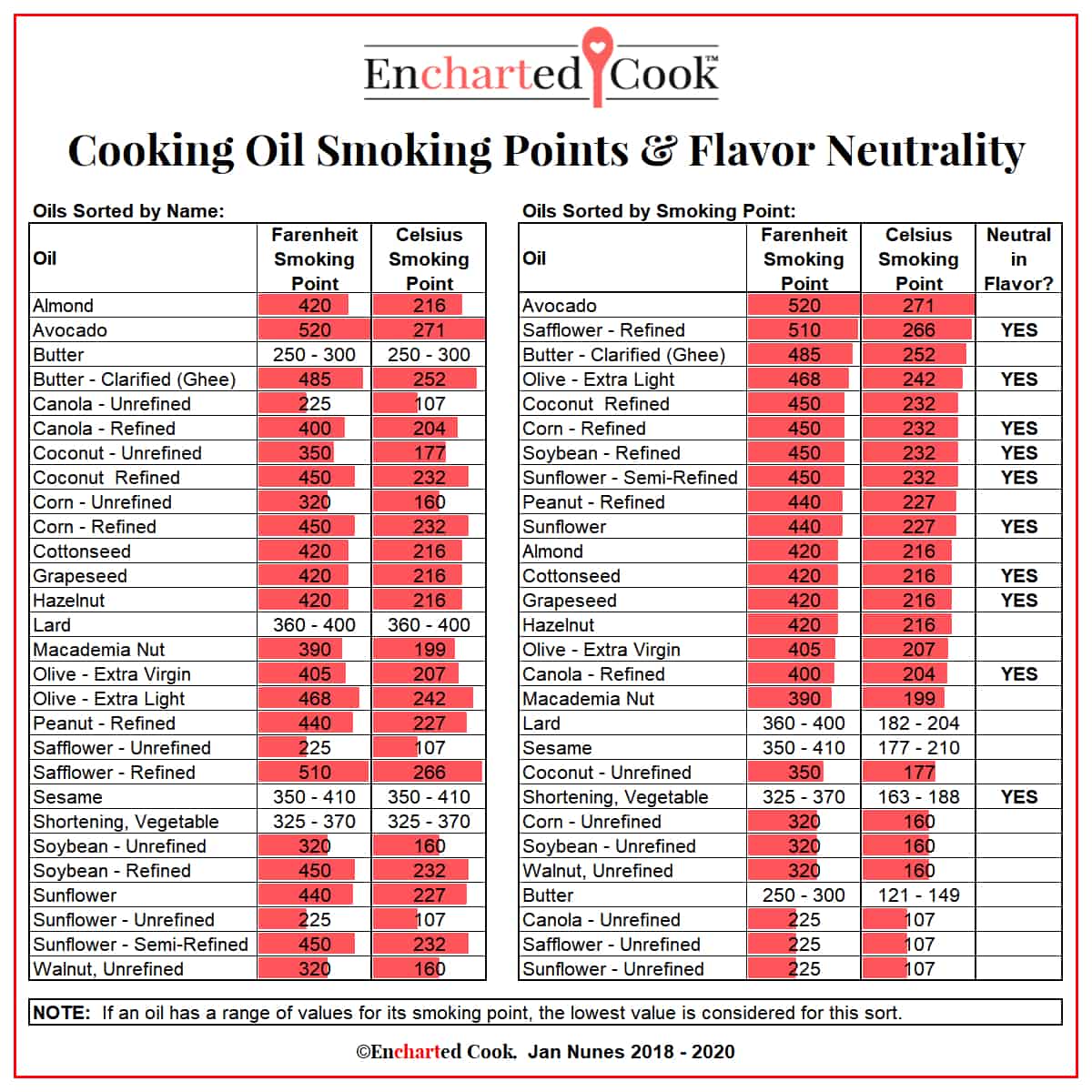 My chart, "Cooking Oil Smoking Points and Flavor Neutrality Chart" compares the smoking points of commonly used cooking oils and I have also noted which oils are flavor neutral. On the left side of the chart the oils are listed alphabetically. The graph on the right-side lists oil by smoking point, highest at the top and lowest at the bottom. As you look at this information, you might notice that refined oils are grouped toward the top and unrefined oils are at the bottom. Fruit and nut oils that are cold pressed are mostly in the center. Interestingly, the neutral flavored oils appear to be mostly toward the top of the graph sorted by smoking point.
If you want to know more about a specific cooking oil, I recommend Wikipedia. There is outstanding information about individual cooking oils on that website. I found the listing on cottonseed oil very interesting, with lots of history. Also, a discussion about American brand names like Wesson Oil and Crisco Shortening can be found there.
Related Posts