Are you curious as to why a cook chooses one cooking oil over another? It may seem like a Grant's Tomb question, but there are good reasons to choose the right cooking oil for a dish based on the purpose it serves.
Recently, I had the question "Could another oil be substituted for "x" oil in a recipe". The answer frequently is yes, you can. But it does depend on what you are making and what oil you want to use as a substitute.
You might be surprised that choosing the best cooking oil is completely dependent on its use.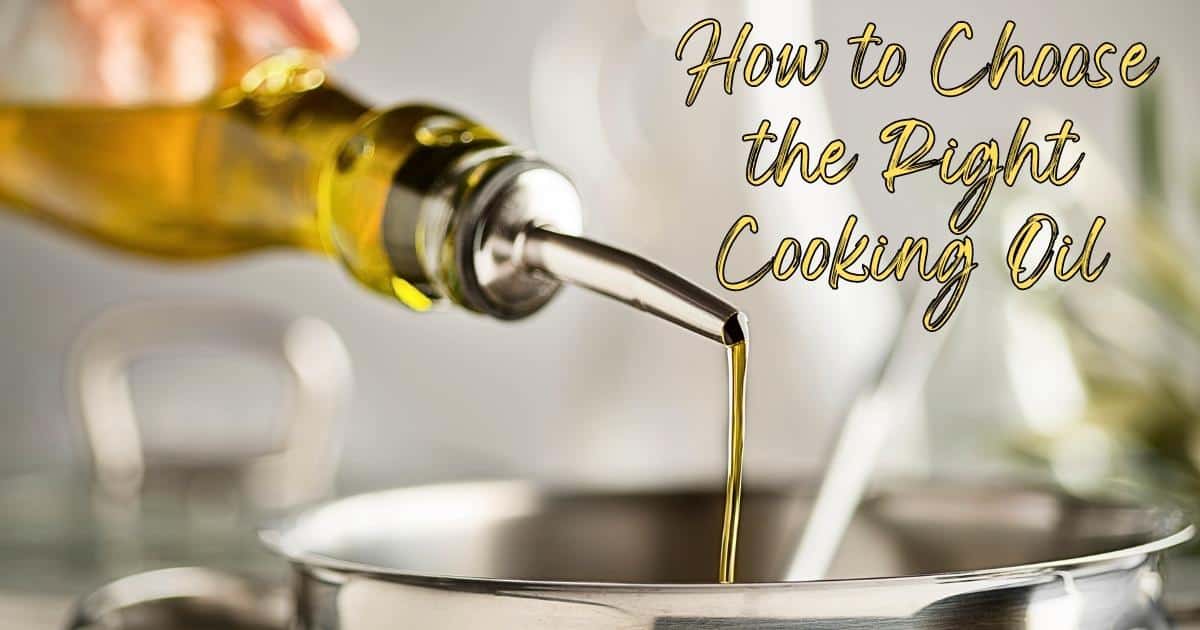 Luckily, there are lots of different cooking oils to choose from depending on whether you are considering the smoke point of the oil or looking for a healthy cooking oil to use in your kitchen.
Jump to:
How to Choose the Right Cooking Oil
There are four characteristics to consider in choosing a cooking oil:
Smoke Point – At what temperature will the oil break down and smoke? This is especially important to consider if you are frying.
Flavor – Does this oil have a flavor? Or is it tasteless and neutral in flavor? If it is not neutral, does the flavor complement the dish?
Viscosity – How thick is the oil? Does the weight of the cooking oil match how it is being used?
Nutrition – Does this oil contain large amounts of saturated or trans-fats?
What Is an Oil Smoke Point?
The oil smoke point indicates what temperature an oil is susceptible to breaking down. This is also referred to as heat resistance.
Different types of oil have different smoke points and typically refined plant-based oils have a higher smoke point than unrefined oils.
Why Is the Oil Smoke Point Important?
The last thing you ever want to have is a fire in the kitchen, which is why understanding the smoking points of oils is important. All cooking oils will break down if you heat them beyond their smoking point. As the oil breaks down, evidenced by smoking, your food may gain an "off" taste after being fried… and very importantly, the oil could catch fire while being overheated. Yikes!
So, for high-heat cooking like wok frying, pan frying, and deep frying, you want to choose a cooking oil with a smoking point at least 25 degrees higher than the temperature you will be heating the oil.
Searchable Chart of Oil Smoke Points
Please note the high smoke point oils are at the top of the chart and low smoke point oils are at the bottom.
| Oil | Smoke Point ºF | Smoke Point ºC |
| --- | --- | --- |
| Avocado Oil - Refined | 520°F | 271°C |
| Safflower Oil - Refined | 510°F | 266°C |
| Butter - Clarified (Ghee) | 485°F | 252°C |
| Olive Oil - Extra Light | 468°F | 242°C |
| Coconut Oil - Refined | 450°F | 232°C |
| Corn Oil - Refined | 450°F | 232°C |
| Soybean Oil - Refined | 450°F | 232°C |
| Sunflower Oil - Semi-Refined | 450°F | 232°C |
| Peanut Oil - Refined | 440°F | 227°C |
| Sunflower Oil | 440°F | 227°C |
| Almond Oil | 420°F | 216°C |
| Cottonseed Oil | 420°F | 216°C |
| Grapeseed Oil | 420°F | 216°C |
| Hazelnut Oil | 420°F | 216°C |
| Olive Oil - Extra Virgin | 405°F | 207°C |
| Canola Oil - Refined | 400°F | 204°C |
| Macadamia Nut Oil | 390°F | 199°C |
| Lard | 360 - 400°F | 182 - 204°C |
| Sesame Oil | 350 - 410°F | 177 - 210°C |
| Coconut Oil- Unrefined | 350°F | 177°C |
| Shortening, Vegetable | 325 - 370°F | 163 - 188°C |
| Corn Oil - Unrefined | 320°F | 160°C |
| Soybean Oil - Unrefined | 320°F | 160°C |
| Walnut Oil - Unrefined | 320°F | 160°C |
| Butter | 250 - 300°F | 121 - 149°C |
| Canola Oil - Unrefined | 225°F | 107°C |
| Safflower Oil - Unrefined | 225°F | 107°C |
| Sunflower Oil - Unrefined | 225°F | 107°C |
As you look at this information, you might notice that refined oils are grouped toward the top.
Fruit and nut oils that are cold-pressed are mostly in the center and unrefined oils are at the bottom.
So, when shopping for cooking oils you can assume the following ranges of smoke points per oil type and possible uses:
Refined oils will range between 440° to 520°F - These are ideal for cooking at high temperatures.
Cold-pressed oils will typically range between 390° and 420°F - Best for sautéing at low and medium heat, and also for moderate and low oven temperature baking.
Unrefined oils will fall in the 225° to 350°F range - Use these for salad dressings and baking at lower oven temperatures.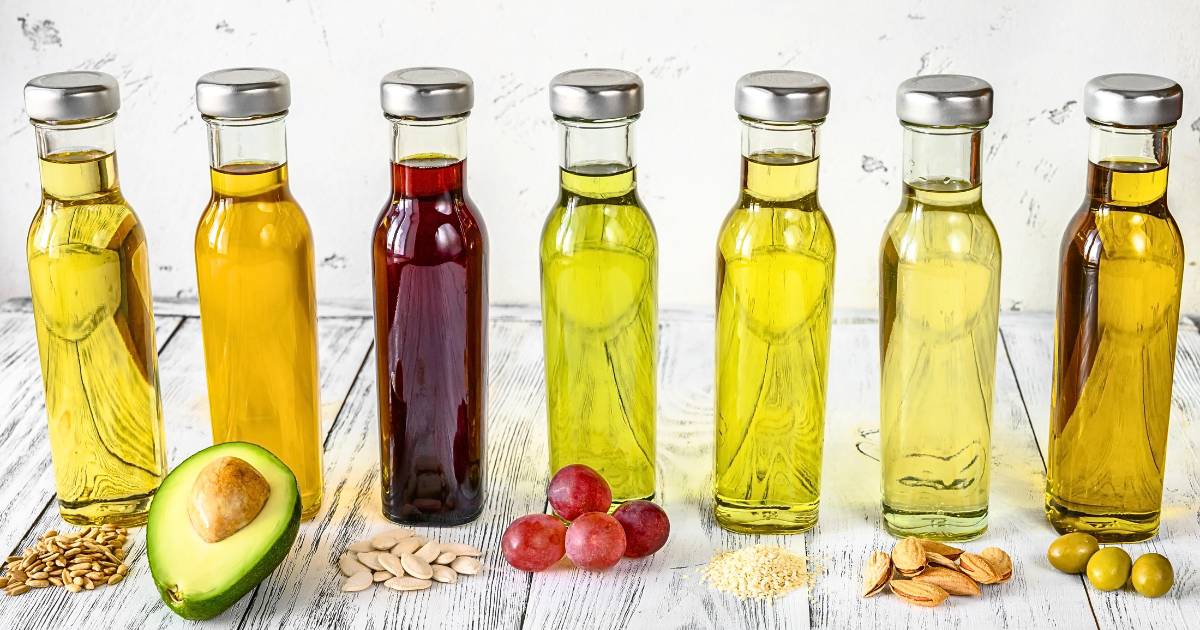 Considering the Taste of a Cooking Oil
Another factor to consider when choosing an oil is taste. Most of the time, choosing a neutral-flavored oil is the best choice. When frying, you might have a seasoned batter or crumb that you want to stay true to its flavors. In baking, you might be using flavors that are delicate and not want them to compete with the oil. The following oils are neutral in flavor:
Canola - Refined
Corn - Refined
Cottonseed
Grapeseed
Olive Oil
Safflower - Refined
Soybean - Refined
Sunflower
Sunflower - Semi-Refined
But there are times when the oil, if flavored, can give a boost to the other flavors in your dish, like a drop or two of sesame oil in your stir fry, or hazelnut oil in your vinaigrette. My recipe for Coconut Crumb Banana Muffins contains coconut oil to double down on the flavor of coconut. It was a good choice for this recipe as it gave a flavor boost to the Coconut Crumb Topping and also to the muffin.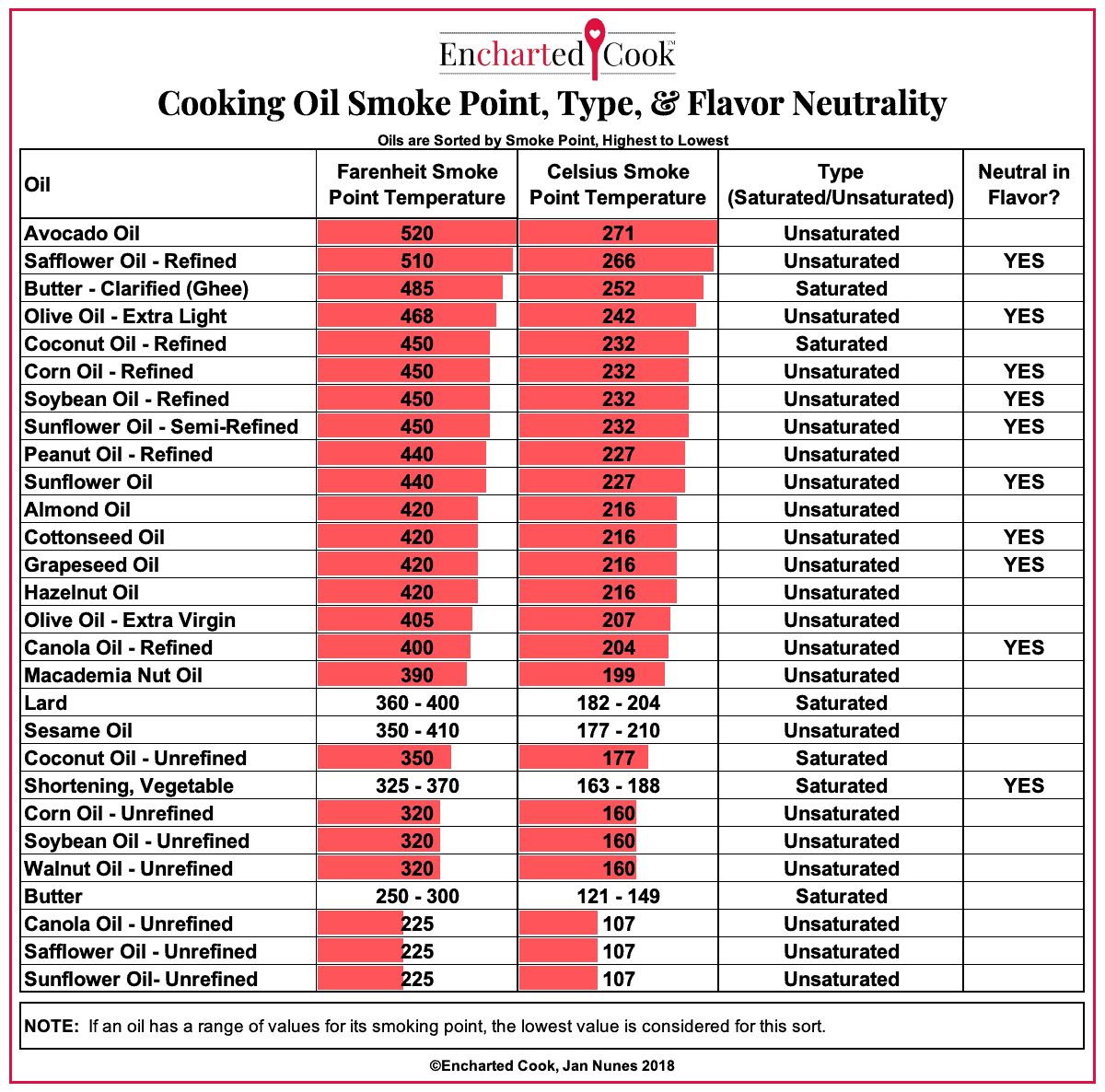 Cooking Oil Viscosity
The thickness of an oil can also be a factor in its choice. A great example is oils used in salad dressings.
When the greens of a salad have a delicate, soft texture like butter lettuce or spring greens you will want to use lighter oils that don't bog down the greens.
However, salads of hearty greens like romaine and radicchio will benefit from a thicker, more viscous oil. Grapeseed oil is thicker, but silky and an excellent choice for robust greens.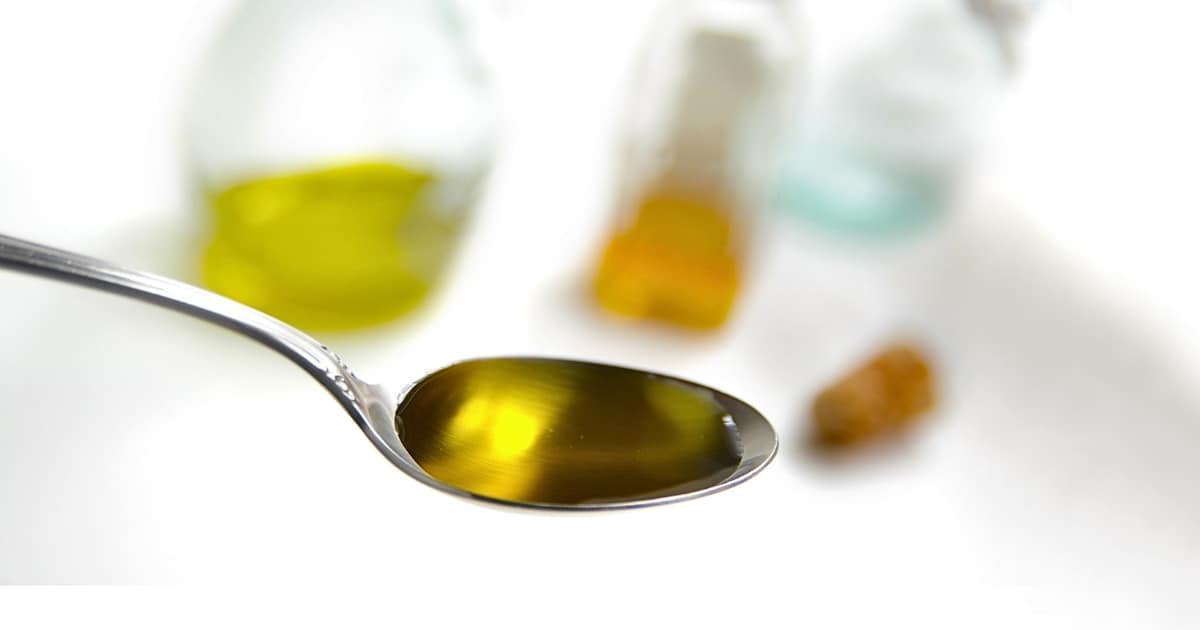 Nutrition - Better Cooking Oils for Health Benefits
In the world of nutrition oils and fats are divided into two major divisions: saturated fats and unsaturated fats. The saturated fat division includes another class of fats called trans fats which include hydrogenated oils like vegetable shortening. While the unsaturated fats division contains monounsaturated fats and polyunsaturated fats.
Saturated fats and trans fats are considered "bad fats" and should be limited in the diet. While unsaturated fats, mono, and poly are more desirable in the diet and contain health benefits.
In cooking, we need to also be concerned with another set of categories: refined oils and unrefined oils, which each have their purpose and benefits.
As for calories, all cooking oils contain approximately 40 calories per teaspoon regardless of the type.
Refined Oils versus Unrefined Oils
It seems counter-intuitive but refined oils typically have less saturated fat and due to the refinement process have a higher smoke point. So, refined corn oil will have a higher smoke point than unrefined corn oil. Additionally, some refined oils may have a reduced flavor making them a neutral oil and more desirable in dishes.
Unrefined oils such as cold-pressed fruit and nut oils are often very flavorful oils but have a lower smoke point. These oils are exceptional at adding flavor to a dish but are not suitable for high-heat cooking.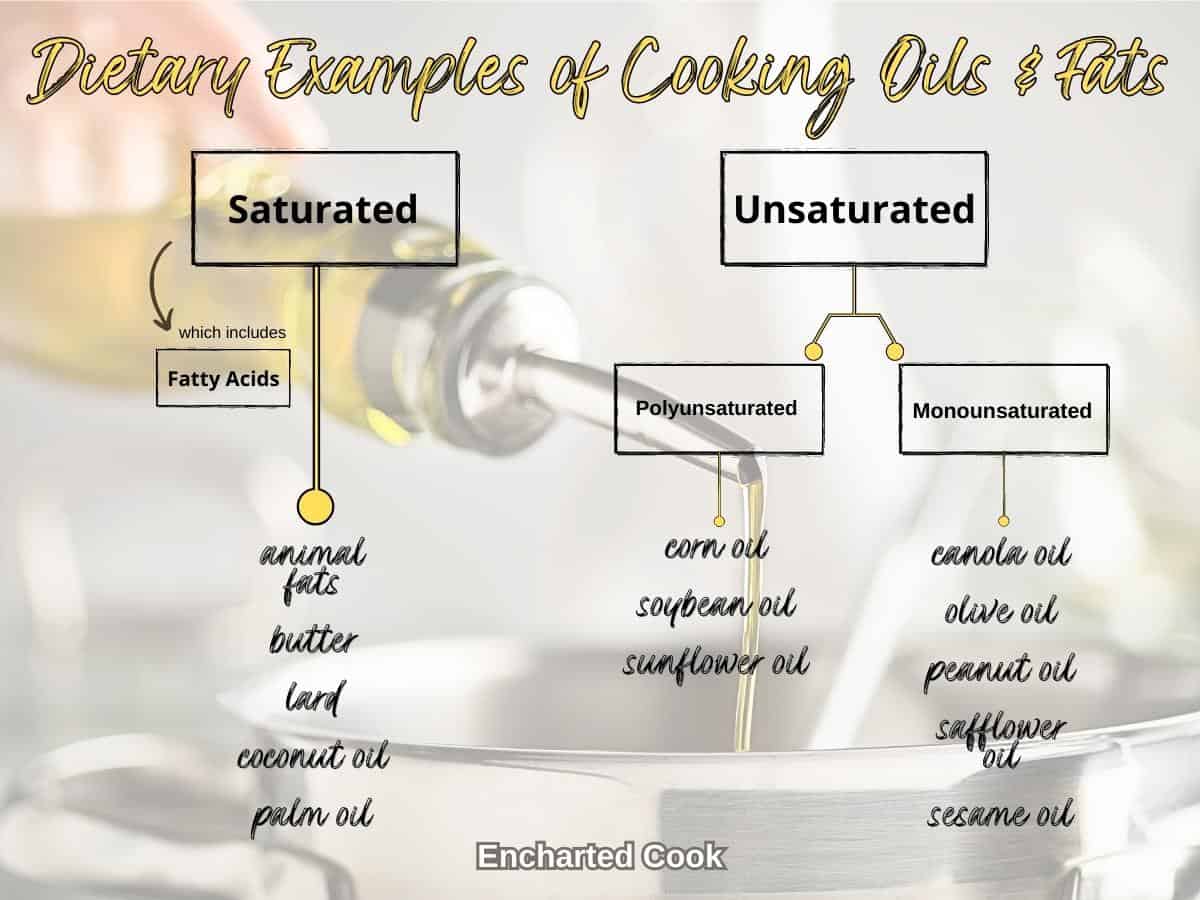 Saturated Fats
Saturated fats can be identified easily since they are generally solid at room temperature. These fats should be limited in consumption as they raise cholesterol in the blood which is a factor in stroke and heart disease. Saturated fats and oils include:
butter
lard and other animal fats
coconut oil
palm oil
Monounsaturated Fats
Monounsaturated fats are considered a better health choice than saturated fats. These oils are generally liquid at room temperature and become more solid when refrigerated. Examples of monounsaturated oils include:
canola oil
olive oil
peanut oil
safflower oil
sesame oil
Polyunsaturated Fats
Polyunsaturated oils and fats are considered the healthiest cooking oils. Not only are they a good choice for high-heat cooking but they also can lower your risk of heart disease and stroke by lowering the bad cholesterol levels in your blood.
Oils rich in polyunsaturated fats also provide fatty acids that are needed by the body and can only be acquired by diet making them "essential". Oils high in polyunsaturated fat include:
corn oil
soybean oil
sunflower oil
---
More Helpful Posts