Do you have just a slice or two of leftover pizza? Delicious, fluffy scrambled eggs with leftover pizza is easy to make and stretches your budget!
Jump to:
I don't know about you but when we order pizza delivery, we always have leftover pizza. My husband loves having the leftovers, but sometimes there isn't enough for a full meal. So, when we heard about Pizza Eggs, I knew we just had to try them. Adding chopped pizza to scrambled eggs was a perfect way to get another full meal from just a little leftover pizza.
We heard about this dish from "The Trackers", "Tim and Jenn". Their channel exploring all of the major theme parks, local restaurants, and family life as new parents is one of our favorites on YouTube. When my husband and I saw Jenn make this dish, I knew I had to make my own version. Leftover pizza for breakfast? Yes! The pizza may not be completely transformed like on Food Network's, "Chopped", but I promise this is a very tasty dish. So, let's cook!
Ingredients
This dish has only 5 ingredients: leftover pizza, butter, eggs, salt, and cream. It is just like making scrambled eggs with chopped pizza added toward the end of the cooking time.
Which type of pizza is best for Pizza Eggs, pan pizza or thin crust?
Both are absolutely delicious! My husband prefers thin crust which is firmer and the little crusty bits give extra texture that he likes. I like the thicker crusts like "regular" and pan pizza. Pan pizza will make a softer bread pudding texture.
Instructions
Step 1 - In a small glass bowl beat the eggs, heavy cream and salt with a fork.
Step 2 - Chop the pizza and gently warm it in a microwave oven.
Step 3 - Melt butter in a fry pan over medium low heat and gently cook the egg mixture. As the egg sets, gently move the cooked eggs into the center of the pan with a heat proof spatula.
Step 4 - Add the chopped and warmed pizza and continue to gently move the cooked eggs into the center of the pan and flip egg mixture until it is cooked to your liking.
If you like a softer creamier scrambled egg, reduce the heat to low and carefully watch that the eggs retain some glossiness. Some people like firmly cooked, but fluffy eggs and if that is your preference, simply flip the egg mixture in the pan and let it continue to cook, until the eggs have risen and are dry and firm.
Whichever way you like your scrambled eggs, do not over stir! Over stirring will break the egg mixture too much and will not complement the larger chunks of pizza.
As soon as the eggs are at your preferred texture, immediately, plate, serve and enjoy!
Related Posts
---
PIN THIS FOR LATER!
Want to save this Pizza Eggs recipe for later? Save it to your Pinterest board!
---
📖 Recipe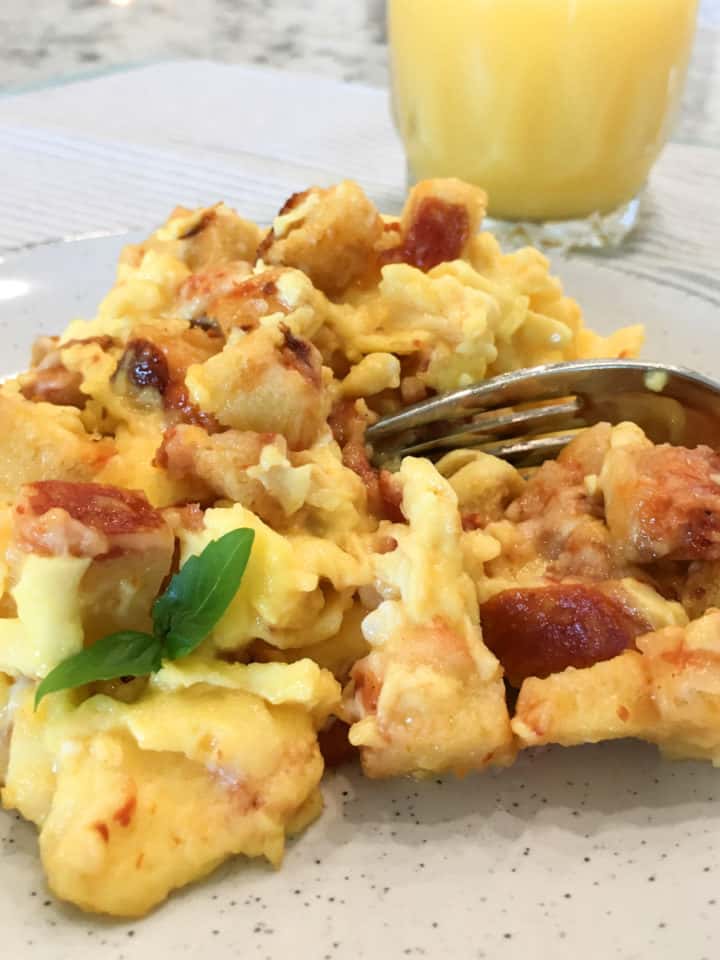 Pizza Eggs
Do you have just a slice or two of leftover pizza? Delicious, fluffy scrambled eggs with leftover pizza is easy to make and stretches your budget!
Ingredients
4

Large Eggs

¼

Cup

Heavy Cream

¼

Teaspoon

Salt

1

Slice

Pepperoni Pizza
Instructions
In a small bowl beat eggs, cream, and salt with a fork or whisk until well combined.

Heat an 8" frying or sauté pan over low heat. Prewarming the pan helps the eggs cook evenly.

As pan warms, chop the pepperoni pizza into small ⅓" pieces. One slice of pizza should yield approximately ⅔ of a cup of chopped pizza.

Place the pizza on a small plate and gently warm it in a microwave, about 25 seconds on high power. Set aside.

Add butter to warmed pan and let it melt. Add beaten egg mixture and wait. Let the eggs set slightly. Then using a flexible or silicon spatula, gently push the eggs from the edges of the pan into the center as they set.

Add the pepperoni pizza and continue to gently move the eggs in the pan until they are set.

Divide the Pizza Eggs between two plates and serve.
Notes
♥ This recipe calls for one slice of pizza, but you can use more or less.
♥ You can use thin crust or pan pizza. Thin crust pizza will give you more texture in the dish and pan pizza will be softer.
♥ Any pizza toppings can be delicious!
Nutrition Per Serving
Calories:
385
kcal
|
Carbohydrates:
19
g
|
Protein:
18
g
|
Fat:
26
g
|
Saturated Fat:
12
g
|
Polyunsaturated Fat:
1
g
|
Monounsaturated Fat:
2
g
|
Trans Fat:
1
g
|
Cholesterol:
382
mg
|
Sodium:
807
mg
|
Potassium:
144
mg
|
Sugar:
2
g
|
Vitamin A:
913
IU
|
Calcium:
69
mg
|
Iron:
2
mg
All nutritional information on this site is an estimate. Your results may vary.