My low-carb, keto Everything Chaffle has all the delicious tastiness of a bagel with cream cheese but has only 4 net carbs!
But what the heck is a chaffle? Well, a chaffle is a CHeese wAFFLE! The most basic chaffle is just egg and mozzarella cheese and contains no wheat flour that is loaded with carbs. The first recipe for this low-carb waffle appeared in a Weight Watchers recipe.
So, let's see... it is low carb and perfect for keto dieters. It has no wheat flour, so it is gluten-free. And it contains no meat so it is vegetarian. Win! Win!... and Win!
Jump to:
Can you tell I am a little excited about this concoction? A chaffle is delicious on its own plus an amazing little base for all kinds of delicious toppings.
This chaffle recipe is just one ingredient more than just the basic chaffle of egg and cheese. It contains almond flour to lighten the texture of the chaffle and to make it less "eggy" in taste.
Another excellent reason to add almond flour is that the amount of batter is slightly increased without becoming loaded with carbs. A little more batter makes a better-shaped chaffle and a more filling meal.
The Dash Mini Waffle Maker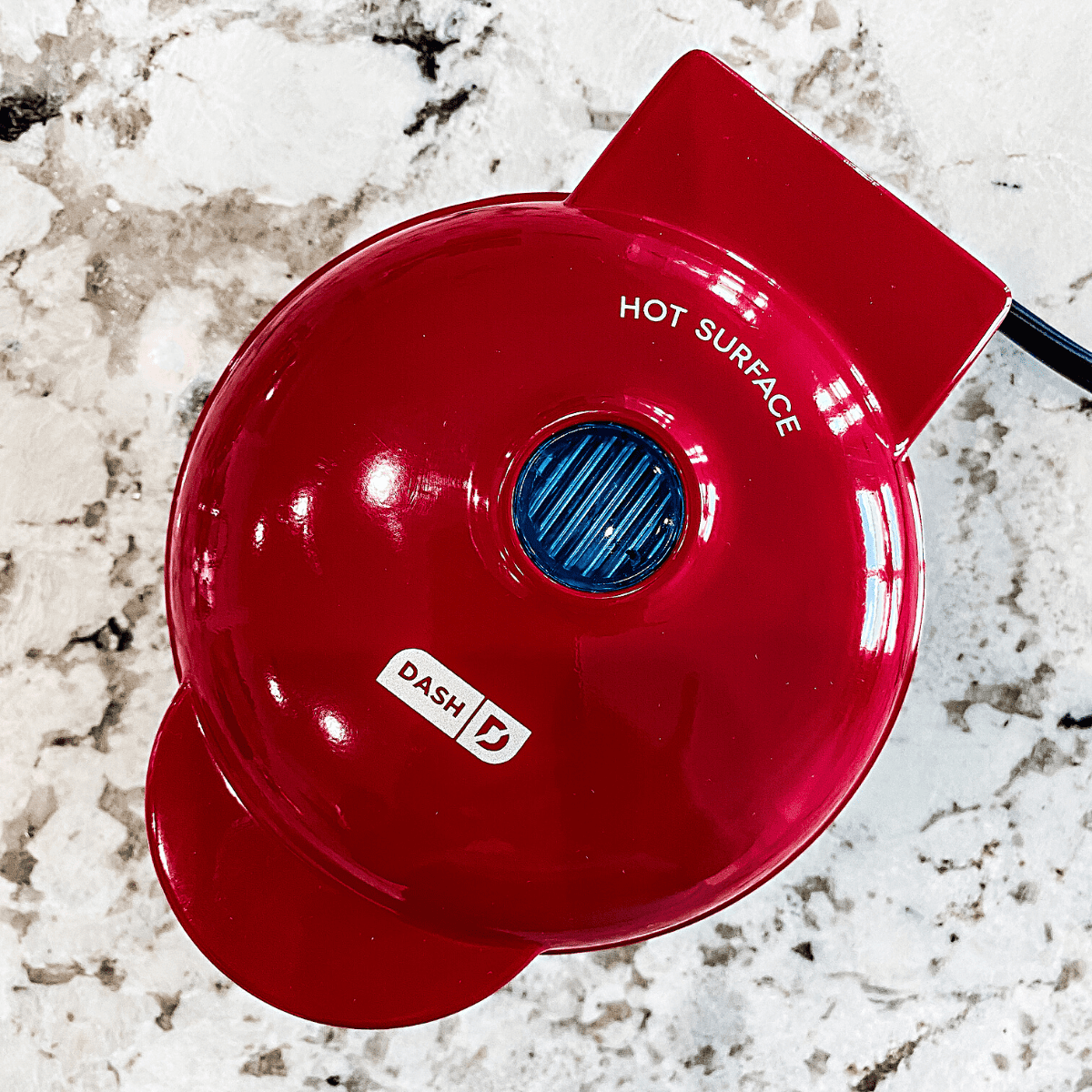 The one must-have tool for making chaffles is a waffle maker that makes small 4-inch waffles. The most popular one on the market for the last few years is the Dash Mini Waffle Maker. It comes in a variety of external colors and some models have intricate waffle patterns like snowflakes.
This mini waffle maker holds approximately 3 tablespoons of batter and is the perfect size to make 2 chaffles with any recipe that is 1 large egg plus 1 ½ ounces of shredded cheese.
Chaffles, The Dash Mini Waffle Maker, and Low Carb Popularity
everything eventually becomes clear...
You know, I wrote a post several years ago that was inspired by a recent Target shopping trip. There were stacks and stacks of cute little personal waffle makers by DASH and on the side was printed "UNPROCESS YOUR FOOD!".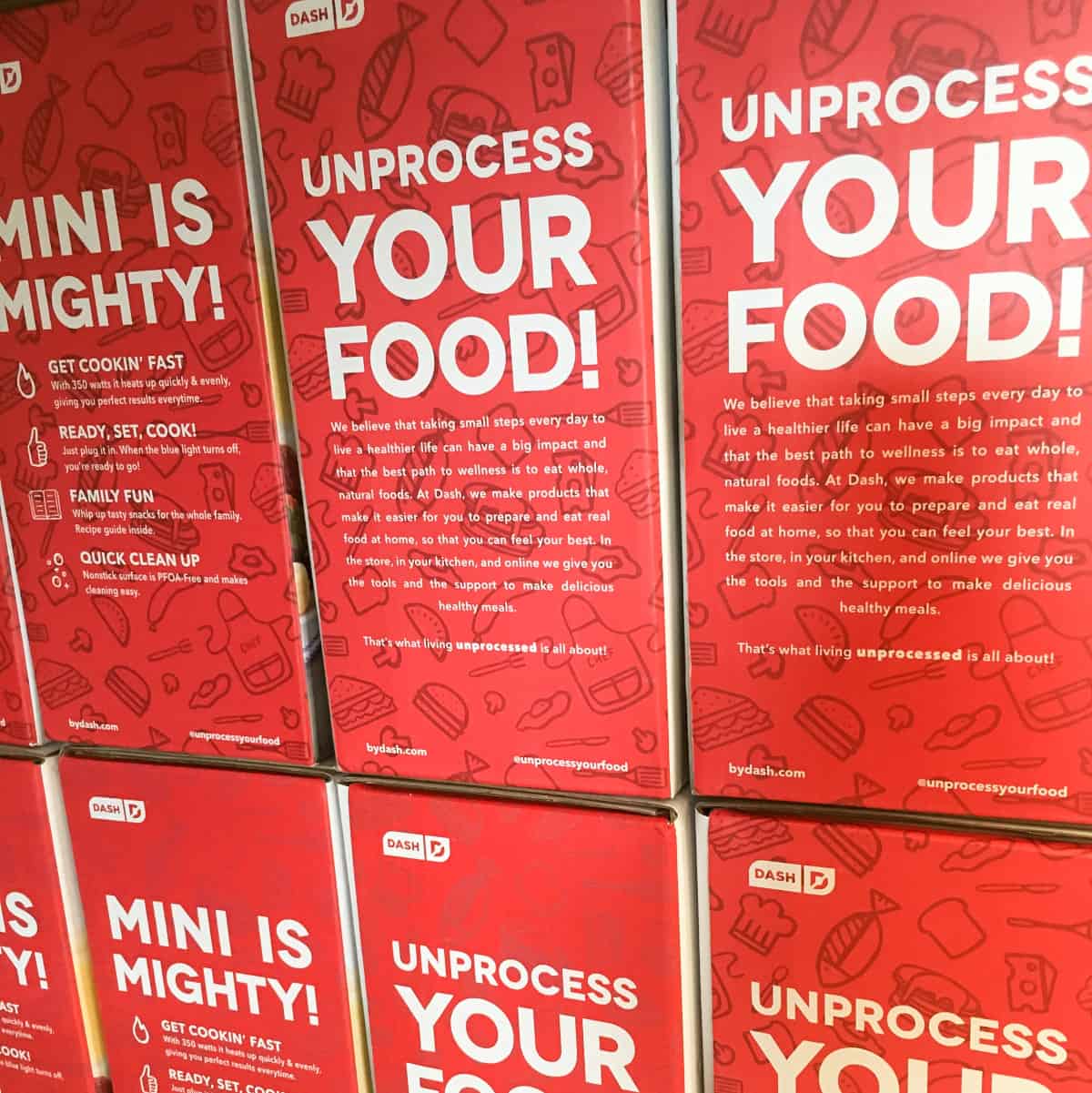 Seriously, I wrote that post on February 14, 2018, and was totally clueless as to what spurred Target to have stack upon stack or these cute little boxes. I thought it was to encourage making food from scratch, which it kinda was. But, the real reason is, there has been a growing craze for these cute little waffle makers and it comes from the demand for the chaffle!
Now, oddly enough, periodically my husband does low carb and becomes sad he can't have an everything bagel. So I was looking for a way to give him more variety than just meat, meat, and more meat and I came across the chaffle. Bingo!
I experimented with the basic recipe and my husband was my taste tester. We started with making 4 versions, one was the basic, just egg and mozzarella cheese, one version added almond flour, another had a little less almond flour, and one version had a different cheese, a blend of shredded Italian cheeses.
For this recipe, my husband and I agreed on the amount of almond flour and the change in cheese from mozzarella to the Italian blend. This particular recipe makes the best-tasting chaffles that are topped with cream cheese and delicious Everything Seasoning.
So, let's cook!
Ingredients
Just one egg will make 2 yummy chaffles. Once you get the basic proportions down of 1 egg to 1 ounce of cheese, you can tinker with the recipe for your favorite add-ins and toppings.
Whole Egg - Large whole eggs are the best size to make sure you have the correct amount of batter.
Shredded Cheese - I prefer shredded Italian blends which tend to make a more neutral-flavored chaffle.
Almond Flour - Almond flour adds body and texture and can mask that "eggy" flavor.
Salt - Seasoning with salt makes everything delicious and plain table salt is all you need.
Cream Cheese - Plain cream cheese is part of the topping. Spread it on as thick or thin as you like.
Everything Bagel Seasoning - This seasoning contains sesame seeds, poppy seeds, dried garlic, dried onion, and flaked sea salt. It is very tasty!
Instructions
It is very important your mini waffle maker is hot and ready. So, before you start mixing the batter, plug in your mini waffle maker.
Now, let's make the batter and start making chaffles!
Step 1 - Chopping your shredded cheese into smaller pieces will make your chaffle more uniformly brown and you will have cheesy goodness in every bite.
Step 2 - Beat the egg in a small bowl with a fork, until the yolk and the white are well combined.
Step 3 - Add the rest of the ingredients for the batter; almond flour, chopped and shredded cheese, and salt. Mix well with the fork.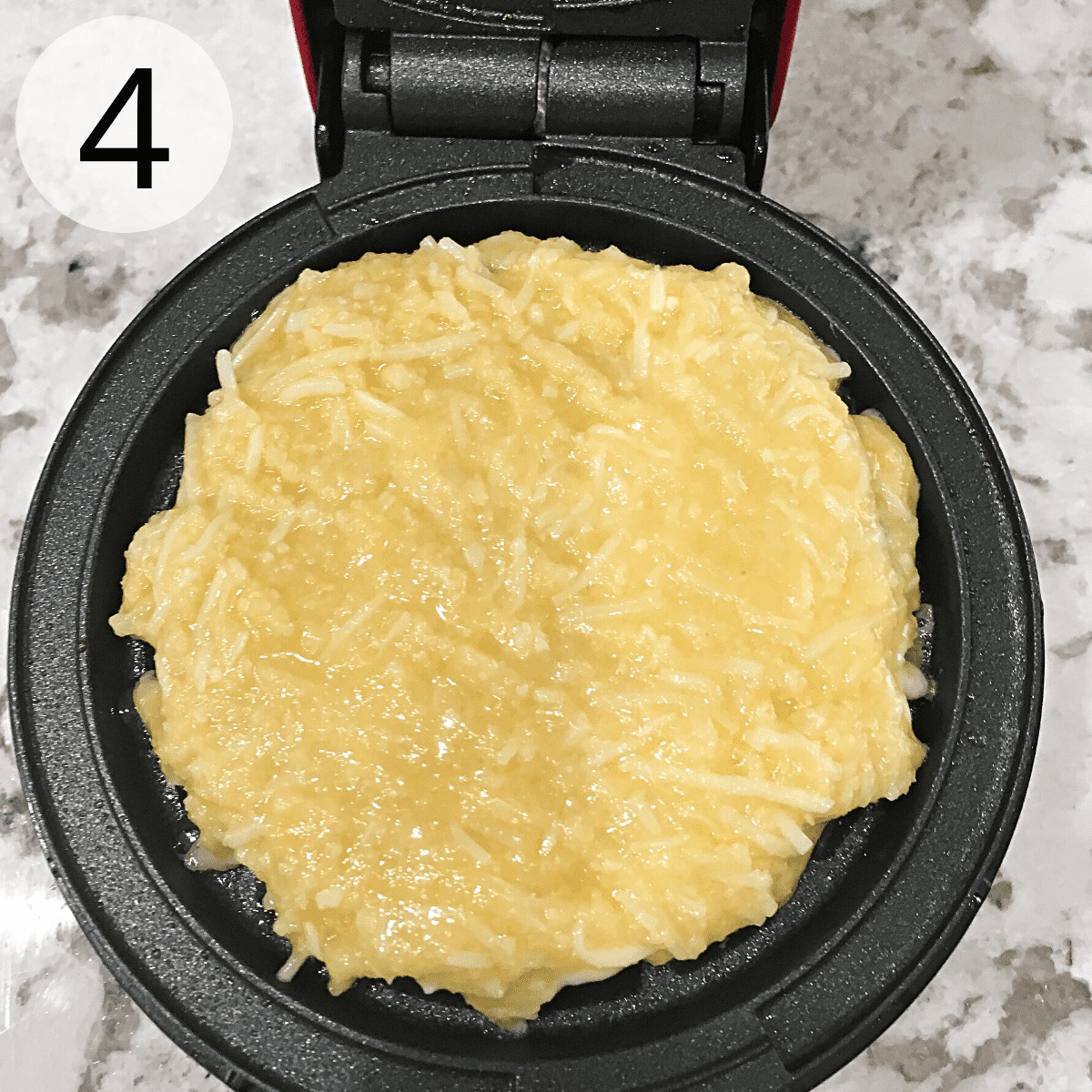 Step 4 - Portion the batter in equal halves and spread one-half of the batter onto your hot and ready mini waffle maker. Close the lid and cook it for 5 minutes, or until golden brown.
When the waffle maker comes back up to full temperature, which should be very quickly, it is time to make the other chaffle!
Once both chaffles are made, spread them with cream cheese and give them a sprinkling of Everything Bagel Seasoning. If you do not have Everything Seasoning on hand, you can make your own by combining toasted sesame seed, poppy seed, dried onion, dried garlic, and coarse salt.
My Top Tips
Use a fork. Gently remove the chaffle from the waffle maker with a fork.
Keep the chaffles crisp. Put the cooked chaffle on a wire rack or folded paper towels to cool. I found that if I plate chaffles right away, moisture forms under them and they won't be as crisp as I would like.
Now you have a delicious breakfast treat or anytime snack that you would never think was low carb!
If you would like to try the Original Basic Chaffle Recipe, I have it plus a couple of other variations to try. Plus, get more great ideas for toppings with my post "8 Delicious Chaffle Toppings You Will Love."
More Delicious Breakfast Ideas
📖 Recipe
Everything Chaffle
On low carb but craving a bagel with everything? Try my Everything Chaffle. This CHeese wAFFLE with cream cheese and "everything bagel seasoning" is so good you will never miss the bagel!
Ingredients
Chaffle
1

Large Egg

1

Ounce

6 Cheese Italian Blend Cheese

,

Finely Shredded

3

Tablespoons

Almond Flour

1

Pinch

Salt

Butter Flavored Non-Stick Cooking Spray
Topping
2

Ounces

Cream Cheese

2

Teaspoons

Everything Bagel Seasoning
Instructions
Plug in and preheat the mini waffle maker. Many waffle makers have a light to indicate when it is preheated. For best results, be sure it is fully heated before proceeding.

Crack the large egg into a small bowl and beat vigorously with a fork until the yolk and the white are well combined.

Using a small chopping board and medium sized knife, chop the shredded italian cheese into smaller pieces. This allows the cheese to be more evenly distributed throughout the egg mixture.

Add the cheese, almond flour, and salt to the egg mixture and stir with a fork, until all is well combined.

Spray the waffle maker with butter-flavored non-stick cooking spray.

Put ½ of the mixture into the center of the grill of a miniature waffle maker. Spread mixture to edges of grill and close waffle maker.

Cook the chaffle for 5 minutes, or until toasty brown and cooked through.

Using a small fork gently remove the chaffle and set it on a layer of paper towels to cool.

Spray the waffle maker with butter-flavored non-stick cooking spray and cook the remaining chaffle mixture the same as the first one.

Chaffles will become crispier as they cool.

Spread the chaffles with cream cheese and sprinkle with Everything Bagel Seasoning.
Notes
My Top Tips
Use a Fork. Gently remove the chaffle from the waffle maker with a fork.
Keep the Chaffles Crisp. Put the cooked chaffle on a wire rack or folded paper towels to cool. I found that if I plate chaffles right away, moisture forms under them and they won't be as crisp as I would like.
Nutrition Per Serving
Calories:
233
kcal
|
Carbohydrates:
4
g
|
Protein:
10
g
|
Fat:
21
g
|
Saturated Fat:
7
g
|
Polyunsaturated Fat:
1
g
|
Monounsaturated Fat:
3
g
|
Trans Fat:
1
g
|
Cholesterol:
116
mg
|
Sodium:
169
mg
|
Potassium:
69
mg
|
Fiber:
1
g
|
Sugar:
1
g
|
Vitamin A:
500
IU
|
Calcium:
91
mg
|
Iron:
1
mg
All nutritional information on this site is an estimate. Your results may vary.
---