These 8 delicious chaffle toppings are all simple ideas. Give your chaffles a topping upgrade with these easy mix-and-match ingredients.
Chaffles are a low-carb alternative to bagels and toast and just like bagels or toast, a chaffle can be loaded with your favorite healthy spreads and toppings.
These 8 delicious chaffle toppings are all simple ideas and easy to mix and match to suit your cravings. When you need a tasty low-carb breakfast, lunch, dinner, or snack, these tasty chaffle toppings are a perfect choice.
So, let's look at some of the best chaffle toppings and how to make them.
How to Make the Best Toppings for Chaffles
Pick a Spread - Every chaffle topping starts with a yummy spread. It could be hummus, soft cheeses like cream cheese, mashed avocado, and mayonnaise-based salads like egg salad and tuna salad. You can purchase these spreads ready-made at the grocery store or make them in mere minutes with a very simple recipe.
Choose Low Carb Ingredients - Next, pick low-carb options like meats and cheeses or flavorful veggies and lower-carb fruits to keep the flavors interesting.
Build Layers of Flavor - To keep building layers of flavor consider adding a small drizzle of flavored oils, vinegar, and even a splash of hot sauce.
Season and Garnish - Lastly, finish your topping with a sprinkle of herbs, spices, or seasonings. These can definitely perk up the flavors and makes everything look so delicious!
Change the Chaffle - You can also change up the chaffle ingredients to vary how your chaffle tastes. There are chaffles for every taste, texture, and topping. A soft Wonder Bread Chaffle is a perfect choice for egg or tuna salad and a Chia Seed Chaffle easily holds heavier weighted and stacked toppings like avocado and tomato.
The Original Basic Chaffle is good with almost every topping and since it is the lowest in carbs, it is the best choice when watching carbs is a must.
Jump to:
Bacon, Avocado, and Tomato
Quickly mash an avocado with a squeeze of lemon or lime juice and a few pinches of salt. Spread on a Chia Seed Chaffle and top with bacon, small sliced tomatoes, and a few microgreens.
Egg Salad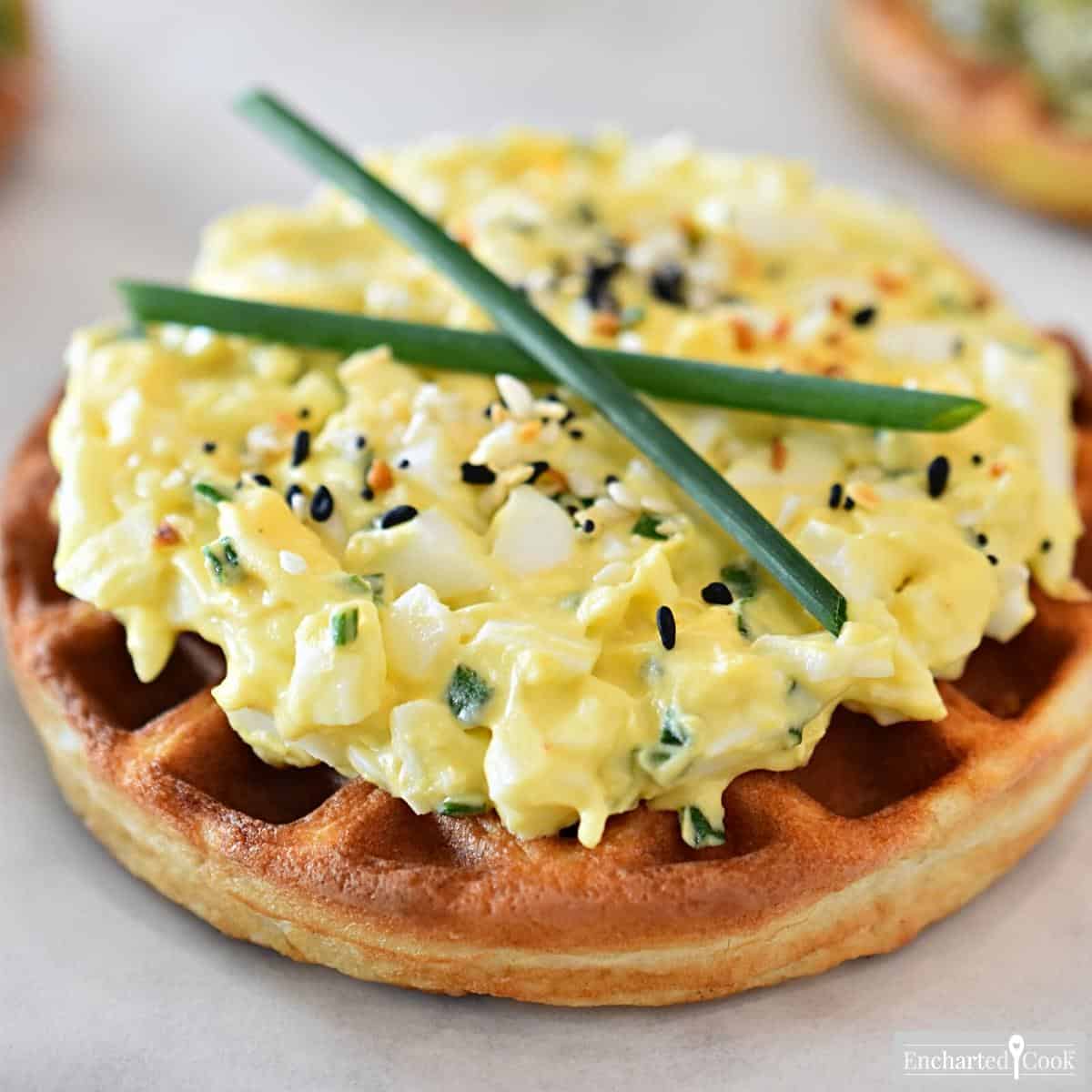 Here a Wonder Bread Chaffle is topped with a simple egg salad of 2 hard-cooked eggs chopped and mixed with 1 ½ tablespoons of mayonnaise, chopped fresh chives, and a couple of pinches of salt. I like to garnish the chaffle topping with a couple of cut chives and a sprinkling of flavorful everything seasoning.
Hummus and Cucumber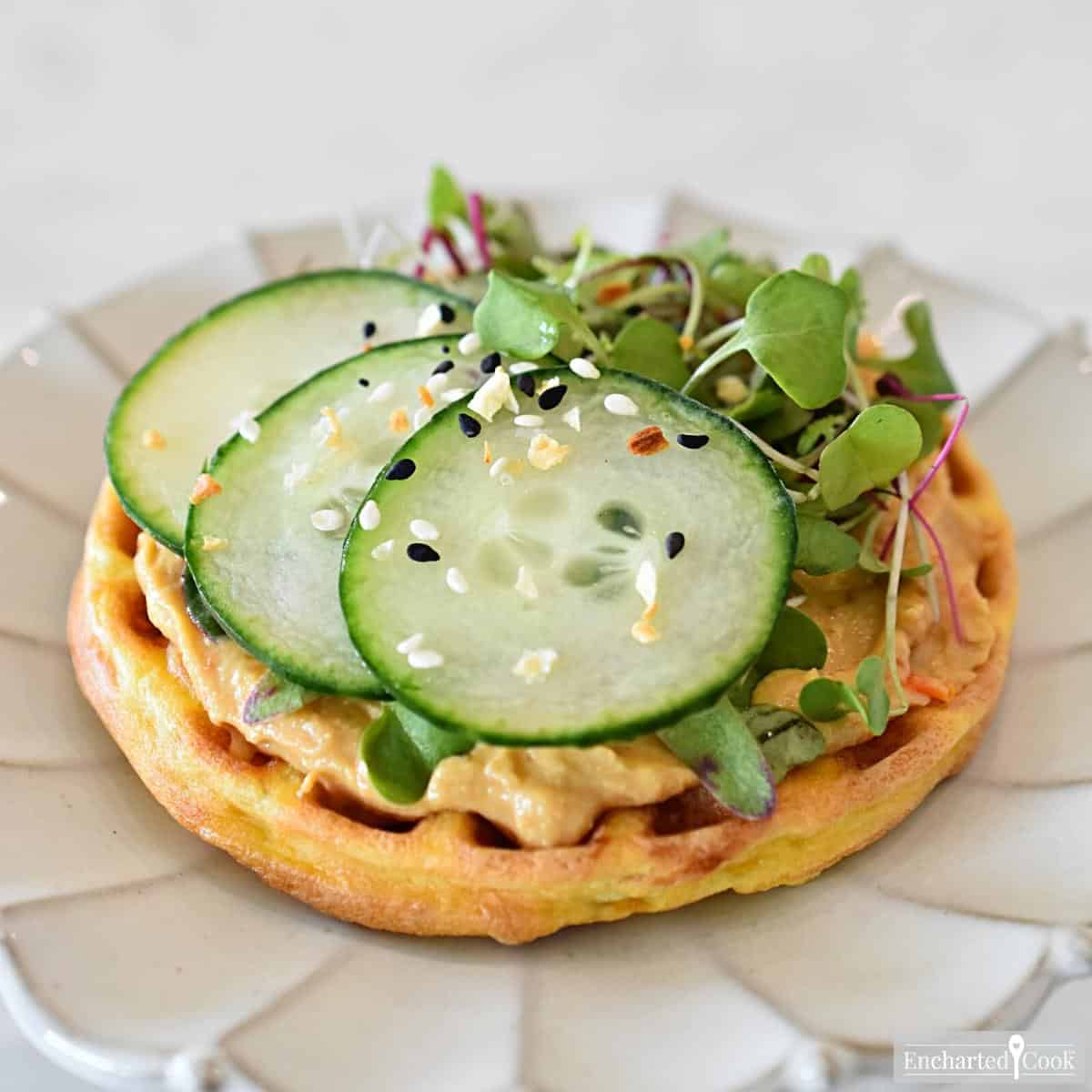 Red pepper hummus is spread on a Basic Chaffle. Top with thinly sliced cucumber and microgreens. Finish it off with a sprinkling of savory everything seasoning or for a kick of heat, red pepper flakes.
Avocado Toast
Upgrade your avocado toast! Spread seasoned and mashed avocado on a Basic Chaffle. Finish the topping with slices of avocado, sliced small tomatoes, and with microgreens.
Mash half an avocado with a squeeze of lemon or lime juice and a few pinches of salt to make seasoned mashed avocado.
Cottage Cheese and Berries
Spread cottage cheese on a Basic Chaffle and top with a few fresh raspberries and blackberries for a refreshing treat. Fresh basil leaves or mint leaves are a delicious garnish.
Tuna Salad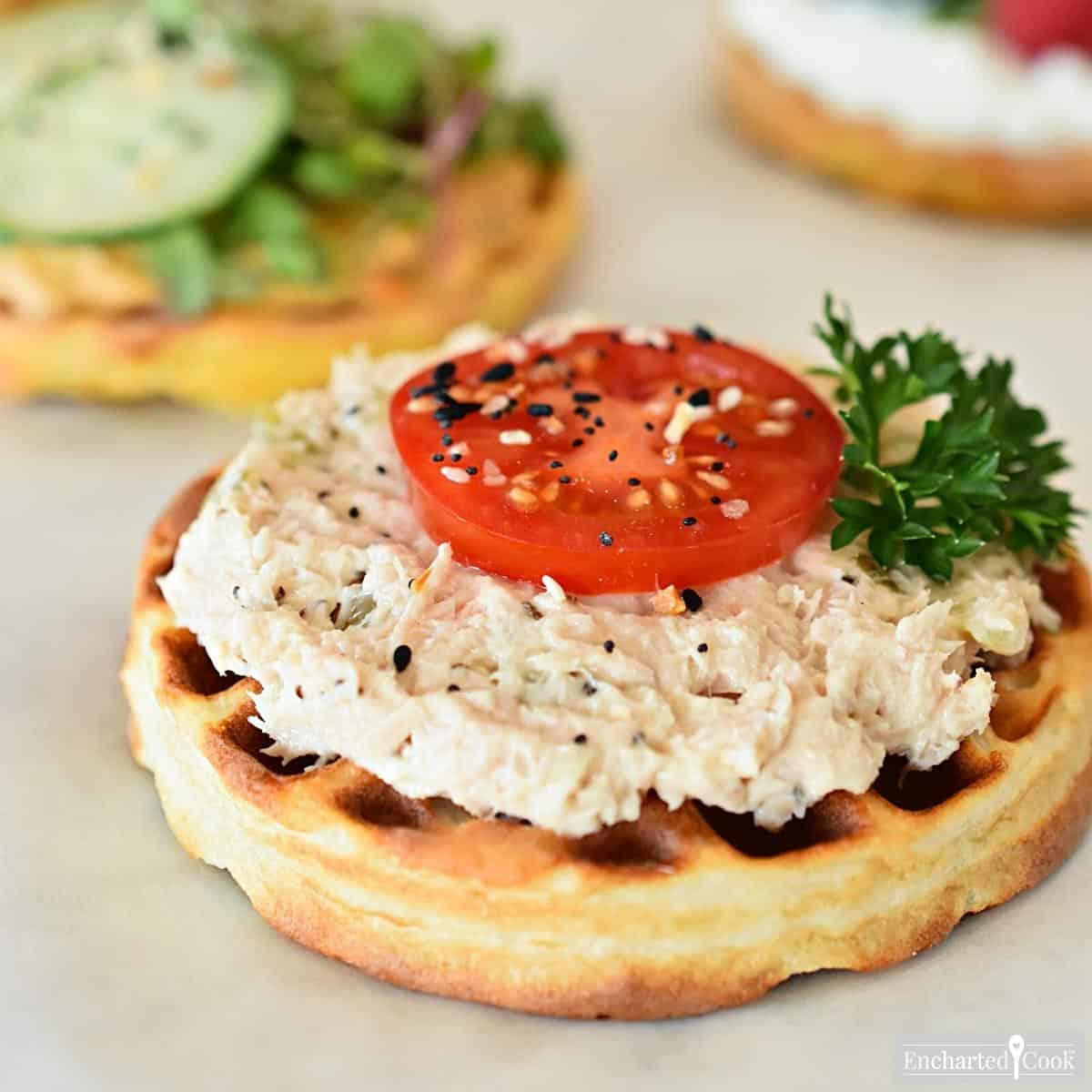 One of my favorites is to spread tuna salad on a Wonder Bread Chaffle and then complete the topping with slices of tomato.
Make a super simple tuna salad in minutes with one small 6-ounce can of tuna packed in water that is well-drained. Mix the tuna with 2 tablespoons of mayonnaise, 1 tablespoon of well-drained pickle relish, and ¼ teaspoon of celery seed.
Cream Cheese and Cucumber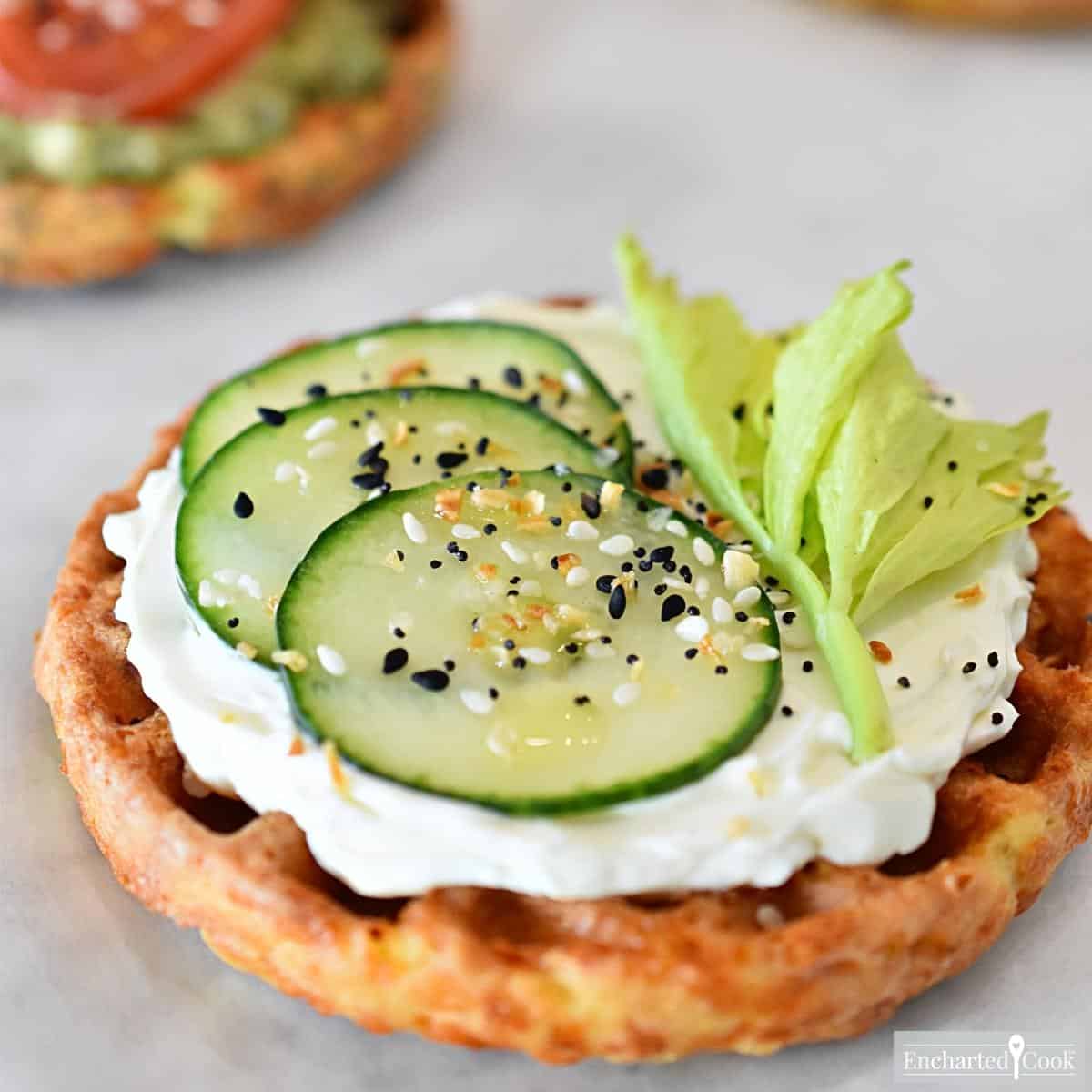 An Almond Flour Chaffle is spread with cream cheese and topped with sliced cucumber and a sprinkling of everything seasoning.
Smoked Salmon and Capers
A Chia Seed Chaffle gets a schmear of cream cheese and is topped with smoked salmon, capers, and lemon zest.
My Top Tip
Try Different Combinations - We were surprised that red pepper hummus was so good with cucumber. So don't be afraid to try combinations beyond classic choices.