Green Goddess Pasta Salad with tangy clean herbal notes is an easy variation on old-school macaroni salad. It makes in minutes and goes well with grilled foods, sandwiches, and baked chicken and fish.
Sometimes I need a bright and fresh taste on the table and this pasta salad is what I make. It is the perfect twist when you want to shake up and freshen up macaroni salad.
I keep this salad simple with just 4 ingredients plus the dressing which is the star of this dish. Iconic Green Goddess Dressing has fresh parsley and chives with lemon and Worcestershire sauce to make a tangy herbal dressing bursting with flavor.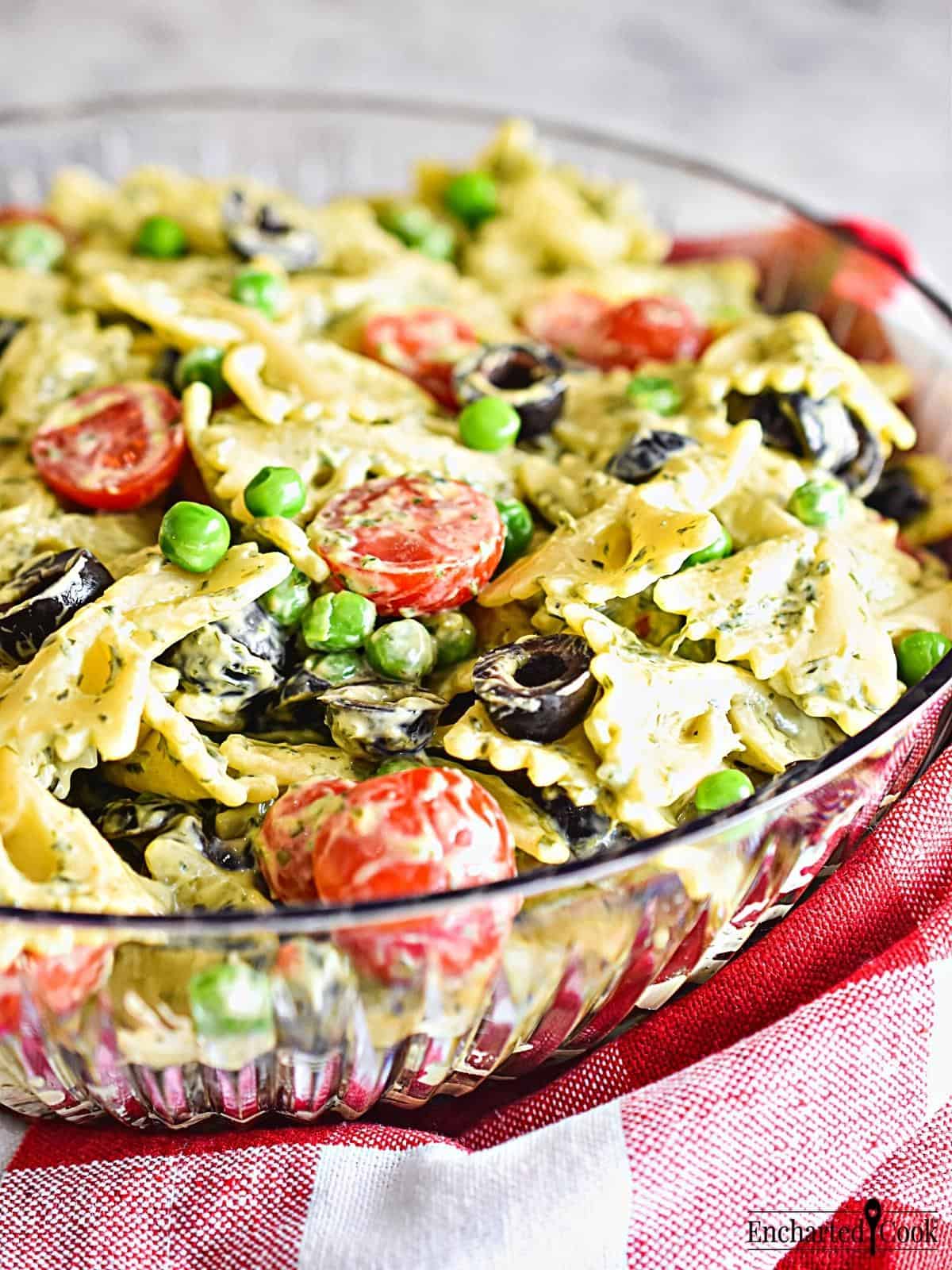 Once you've cooked the pasta this salad comes together in minutes, and it really couldn't be easier! Pasta, green peas, sliced black olives and halved cherry tomatoes are tossed with green goddess salad dressing.
Jump to:
So, let's cook!
Ingredients
Here's what you need:
Cooked Pasta - Any shaped or tubular pasta will work like farfalle, rotini, penne, ditalini, orecchiette, or small shells.
Green Goddess Salad Dressing - I like to make my own, but you can use your favorite brand.
Green Peas - Thawed, frozen peas are the best for making salads. They are perfectly safe to eat without cooking and have a fresh sweet taste.
Sliced Black Olives - These are canned and already sliced black olives.
Halved Cherry Tomatoes - Very small cherry tomatoes distribute evenly through the salad and bring bright acidity and color to the salad mixture.
Please see the recipe card for the exact quantities.
Step-by-Step Instructions
Cook the pasta according to the package directions. Drain the pasta and rinse it with cold water. Put the cooled pasta into a large mixing bowl.
Add green goddess salad dressing and gently stir to thoroughly coat the pasta.
Gently fold in peas, sliced black olives, and halved cherry tomatoes.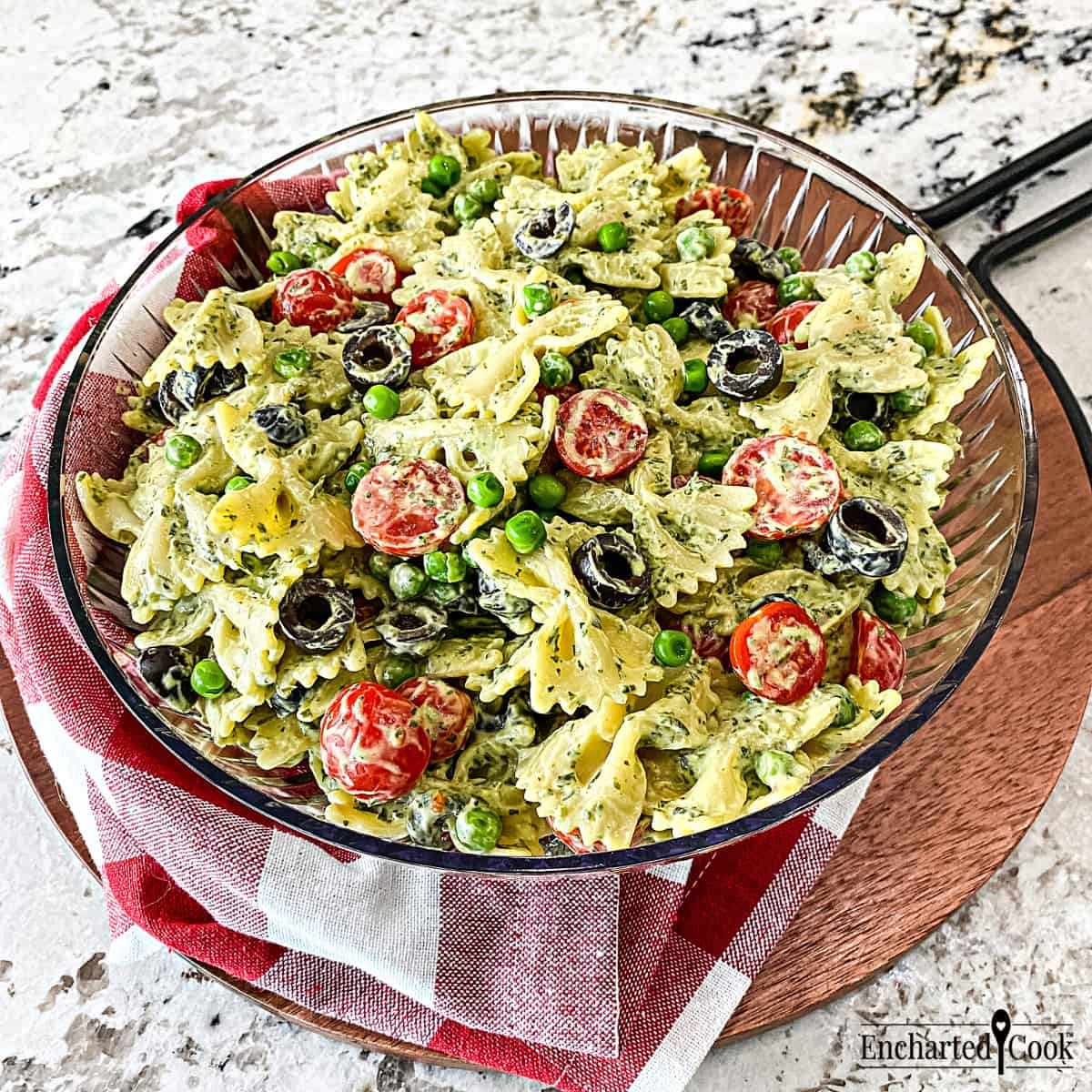 Spoon the pasta salad into a serving bowl. Serve immediately or cover and refrigerate until ready to serve.
My Top Tip
♡ Pasta typically absorbs mayonnaise-based dressings over time. If making this salad several hours before serving, check the salad for dryness at serving time and add additional salad dressing, cream, or milk as needed to moisten the salad.
Substitutions & Variations
Add Marinated Artichokes - Chopped marinated artichokes are super delicious and a great addition to this salad. You can add up to 1 cup.
Add Cheese - Some people like cheese in this salad. You can add up to 1 cup of shredded cheese. Good choices are white cheeses like Monterey Jack and Swiss.
Substitute Sun-Dried Tomatoes - If small cherry tomatoes are not available you can substitute oil-packed sun-dried tomatoes that have been thoroughly drained, chopped, or sliced.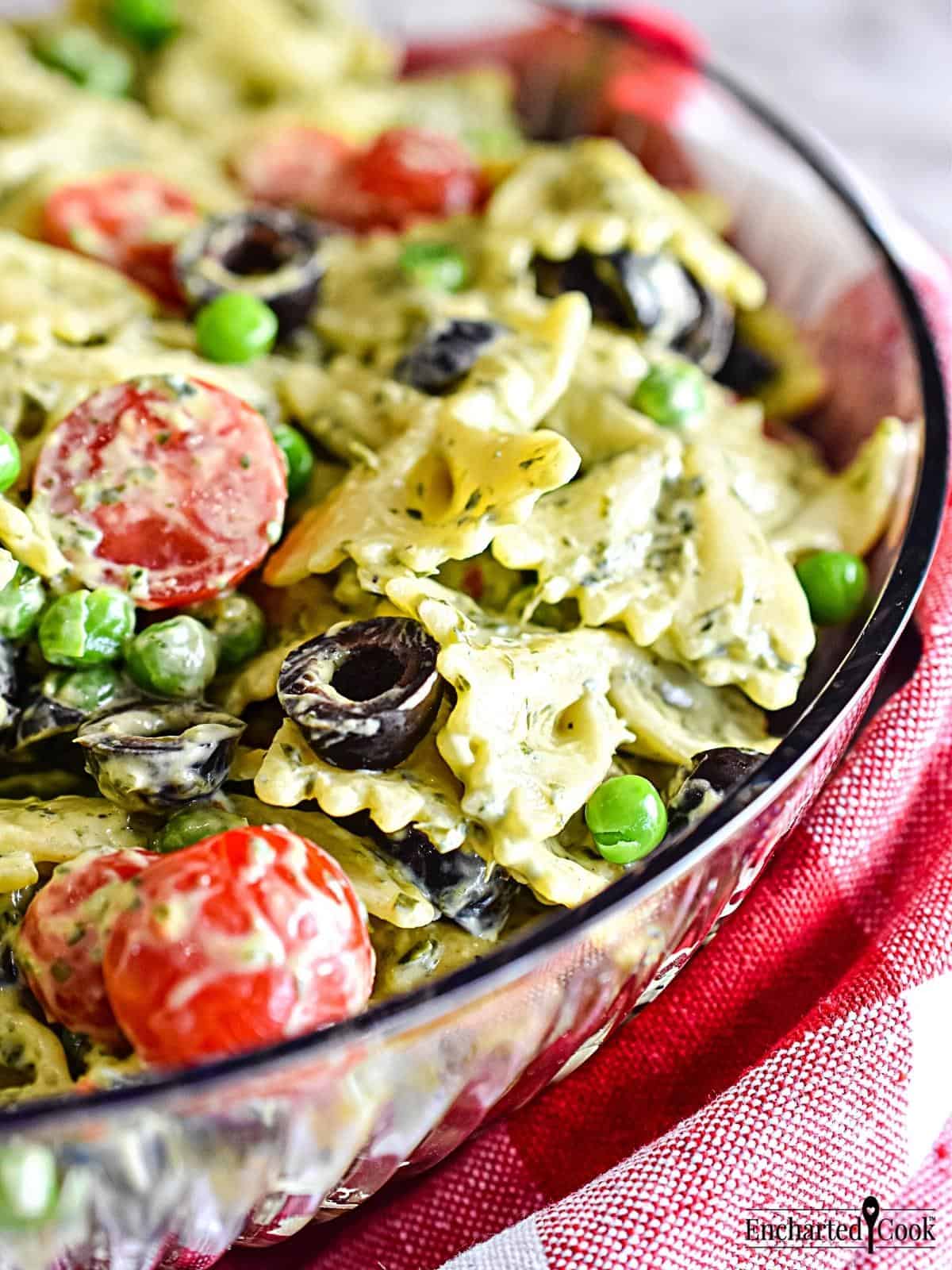 More Delicious Salads
More Delicious Posts
📖 Recipe