Tomato Cucumber Salad is a simple salad that is bursting with freshness and drizzled with a white balsamic dressing you can make in minutes.
Nothing beats a fresh salad, and this delicious and healthy dish combines the summery flavors of tomato, cucumber, and pickled red onion to create a zesty and refreshing side dish that will become an all-time family favorite.
Take this salad to the next level and skip the bottled dressing and make your own white balsamic dressing that will be just as fresh as the salad.
Jump to:
Why This Recipe Works
The timeless combo of juicy tomatoes and crunchy cucumbers is sure to bring the wow factor to your next meal with its vibrant colors and fresh flavor.
Generally, both tomatoes and cucumbers are a small part of a fresh garden salad but they can be very successfully paired as the stars of their own salad duo. The juicy red tomatoes and crunchy green cucumbers are a great contrast in texture, plus the colors are visually stunning.
I then love to double down on the freshness by making a simple and tasty vinaigrette salad dressing starring white balsamic vinegar that adds a touch of sweetness and loads more flavor.
This quick and easy tomato-cucumber salad recipe is great for an outdoor picnic, a casual weeknight supper, or even an elegant dinner party.
So, let's cook!
Ingredients
Here's what you need for this Tomato Cucumber Salad with White Balsamic Dressing:
Tomatoes - Fresh tomatoes that are deep in color and firm to the touch are best. I use what is in season for my area.
English Cucumber - Also called "burpless", "seedless", and "greenhouse cucumbers, English cucumbers are less watery than other varieties and also have a thin skin and smaller seeds. These will not require peeling and seeding in this salad.
Pickled Red Onion - Sweet and savory pickled red onions can be made quickly and adds terrific flavor to this salad.
Olive Oil - I prefer to use cold-pressed, extra virgin olive oil which has the best flavor for vinaigrette dressings.
White Balsamic Vinegar - White balsamic vinegar is less cloying than traditional balsamic vinegar and its lighter color will keep salads bright looking. The flavor is sweeter than apple cider vinegar and it may seem to be less acidic because it is sweeter. Brands vary in taste, so choose one you like. I like and use O California.
Dijon Mustard - This one ingredient will bring loads of flavor to the dressing and keep it from separating. You only need a little, but a jar stored in the fridge will easily keep for at least a year.
Salt - For the right amount of saltiness, just use regular Morton salt.
Black Pepper - Freshly ground black pepper is always best. It has lovely flowery notes that you don't get in pre-ground pepper.
Fresh Parsley (Optional) - A sprinkling of finely chopped fresh parsley is a pretty touch to the final dish but can be omitted.
Please see the recipe card for the exact quantities.
Step-by-Step Instructions to Make Tomato Cucumber Salad with White Balsamic Dressing
Peel the tomatoes and cut each into 6 to 8 wedges.
Cut the cucumber into 1-inch pieces.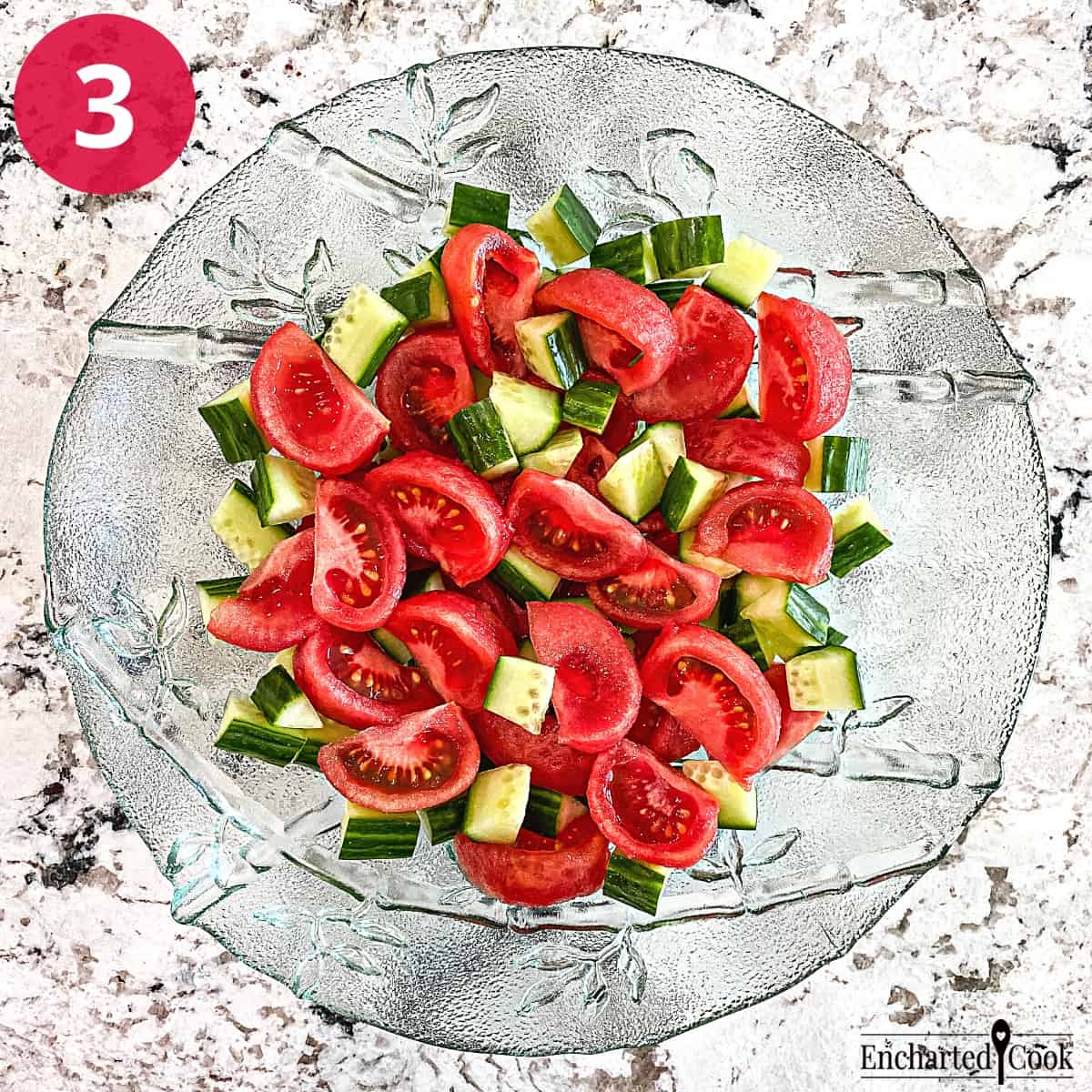 Gently mix the cut tomatoes and cucumber in a large bowl.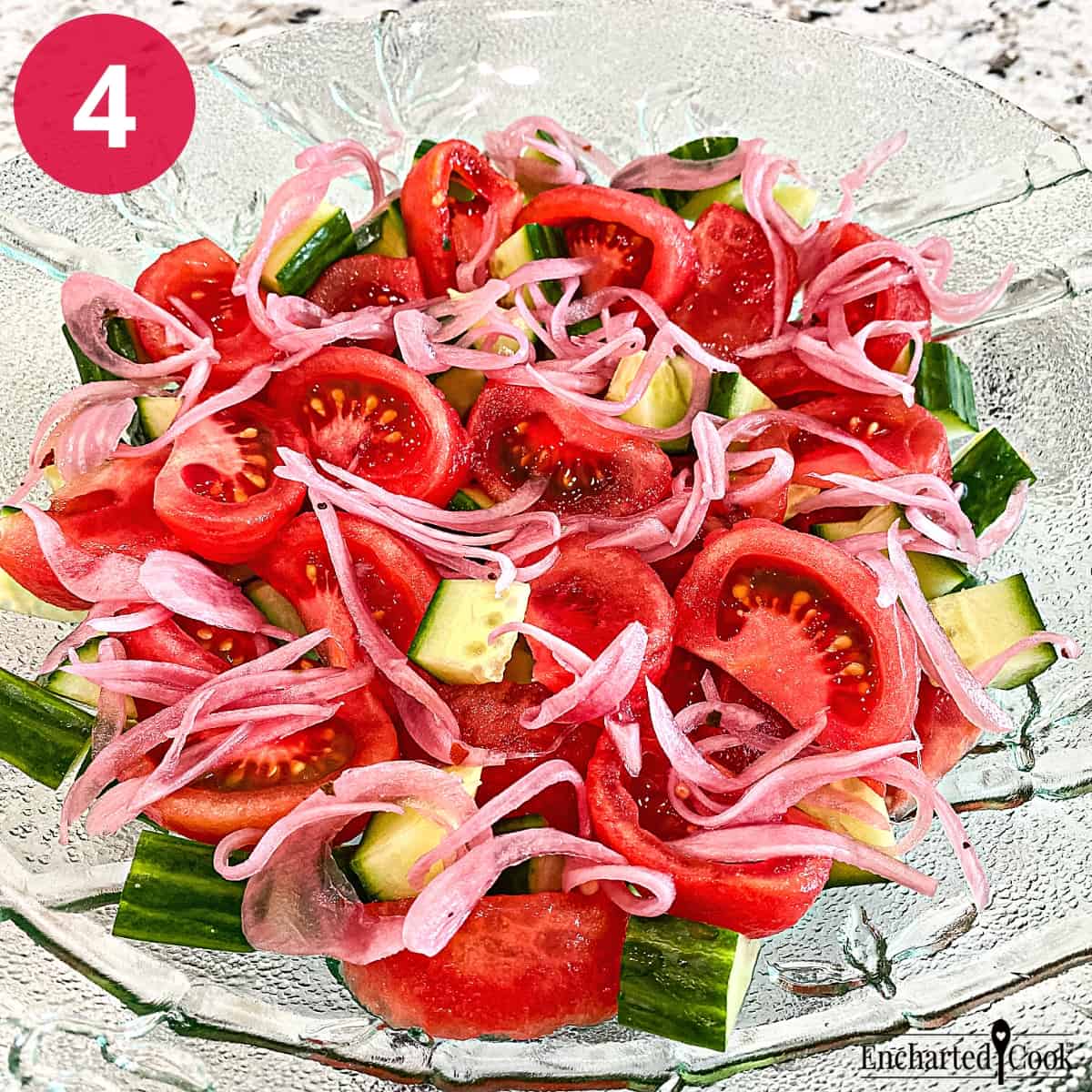 Scatter the pickled red onion through the salad.
To a small jar add the olive oil, white balsamic vinegar, Dijon mustard, salt, and pepper. Add a lid to the jar and shake the dressing vigorously until it is well combined.
Pour the dressing over the salad and garnish with a sprinkling of chopped fresh parsley.
Serve immediately and enjoy!
How to Balance the Flavor of the Dressing
The recipe for the white balsamic dressing is a tangy delicious vinaigrette and much of the flavor comes from the oil and the white balsamic vinegar. Both of these ingredients vary greatly in flavor from brand to brand.
If the flavor is too sharp from the vinegar you can add a very small amount of honey (½ teaspoon) to smooth the acidity.
My Top Tips
♡ Buy the freshest and most aromatic tomatoes and cucumber you can find.
♡ Make pickled red onions yourself! They are super quick and easy to make and last for weeks in the refrigerator.
Substitutions & Variations
Substitute a Neutral Flavored Oil. Instead of extra virgin olive oil, you can substitute any neutral flavored oil.
Substitute Fresh Red Onion. Instead of pickled red onions, you can use fresh red onions.
Substitute Rice Wine Vinegar

.

If you can't find

white balsamic vinegar in your area, you can substitute rice wine vinegar and add a teaspoon of honey to the dressing.
Add Avocado. Cubes of ripe avocado are a delicious addition or substitution for the cucumber in this salad.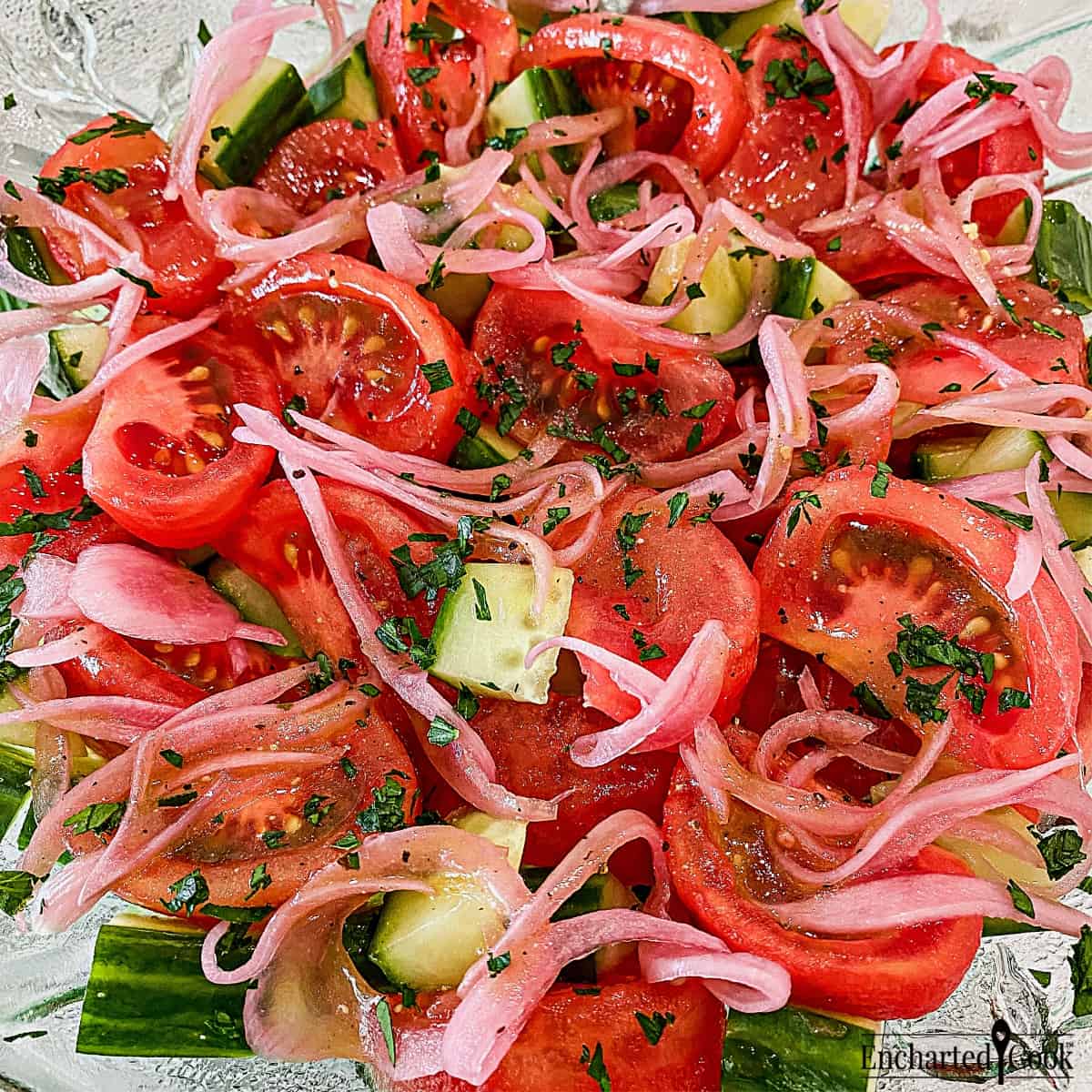 Make-Ahead & Storage
The Tomato Cucumber Salad can be made earlier in the day and so can the White Balsamic Dressing. Store both in the refrigerator, the dressing in the glass jar that you made it in, and the salad should be covered.
Remove both from the fridge a half hour before serving and add the dressing to the salad.
Leftovers can be stored in a sealed container for up to 2 days.
More Delicious Salads
📖 Recipe