Four Bean Salad is cool, sweet, and tangy. Just the right dish for grilling, barbecuing, and smokin' hot weather!
When temperatures soar, vinaigrette dressings are best. They are not only refreshing but safe to serve when there is no refrigeration available.
This is an update of my Mom's classic three bean salad, has less sugar and a hint of the tangy flavor of Dijon mustard. This is another great make ahead dish that gets better if it is made the day before serving. Nutritious and colorful beans never tasted so good!
Vinaigrette salads are to me the absolute best for hot summer days and picnics far away from home. Because vinaigrette dressings can easily stand the heat. They contain no mayonnaise that might spoil on hot days… and are refreshing and light when the temperatures soar.
My Mom used to make this bean salad only in the summer and it was a staple for when we would have the occasional picnic with friends. Unfortunately, I have no idea where she got this recipe… or when. My earliest remembrance of it goes back to about the summer of 1964, when Mom made it for an outing to Blue Rock Springs with neighbors. I wrote it down in 1975, copying it from her handwritten recipe book. But, as always, I have tweaked it to make it my own.
Improving a Classic for Today
The original recipe called for 3 types of beans; green, wax, and red kidney and contained more sugar and no prepared mustard. My Mom's recipe also called for beans in a #303 can. This was an American can size designation that meant "2 cups" or 16 oz of product. Today, the cans are slightly smaller and only contain 15 ½ ounces of food, but the ½ oz slight change in size really doesn't affect the proportions of the recipe.
You probably already can guess why I reduced the sugar. Although, I loved the original recipe, in later years I felt it was a bit too sweet. As for the mustard? I added it not for flavor, but for its wonderful property of emulsifying oil with vinegar. You can make this salad without it, but adding it keeps the oil from separating from the vinegar, which to me is a worthy improvement.
There isn't a lot of fuss to making this colorful bean salad as most of the ingredients are pantry items. Chopping the onion is the only step that might take a little time.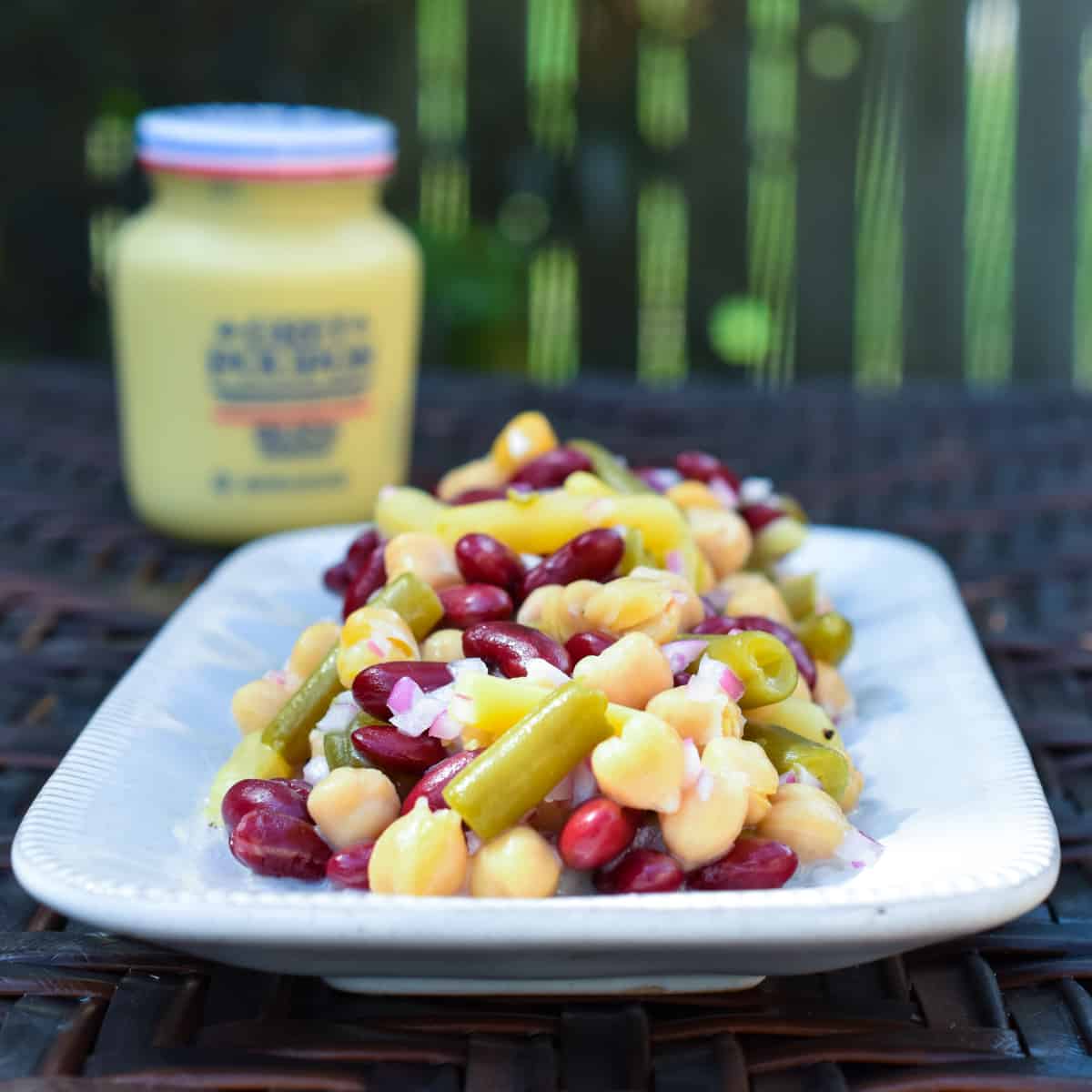 Related Recipes
Four Bean Salad
For grilling, barbecuing, and smokin' hot weather... Cool, sweet, and tangy Four Bean Summer Salad.
Ingredients
½

Cup

Apple Cider Vinegar

,

or White Vinegar

½

Cup

White Granulated Sugar

1

Teaspoon

Salt

½

Cup

Safflower Oil

,

or Canola Oil

½

Teaspoon

Prepared Dijon Mustard

½

Teaspoon

Freshly Ground Black Pepper

14.5

Ounces

Cut Green Beans

,

(1 Can)

14.5

Ounces

Cut Wax Beans or Yellow Beans

,

(1 Can)

14.5

Ounces

Red Kidney Beans

,

(1 Can)

14.5

Ounces

Garbanzo Beans

,

(1 Can)

½

Cup

Finely Chopped Red or Yellow Onion

½

Cup

Finely Chopped Green Bell Pepper

,

Optional
Instructions
Make the Dressing
In a small saucepan mix together vinegar, sugar, and salt. Cook and stir over low heat until sugar and salt are dissolved. Remove from heat and cool.

Add the oil, Dijon mustard, and black pepper to the vinegar and sugar solution and whisk vigorously to combine.
Prepare the Bean Salad
Drain the liquid from the beans, place them in a colander, and rinse them well with cold water.

Place the beans in a large bowl and add the finely chopped onion. If desired also add the finely chopped green bell pepper.

Pour the dressing over bean mixture and mix well. Cover and refrigerate until ready to serve.
Notes
♥ This recipe can also be made with fresh green and yellow beans. Use ½ pound of each. Snap ends and cut beans in 1" pieces. Gently steam until beans are barely tender and shock in ice water. Drain well before using.
♥ This salad is at its very best, if it is allowed to marinate overnight.
Nutrition Per Serving
Calories:
365
kcal
|
Carbohydrates:
48
g
|
Protein:
11
g
|
Fat:
15
g
|
Saturated Fat:
1
g
|
Sodium:
306
mg
|
Potassium:
618
mg
|
Fiber:
10
g
|
Sugar:
18
g
|
Vitamin A:
405
IU
|
Vitamin C:
26.7
mg
|
Calcium:
84
mg
|
Iron:
4.1
mg
All nutritional information on this site is an estimate. Your results may vary.