Ah Elderflower! Sweet, light, and fresh, the delicate little flowers are charming and the scent is absolutely heavenly. When the essence of the blooms is extracted, you have the most exquisitely delicate flavor. Think of soft delicate sweet Spring air and that is elderflower.
The lovely aroma and flavor of elderflower can be found in both liqueurs and non-alcoholic syrups and I have tried five brands that are readily available. My goal was to find the best flavor and aroma of elderflower for both cocktails and cooking.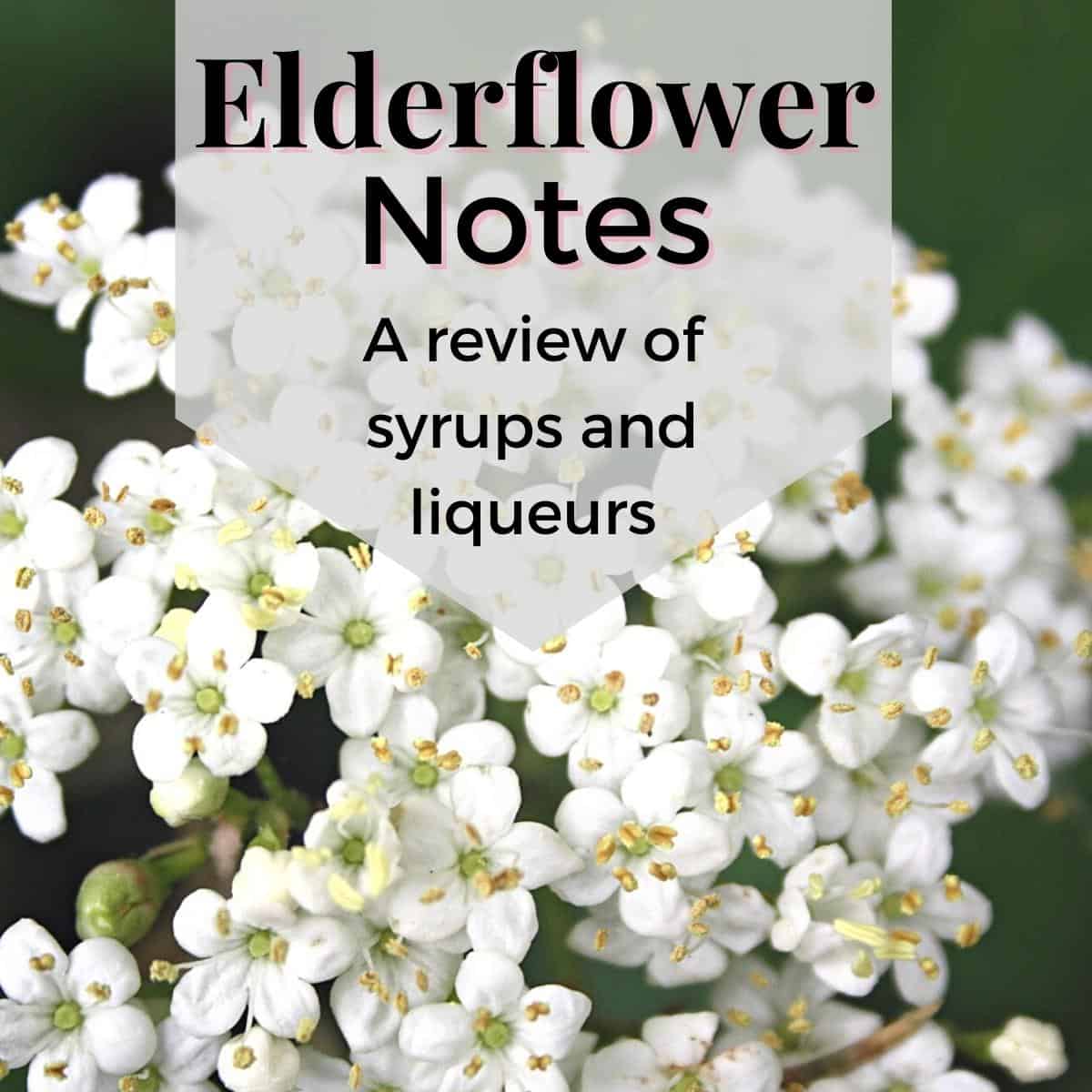 But first, let's look at the difference between a liqueur and a syrup and what elderflower smells and tastes like.
Jump to:
What is Elderflower Liqueur?
A liqueur is a sweetened spirit that is flavored with nuts, fruits, herbs, spices, and flowers. It is generally served after dinner or used as a mixer in cocktails.
Elderflower liqueur is made by steeping fresh clusters of blossoms of the elder (Sambucus) plant in a heavy sugar syrup to extract the aroma and flavor of the elderflowers.
Every maker of liqueur has their secrets of how they make their liqueur but in general, the solution of flowers, sugar, and water is then added to an alcoholic base before it is distilled to make alcohol.
What is Elderflower Syrup?
Elderflower syrup contains no alcoholic spirit. It is also made by steeping fresh clusters of elder blossoms in heavy sugar syrup to extract the aroma and flavor of the flowers. The resulting syrup is then processed for bottling which may include, heating, filtering, diluting, or fortifying the sugar, and adding citric acid and/or lemon to stabilize the syrup.
Is Elderflower Rare and Hard to Find?
Like linden, elderflower is not really as exotic as you might think in the culinary world. Years ago, I took my first wine sensory experience class and became aware of how often wine and food have floral notes.
In that class I was exposed to the floral note of linden, often found in European wines, but not so much in Napa. It seemed so exotic to me at the time! The instructor also noted to the class that in wines it would not be unusual to have notes of elderflower, gardenia, violet, and what sometimes is called "white floral".
After that class, I was on the hunt for flowery notes in all sorts of food and wine. Floral notes add amazing interest and it is no coincidence that my favorite spring and summer wine is Viognier.
You might be wondering, where do I get this unusual flavor? Let me give you the quick skinny on 5 products I have found, have used, and really like (by the way… I am not compensated for these recommendations).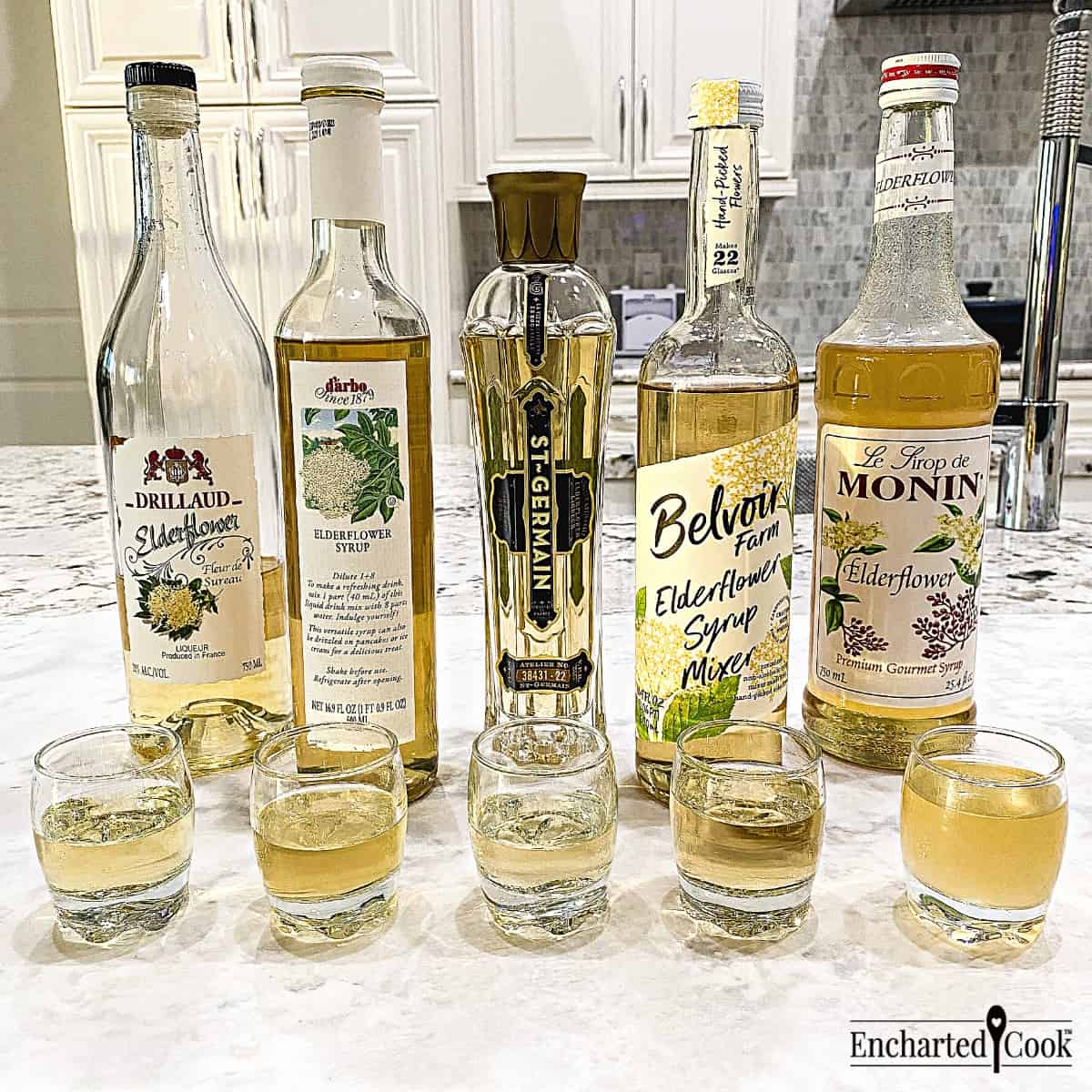 Drillaud Elderflower Liqueur – About $18.00 per 750 ml
While St. Germain is delicate and refined, Drillaud is assertive but not obnoxious. You won't find any notes of pear here. It is elderflower and only elderflower.
Sweet, not too sweet. My best description of this liqueur is it is like nectar from sweet white flowers with a finish of honey and vanilla.
This is very well suited for mixed drinks and culinary endeavors. At a price point of half of what St. Germain costs, you can't go wrong with this choice.
D'Arbo Elderflower Syrup – (Non-Alcoholic) – About $18.00 per 500 ml
D'Arbo is a popular choice with many culinary experts for good reason. On the nose, this syrup is both strongly floral and grassy. But it is the flavor that grabs you, which is amazingly strong with an elderflower that is clean and delightful.
It is sweet but not over the top and cloying like the Monin syrup. I was completely surprised by the licorice finish, which had just a whisper of mint.
Of all of the syrups, this is one you could sip neat on ice on a hot summer day.
St. Germain Elderflower Liqueur – about $23.00 per 375 ml
There is no doubt St. Germain is the finest liqueur containing elderflower. But before you rush out and buy a bottle, just know it is probably the most expensive.
Is it lovely? Absolutely YES! Think of soft juicy pears with the clean, fresh sweetness of elderflower blossoms and you have the basic flavor notes of this lovely liqueur. But, in my opinion, it is a shame to use it unless it is the absolute star.
Because of its elegance, it is best suited to a single-spirit cocktail. Try it on the rocks topped with Hendricks Gin (I am having one now!) or add a few drops to a blanc sparkling wine. It is also delicious solo on the rocks.
This liqueur is so beautiful, it would be a waste to use in mixed drinks containing more than 2 ingredients or any culinary creations.
Belvoir Farm Elderflower Mixer – (Non-Alcoholic) – About $12.00 per 500 ml
This elderflower mixer from Belvoir Farm is stunningly clear with a strong scent and flavor of white flowers. It is best described as simple. There are no other notes in the nose, the taste, or the finish other than elderflower.
This is the thinnest of the syrups I tried because it has less sugar. It definitely has a sweet/tart flavor. Belvoir lists lemon in its ingredients, but I tasted acidity more than lemon flavor.
This is excellent over ice with a squeeze of fresh lemon and topped with sparkling water for a spring refresher or aperitif.
Monin Elderflower Syrup – (Non-Alcoholic) – About $11.00 per 750 ml
This is a thick beverage syrup with a strong scent of grapefruit and a hint of barnyard. On the palate, you will find elderflower with grapefruit and the syrup alone is cloying.
This is a fantastic choice for non-alcoholic sparkling beverages but be aware of the sugar punch this product packs. I have tried it, Italian Style, on the rocks in a Collins glass topped with lemon sparkling water and it is very tasty.
If you want budget-friendly elderflower flavoring, this is probably your best bet. Remember to adjust the sugar content in your creations to allow for this sugary syrup.
Chart of Elderflower Products Comparing Prices and Notes

My Top Picks for Elderflower Flavor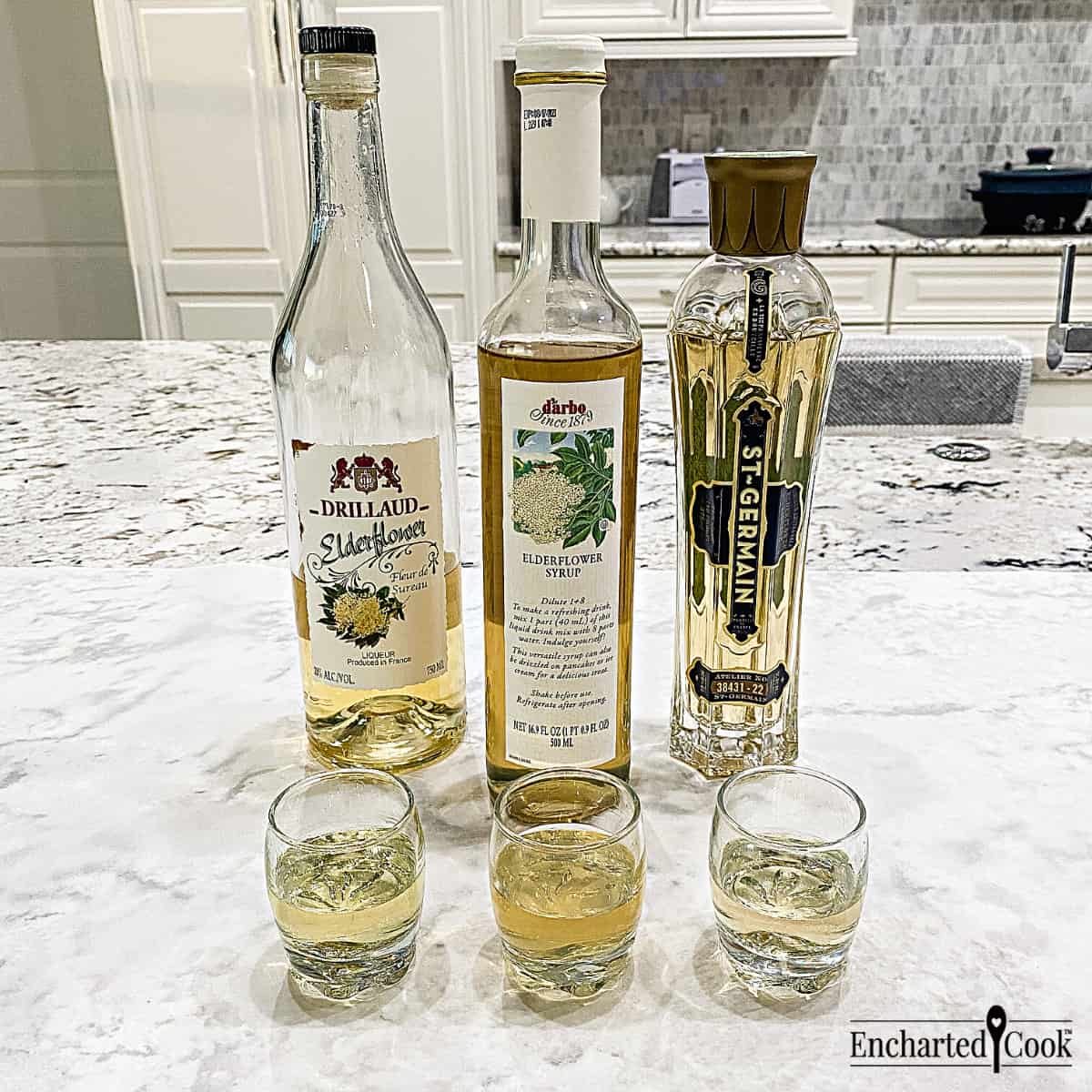 The three products I liked the very best were Drillard, D'Arbo, and St. Germain and I would use these for different reasons.
Drillaud Elderflower Liqueur - This is a great choice if St. Germain is beyond your price point. It is very versatile and I have used it very successfully in puddings, to flavor simple syrups, and in cocktails.
D'Arbo Elderflower Syrup - This is the all-purpose winner in my opinion with a strong clear elderflower flavor. You can use D'Arbo in cocktails, culinary dishes and bakes, and even mocktails since it contains no alcohol.
St. Germain Elderflower Liqueur - Lovely. Lovely. Lovely. St. Germain is complex yet delicate. This liqueur is worth the splurge to have on hand for 2 ingredient cocktails and celebrations.
Well, that is my roundup of some of the elderflower syrups and liqueurs available. Again, these are only the ones I tried and liked and I'm sure there are others available that you might also like.
What have you tried and liked? Please feel free to write a comment. I would love to hear about your favorites!
Recipes Featuring Elderflower