A Lillet Bellini Cocktail smells divine and tastes like summer! Hold the prosecco and enjoy a new summer favorite cocktail with Lillet Blanc and peach schnapps.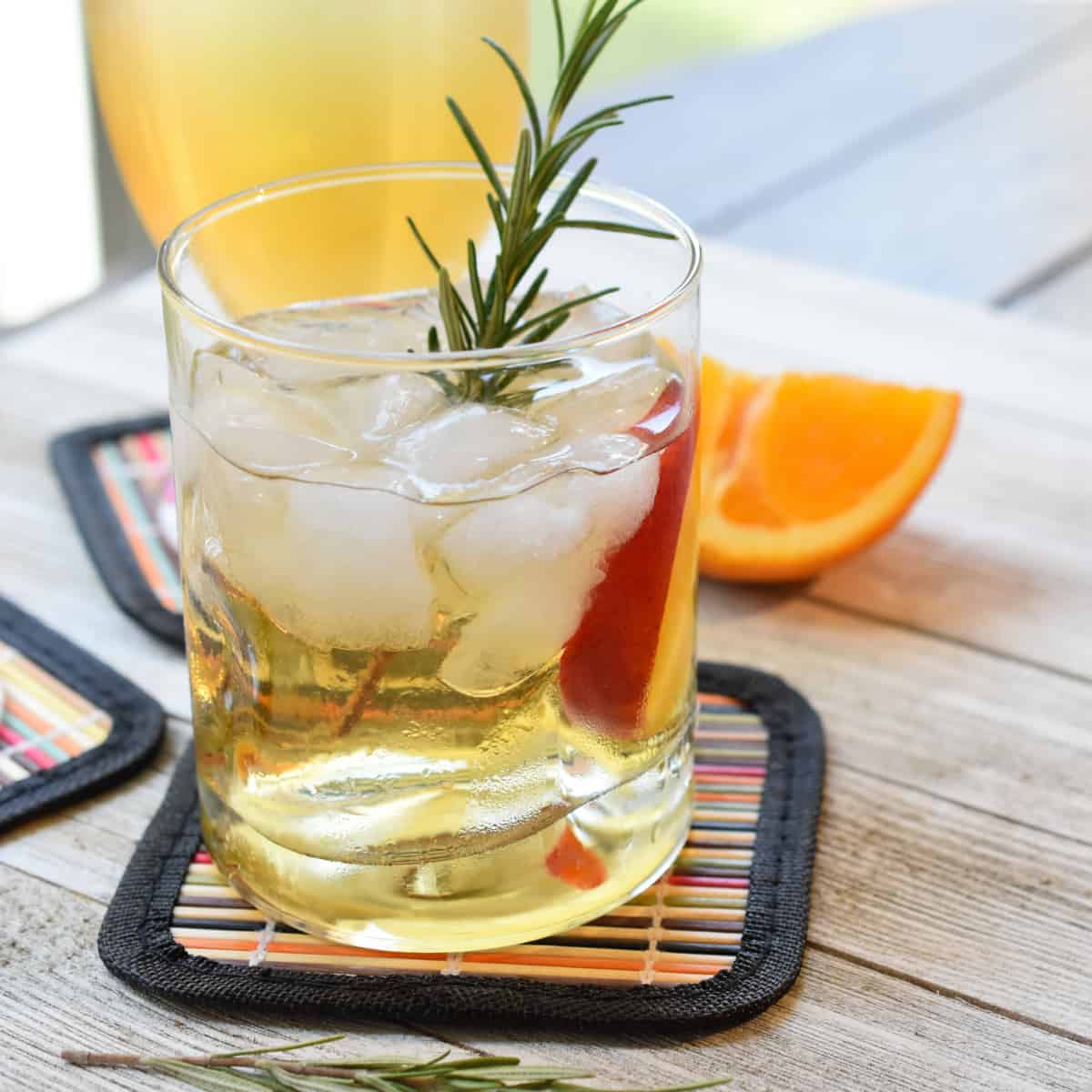 Sometimes, you just want something different… Right? A couple months ago I was really missing not having a glass of my favorite aperitif, Lillet Blanc. It had been a very long time since I had this flavorful refresher.
I was first introduced to Lillet Blanc about fifteen years ago during a Wine Sensory Experience class and I was hooked. The instructor served it in the classic way of over ice with a fresh slice of orange at a Meet and Greet… and for me it was love at first sip.
Lillet Blanc is a French liqueur made from Semillon grapes, orange liqueurs, and a bit of quinine bitters to balance it out. It is sweet but not too sweet, honey colored, and filled with the delicate aromas and flavors of white flowers and candied orange peel. To me it smells and tastes like summer.
But that night I wanted something different.
I pulled the ever-present bottle of Lillet from the refrigerator, loaded my glass with ice, and stopped. I wanted something more. As I searched the fridge for something different, I glanced toward the door and found a bottle of peach schnapps tucked into the door and thought, "Why Not?"
So, I poured my favorite Lillet over the ice and then topped it with a small amount of peach schnapps… gave it a little stir and took a sip. Oh my! Summer just got an upgrade!
I took my glass and padded into the living room to happily watch tv with my hubby, who immediately spied the glass and asked, "What did you make?" I gleefully handed the glass to him to have a taste and he asked if I could make him one as well.
Back then I knew immediately I wanted to share this recipe. My only problem was, what was I going to name it? Fuzzy Lillet? Beachy Lillet? Lillet on the Beach? Ummmm…. No… No… and definitely No! I was stuck for a name.
It took me a couple of months, but I finally realized to just keep it simple and memorable and I knew at heart it really was a Bellini... without the sparkler. But then, you could add a bit of Prosecco too!
More Great Drinks
Lillet Bellini Cocktail
Hold the Prosecco and enjoy a new summer favorite cocktail with Lillet and Peach Schnapps. It smells divine and tastes like summer!
Ingredients
4

oz.

Lillet Blanc

,

Well Chilled

1

oz.

Peach Schnapps

,

Well Chilled

Ice
Garnishes:
Orange Slice, Peach or Nectarine Slice, Sliced Strawberry, Petite Marigold Bloom, Tiny Carnation Bloom, Sprig of Rosemary
Instructions
Pour Lillet, then peach schnapps over ice in glass.

Stir gently and garnish as desired.
Notes
♥ Store your Lillet Blanc and peach schnapps in the refrigerator, so they are always well chilled and ready to serve.
♥ If you prefer a stronger sweeter peach flavor, increase the peach schnapps to 2 oz.
♥ You can use a tall glass and top this cocktail off with Sparkling Water for a lighter sip… or top it with Prosecco for a true Bellini and a festive occasion!
Nutrition Per Serving
Calories:
253
kcal
|
Carbohydrates:
18
g
|
Sugar:
16
g
All nutritional information on this site is an estimate. Your results may vary.