If you found your way here, you are probably wondering, what is Encharted Cook going to do for me?
But first… what the heck is encharted?
Well… encharted is a word that two friends and I made up one afternoon over several glasses of wine. I was trying to name my blog that would contain cooking reference charts and this is what we all thought sounded really cool and unique. Did I mention the wine? Yeah… we had at least 2 bottles of lovely Malbec that afternoon!
In the beginning all I wanted to blog was reference charts for cooks. Being an experienced cook, I love charts. Charts quickly remind me of the temperature and time to roast meat, the correct oil for a stir fry, and many other cooking and baking details that help me be a more creative cook, quickly.
But, when I actually started blogging I realized I want to do more than just share my charts. I also want to tell you about my journey as a home cook and give you some of my very best recipes.
So, I would now say, this is a great place to learn more about a recipe, ingredients, or where a recipe originated. Beginners will love my easy to read, thoroughly tested recipes. Seasoned cooks will find my charts a great resource for cooking and baking times, ingredient ideas, recipe comparisons, and general cooking and baking references. Even if you don't cook, my short stories and informative essays in "The Dish" might give you a smile and a chuckle.
There truly is something for everyone who loves food here!
Here's How this Recipe Blog is Different
You can learn how to cook and bake here without needing a "recipe", you can learn how to adjust recipes, and with time you can learn how to create recipes.
Because everyone learns differently, I like to share how to cook and bake in 3 ways; through the pages of Recipes, Charts, and narratives, I call The Dish.
So, here is a little more detail about each of these pages and examples of how I discuss leavening, which is how baked goods are made lighter in texture. In this example I am using a recipe, a chart, and a post for The Dish. Each post has it's own distinct way of explaining how leavening works.
---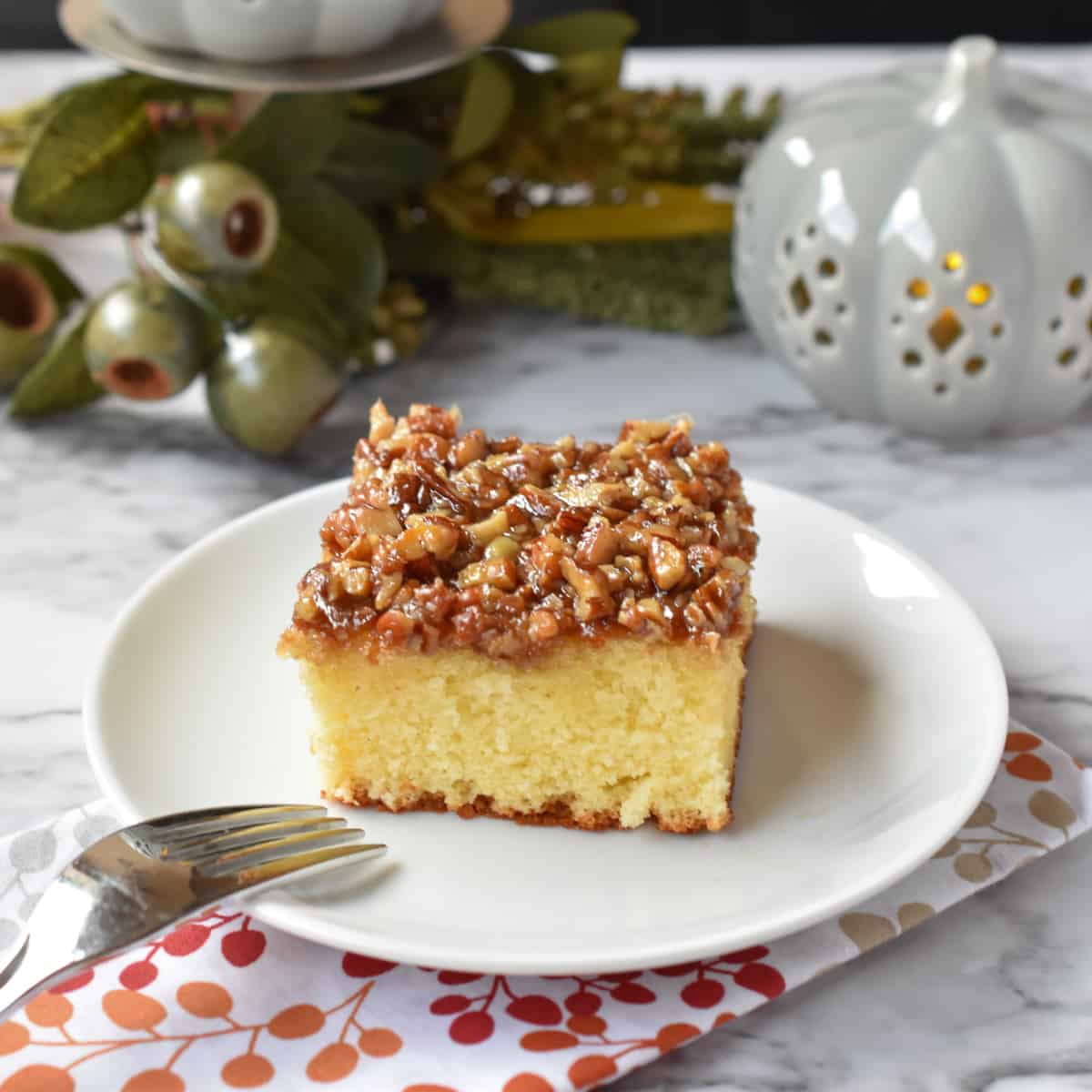 You will get recipes, but not just any recipes. These are Great Recipes!
Some of the recipes are ones I have been making for years. Others are based on the latest trends. But each and every recipe has been made and tested by me over and over again to give you the best recipe possible.
I'm going to try to give you the very best instructions, the very best order to assemble a recipe, and cooking tips and tricks that will help you be a success in everything you cook and bake. Lazy Daisy Cake, shown here, is one of my favorite family cake recipes, that is leavened in a unique way.
By the way, did you know that some Recipes are related? Yes! … and that is why I like to organized multiple related recipes on one single chart.
---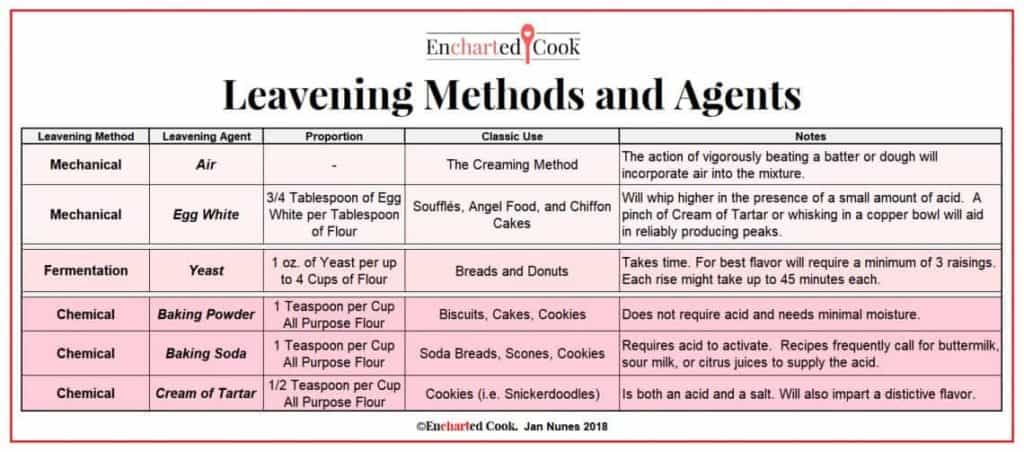 Have you ever wondered what the differences are between Angel Food Cake and Pound Cake? How about how to use leavening? How much should you use and which one?
Maybe you don't need a recipe. You just need information. Charts are a great way to display information quickly and efficiently. Some of the recipes on Encharted Cook are on a chart, or refer to information on a chart. Like this chart, Leavening Methods and Agents, that explains leavening agents.
---
Sometimes it helps to tell a story.
In The Dish you will find fun tips and helpful facts about food, cooking, baking, and my memories of my journey as a home cook.
In this post, Green Dough, I share my personal experience to understand leavening and give you the rules to follow to make your baked goods light and delicious.
Now, I will be frank. Not every recipe has a chart or a companion post of The Dish, simply because some recipes just don't need this much detail.
---
I am a Seasoned Cook
… and yes, "seasoned" is a polite way to say "older & well experienced"! My name is Jan Nunes, and I am the creator of Encharted Cook, the wife of John the Wonderful, and we have 2 cats.
Over the years I have been very fortunate to have met some astoundingly good home cooks and now it is my turn to pass on what I have learned. In short, I have been cooking and baking for more than 50 years. Yikes! The time has gone so fast!
I know how confusing recipes can be. Why is one ingredient chosen over another? Is buttermilk the same as sour milk? If the recipe says unbleached flour, can I use whole wheat? Bring your questions and comments here and let's talk about it!
Julia Child said it best and lived it so very well. Have courage, learn from your mistakes, and have fun! I remember watching her ground breaking show "The French Chef" in the 60's and seeing that it was okay when a toss of a pan didn't flip as expected, or when the perfect turkey slid off the platter and landed on the floor. She was the original masterful chef that taught me that perseverance pays off.
So, be brave… try something new. Just remember, even good cooks have bad days and sometimes a recipe doesn't come out as expected. The door bell rings, the phone chimes and the next thing you know, the steak is overcooked, the toast or cookies are burnt, or the milk is sour because so much is going on in your life you didn't get to the store that week.
I really want to hear from you. This site can be be your safe place to share your kitchen fails as well as your kitchen glories!
---
So, that is it! Thank you for taking the time to read about Encharted Cook. I hope you will stick around and join the conversation, good food, and good times to come.