Over the last few days, I have been looking through my personal recipe files for holiday recipes I could share with you. I've had this file since the mid-1970s and have stored every recipe given to me by friends and family in it.
Inside this small accordion file folder are handwritten recipes, clippings from magazines and newspapers, and small booklets that were giveaways in food packaging and small kitchen appliances. But, of course, the best recipes are the ones that came from friends and family.
I have Mrs. Margaret Fowler's recipes for Welsh Cakes and Lemon Cheese. Mrs. Wilma Steele's recipe for Gum Drop Cake and Salt Rising Bread. My mother's recipe for Sweet and Gentle Enchiladas… and many other recipes from incredibly generous cooks who were willing to share their best dishes with me.
My one regret as I looked through my treasure file, was that oftentimes neither the author nor I wrote their name and the date on the recipe. A few of the recipes state the author's name, but mostly I remember who they were and approximately the year I received the recipe based on where I was working at the time.
Luckily, the recipes I received from my grandmother were each noted with the person she got them from and the date she gave the recipe to me. Way to go Grandma!
Always Note Who & When!
I really wish that I had been diligent in putting this very valuable information on every recipe I received. It just didn't seem important at the time. But, now, many years later, I am sad I can't recall every detail of every recipe's origin.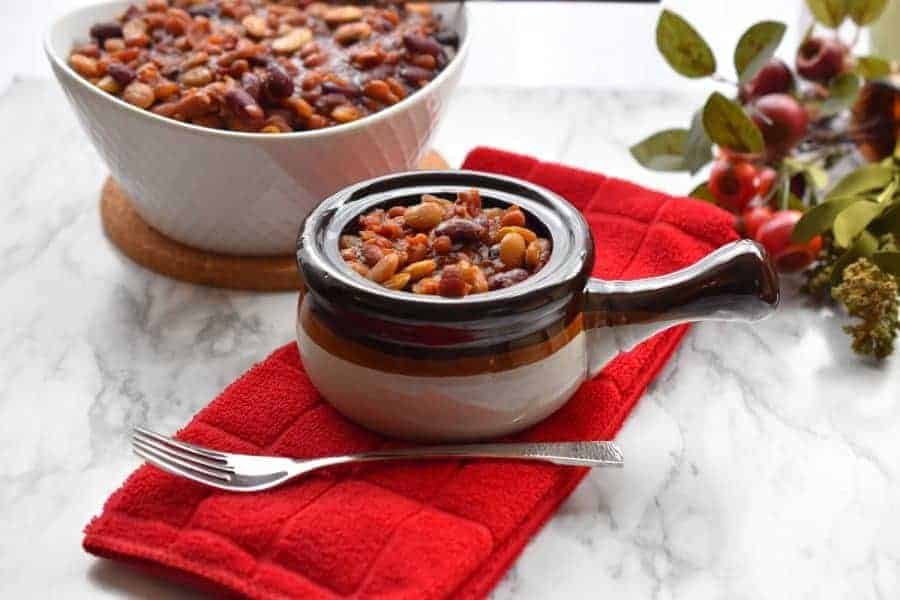 Today's recipe is one of those. I know who gave me the recipe, but her first name evades me. She was a lovely woman about my age and married to one of my co-workers. Their last name was White (I think) and they were new to the Bay Area.
She and her husband came to my home for dinner on a Saturday. I was grilling the main course on the Weber and she brought baked beans to add to the supper. To say I was wowed by her baked beans is an understatement. They are sweet, tangy, and full of bacon.
I've tried everything to jog my memory for her full name. I've tried googling every combination of names to find her. I keep coming up with "Joan", but I'm really not sure. In any event, I owe her a big thank you for this recipe and her kindness to me when life was very difficult for each of us. I hope you enjoy her Baked Beans Supreme as much as I do.
Related Posts