What makes a classic? Wouldn't any dish or recipe that has endured 95 years be easily considered "classic"?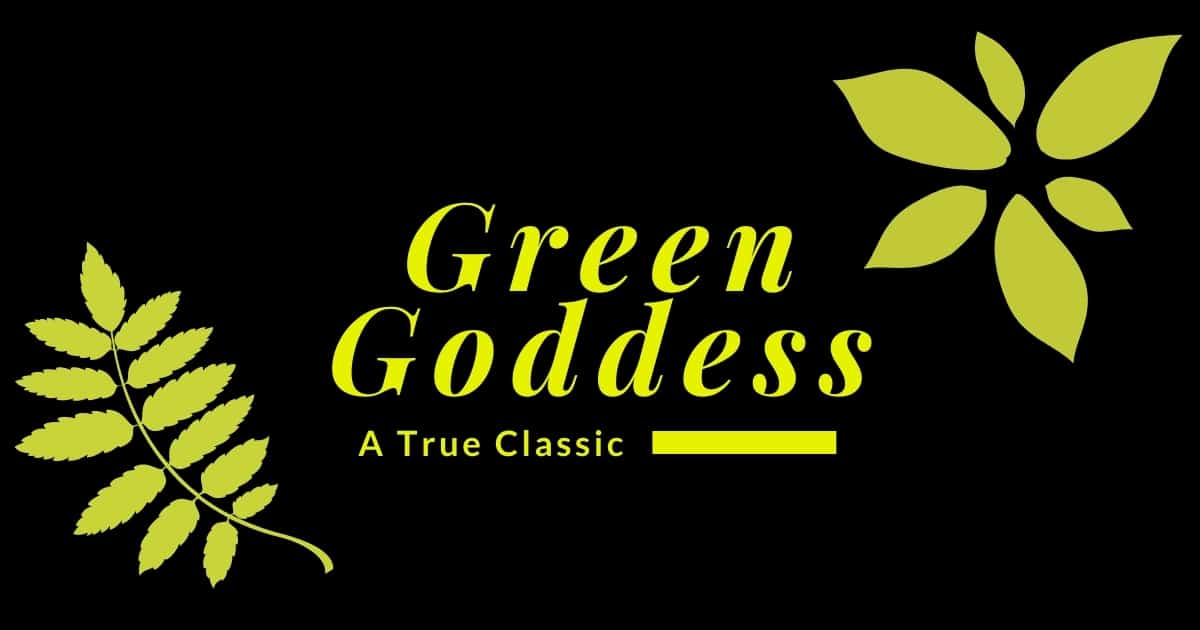 1923 was almost 100 years ago and the year that Green Goddess Salad Dressing was invented by Executive Chef Phillip Roemer of The Palace Hotel in San Francisco. The Green Goddess Salad was (and still is) a bed of hearty greens dotted with cucumber, cherry tomatoes, and a hearty portion of Dungeness crab. On the side was the dressing. Not the usual dressing for a Crab Louie Salad, pale pink Thousand Island, but a beautiful pale green dressing with flecks of finely chopped herbs.
This creamy pale green dressing became an enduring coast to coast sensation, finding its way to New York City in the 1940's, being rediscovered in the 1960's, 80's, and again, today. It has amazing versatility. Not only is it fabulous for dressing greens, but its versatility at being able to be served cold or hot makes it one of the most frequently reinvented sauces for pasta, meats, and even as a dip for vegies or chips.
The first time I had a taste of this wondrous salad dressing was at the young age of 10 years old. I didn't want to try it. I had watched my family prepare it with mayonnaise and dried herbs and seasonings and did not think this was going to be tasty… after all it was green.
My grandmother was indignant. She had no problem telling me this was pure elegance and I should feel lucky we had it on our table. My mother was firm. I was going to try it and like it. But I was 10. The odds I was going to like it were slim. But, in the end, I did find it tasty.
I never forgot the experience of that first taste and when I was old enough to make it myself with fresh herbs as was intended, I was knocked out. It was tangy, herbaceous, and fresh tasting. In short, this dressing packs a knock-out punch.
A Perennial Favorite Salad Dressing
Green Goddess Salad Dressing has appeared often in The New York Times and in numerous cookbooks by famous chefs, each one putting their own spin on this perennial classic. Some versions have added ingredients through the years and even the Palace Hotel has updated the recipe to be even more green and savory with additional ingredients. Since it's creation, the salad had been continuously on the menu of the famous Garden Court Restaurant in the Palace and was most recently listed as the "Palace Signature Dungeness Crab Salad". Sadly, it is not currently on the menu and the recipe is no longer on the Palace Hotel website. Luckily, many historic hotel and restaurant sites still remember and post the recipe.
Trust me, it is nothing less than dreamy.
Related Posts
---
Post Script:
It's funny how the mind works.
I have been trying to get this post completed for a more than a week. Today it all came clear why I was having trouble finalizing this post.
My dear Mother, Evelyn Louise Nunes passed away 2 years ago today.
She was not just my mother, but my very best confidant, adviser, and friend. She was an amazing woman who worked as a construction scheduler and often said her favorite project was the glamourous restoration of The Palace Hotel in San Francisco. If that is not enough of a coincidence as to why this post, now... my Mother was born in 1923.
So this post is for you, Mom... Love you. Always.
Evelyn Louise Nunes - 1923 to 2016 (this image circa 1966)